Top 10: Welding gloves
It's all well and good spending a fortune on a range-topping welder but, if you don't protect yourself, your expenditure could be moot. A good set of welding gloves or gauntlets will protect your hands and boost your comfort. To help you narrow down your choices, here are ten of our favourite welding gloves and gauntlets.
Top 10: Tool chests | Top 10: Welders for under £300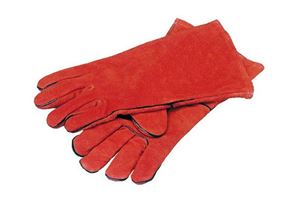 1
Draper 10957 Large Leather Welding Gauntlets
If you're just getting started with welding, or want some inexpensive gloves for a project, then try a pair of these Draper gauntlets. They're often available for under £5 but, despite the low price, they're made from a tough leather and are lined for comfort.
These gloves will offer protection from heat and sparks and could, like the other gloves, be ideal for use elsewhere – barbecuing, dealing with hot cooking pots, handling metal or pulling out tough weeds.
Buy it now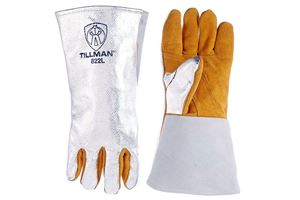 2
Tillman 822L Welding Glove With Gauntlet Cuff
Really getting into your welding and need a top-quality glove that will protect you in high-heat situations? Look no further than these Tillman 822Ls. They have aluminised Kevlar shielding on the back, durable cowhide palms, wool lining for additional insulation and are rated up to 816 degrees C.
This makes them ideal for use in heavy-duty and high-temperature welding, or dealing with hot materials. In particular, they'll offer good protection against the extra spatter encountered during stick and MIG – Metal Inert Gas – welding.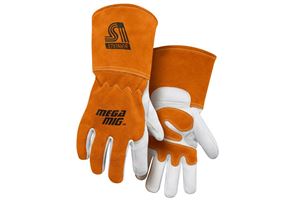 3
Steiner MegaMIG Welding Gloves with Gauntlet Cuff
If the specifications of the Tillman 822L gloves appeal, but the price is a bit steep and high temperatures aren't such a concern, then you could consider these Steiner MegaMIG gloves. Like the Tillman offering, these are designed to offer the dexterity you need while offering protection against spatter – hence the inclusion of the gauntlet cuffs, which shield your wrist and lower arm.
They also have a heavy goatskin palm and cowhide backs, while reinforced areas and flame-resistant Kevlar thread ensure durability.
Buy it now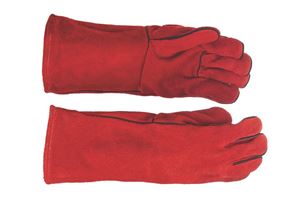 4
Site KF370 Leather MIG Welder's Gauntlets
Remarkably, you can even pick up gauntlets that are less expensive than the Draper ones. These Site gauntlets are made from leather, have a cotton lining and are designed for general-purpose welding and fabrication use.
Because they're so inexpensive, you'll also be saved from any financial grief should they get damaged or destroyed. They're not available everywhere, though, so you might have to search around for a pair or pop into a local store that supplies them.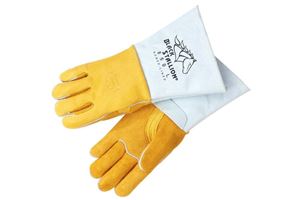 5
Black Stallion Premium Grain Elkskin Stick Welding Gloves
Stick welding gives off a tremendous amount of heat and spatter, meaning you'll need suitable protective gear to avoid any burns. Fortunately, these Black Stallion gloves are designed specifically for such applications.
They're primarily made of tough premium elksin leather that serves up comfort and insulation but also feature Nomex-lined backs for fire and heat protection, Kevlar stitching that can endure sparks and substantial stiff cuffs. As a result, these gloves are ideal for intense welding jobs.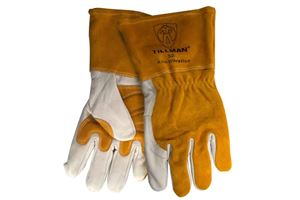 6
Tillman 52 Top Grain Anti-Vibration MIG gloves
Welding can be an arduous affair, particularly if you're continually grinding and trimming parts. Aches and pains can quickly take hold, as a result, so those who have big projects to tackle should consider anti-vibration gloves such as these Tillman 52s – as they feature gel pads in the palm that reduce the vibration felt from tools and minimise discomfort from welding torch for extended periods.
They also have a large cuff and are made from rugged cowhide with Kevlar stitching.
7
Lincoln Electric K3109 Roll Cage Welding Gloves
Looking for a glove that'll protect you against knocks and pinches, as well as welding-related issues? These Lincoln Electric Roll Cage gloves could be just what you need. They have protective silicone bumpers on the top surface, protective inside lining and additional padding on the underside – all of which serves to shield you from bruises and cuts.
They're also made from tough cowhide and have Kevlar stitching, like many rival gloves, and a protective wrist guard.
Buy it now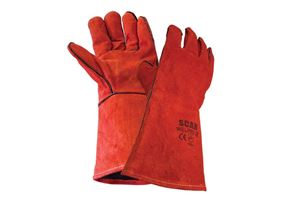 8
Scan Glowelred Welder's Gauntlets
If you're on a budget, and seeking something more protective than a glove, then cast your eyes over these inexpensive Scan gauntlets. They're made from leather, and lined for improved comfort, and – thanks to their sub-£10 price – they're a good choice if you're not keen on spending lots on gloves or gauntlets only to damage them.
They'll protect your hands, wrists and forearms, while the one-piece backs should minimise snagging on the edges of workpieces and tools.
Buy it now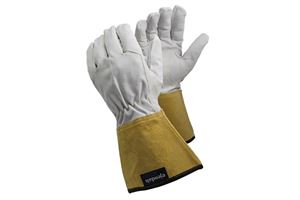 9
Tegera 1265 welding glove
The Tegera 126A is a thin glove that's designed to offer maximum sensitivity and precision while serving up a modicum of protection; it's made from goatskin, features reinforced seams and can withstand contact heat of up to 100 degrees C.
Safety cuffs are standard, too, which will protect your wrists from any sparks, flames or heat. They gloves are also flexible, durable and feature an elasticated cuff – all of which helps improve comfort.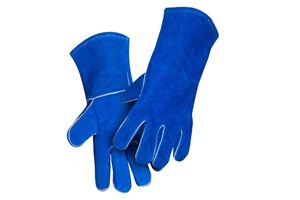 10
Tillman Small Hands Welding Gloves
These Tillman welding gloves are designed for those with smaller hands and, measuring 12 inches in length, also offer some wrist protection. They're made from cowhide and feature a cotton and foam lining for additional heat protection; the Kevlar stitching in the fingers is also shielded, improving durability and reducing the chance of snags.
Given that MIG and TIG – Tungsten Inert Gas – are cooler and emit fewer sparks and less spatter than stick welding, these gloves should also work well in other applications.
Buy it now