Top 10: 125cc bikes with manual transmissions
If you work in a busy town then trading four wheels for two might seem like a great idea – a small, light motorcycle is cheap to run, immune from traffic jams and usually free to park. A scooter, with its automatic transmission, is easiest in stop-start traffic – but if you have any to do any riding on the open road a manual bike is a better bet.
We've picked 10 manual motorbikes that can be ridden after a CBT with L plates. If you're planning on taking a full motorcycle test in the future then these bikes will help you prepare far better than a scooter, too. Our list is in price order.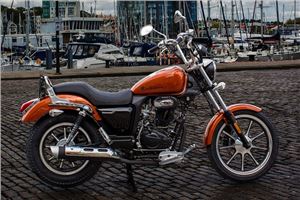 1
Lexmoto Michigan 125 - £1399
It might look a bit like a Harley Davidson, but this budget commuter bike can be ridden with L plates after completing a CBT. With a low seat and light controls it's very easy to ride both in and out of town, but being Chinese made it isn't likely to last as well as Japanese rivals through a winter of road salt and rain.
It's also carburetted instead of fuel injected, which can affect starting on cold mornings – though there is a kick start as a back-up. But at this price it's hard to complain too much – just remember that when you come to sell it won't hold as much of its value as a Honda or a Yamaha.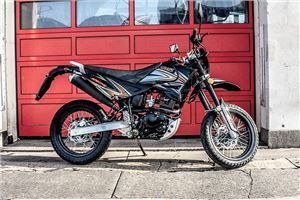 2
Sinnis Apache - £1595
Another Chinese-made bike, the Sinnis Apache is styled like an off-road bike, but with road-focused tyres. Performance is hardly scintillating and build quality isn't up to the standard of Japanese manufacturers, but it'll keep up with traffic on the open road and has more road presence than a scooter.
Shorter riders may struggle to get both feet flat on the floor too, thanks to the fairly high seat. But if you want something that looks and feels a lot like a big bike and your budget is fairly tight it's not a bad choice. However, like the Lexmoto it is unlikely to hold its value well when it comes to resale time.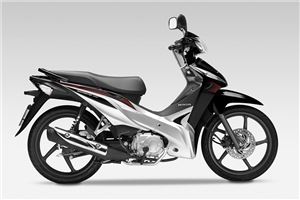 3
Honda Wave 110i – £1999
There is no clutch lever on the Wave – it has a semi-auto transmission, so bridges the gap between a motorbike in a scooter. It's designed to be as durable and practical as possible, so should run and run through all seasons. It has Honda's well proven fuel-injection system too, so there's no issues getting it to start on cold days.
Unfortunately, it's a little bit on the slow side, with a top speed of around 60mph and lethargic acceleration. Still, if dependability is important it's hard to do better. Additionally, its Honda badge should make it easy to sell and it is likely to retain its value well compared to most other brands.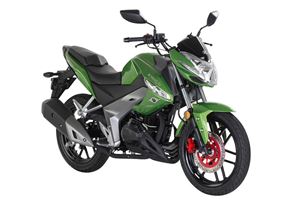 4
Kymco CK1 125 - £1999
Kymco bikes and scooters are competitively priced and well-made, bridging the price gap between Chinese-made bikes and Japanese machines. There are some obvious areas in which prices have been cut, including the use of a carburettor instead of fuel injection, which is used on the Yamaha YBR and Honda CB125F.
But otherwise the CK1 is easy to get on with. It will manage more than 60mph, so is fine if your commute isn't all around town, plus it will achieve fuel economy of more than 100mpg. If you can't quite afford a Japanese-made commuter bike than it's a very good bet.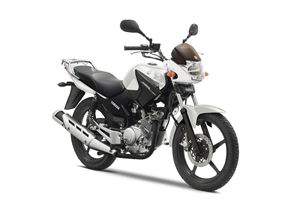 5
Yamaha YBR 125 - £2599
Yamaha has been producing the YBR since 2005. These days the recipe has been perfected – it's a sturdy, well-made and tremendously reliable bike that is all a commuter could really ask for. Upwards of 100mpg is easy to achieve and top speed is close to 70mph.
It's a little pricier than Chinese and Taiwanese rivals, but it's easy to see where that money has gone – quality is excellent and values remain strong even on 10-year-old examples. There are accessories available to improve practicality, including a small windscreen and a huge range of top boxes.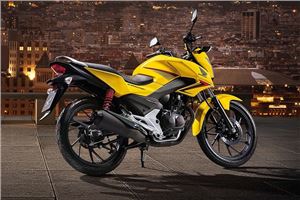 6
Honda CB125F - £2699
More or less the default choice for riding schools, the Honda CB 125 series has been around for decades now. Its combination of solid build, easy maintenance, reliability and effortless handling means it's great for commuting too. The latest version, named CB125F, was introduced in 2015 and is smoother and better than ever before.
It's also cheaper than its predecessor, plus it's easier to ride than almost anything else on two wheels, with the exception of automatic scooters. It'll keep up with traffic, it'll hold its value well and it should cope with winter road salt. As a solid, no-frills all-rounder it's arguably the best bike in this list.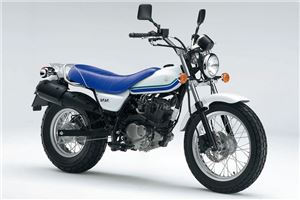 7
Suzuki VanVan 125 - £3199
With its retro styling and big squishy rear tyre, the VanVan is tremendously comfy and easy to ride, thanks to a low seat height and light controls. It will more or less keep up with traffic and it has bags of style and charm – meaning it has gained a cult following, keeping used values strong.
It does have downsides though – chiefly its tiny petrol tank, low top speed and its fairly high price – but if you want a 125 that is easy to get on with and has some identity it's great. If you've passed your full bike test then there is a 200cc version, which has (almost) enough grunt to keep up with traffic on dual carriageways. Handy, that.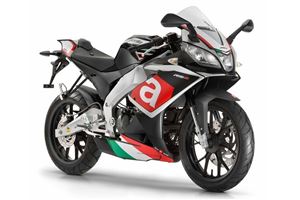 8
Aprilia RS4 125 - £3871
In the late 1990s and early 2000s the absolute king of the college car park was the Aprilia RS125. When derestricted it genuinely quick – at least when it wasn't being fixed. Emissions rules mean the new model is a four-stroke with less power, but if you plan on one day riding a real sports bike this is a good place to get practice.
Its powerful brakes, 70+ mph top speed and keen, sharp handling make it feel like a miniature superbike – and its appreciably cheaper than the Yamaha R125 – which is the new king of the college car park. It's still very expensive for a 125cc bike though – and it's hardly comfy around town.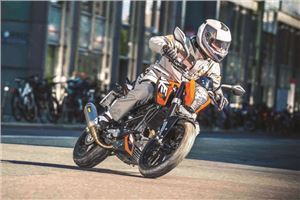 9
KTM 125 Duke- £4049
If you're still young and image conscious, the Duke is a great choice of commuter bike. Not only does it have style but it's also practical, with a reasonable amount of steering lock and a fairly comfortable riding position, plus it's safe thanks to standard ABS. The fact it is identical in size to its 390cc stablemate just adds to the appeal.
It also means you can practice for your test on the 125cc bike and then upgrade to the more powerful 390 Duke model, retaining the familiar layout and feel but with more power. The only major difference between the two is performance and some extra weight. 125 Dukes are in demand too, so you should be able to get a good price when you come to sell.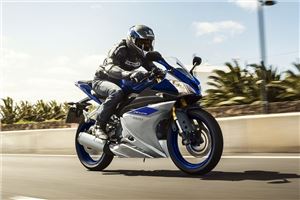 10
Yamaha R125 - £4399
One the face of it, there is no reason to buy a Yamaha R125. It might be aggressively styled, with a proper sports bike riding position and impressive performance for a 125 - but it's hard to justify the £4400 price tag. More powerful bikes, albeit for full licence holders, can be bought for less.
And its performance is only marginally better than much simpler, cheaper 125cc bikes like the Honda CB125F. The R125 tops around 80mph versus about 70mph for the Honda. However, despite all of these factors it sells very well – young riders apparently love its style and it's definitely fun to ride. Strong build quality and good second hand values help too. 
Related Articles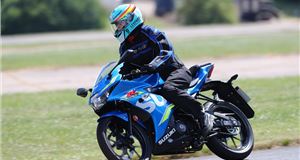 Motorcycles
Getting into riding a motorbike or scooter can be confusing when you don't quite know where to start....