Top 10: Learner legal commuter bikes and scooters
One you've got your CBT out of the way then you'll be in a position to choose a bike or scooter. There's a huge range of choice and prices are more competitive than ever, so there's quite a lot to think about.
We've had a look at the options and picked 10 commuter-friendly bikes to suit most budgets. These bikes are all learner-legal, with capacities up to 125cc and our list is in price order.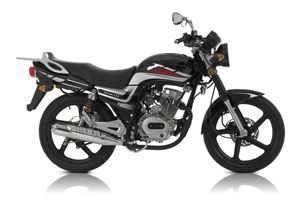 1
Lexmoto Arrow - £900
If you're after a twist-and-go, effortless scooter then this is best avoided, since it has traditional motorbike styling and a five-speed manual transmission. But with a 125cc engine and enough performance to travel on national speed limit roads, it's an ideal commuter machine and it costs just £900 new.
Lexmoto imports its bikes from China, and they aren't necessarily as well-made as bikes from Japanese or European brands, but as a simple and cost-effective mode of transport it's hard to find fault with the Arrow. The engine is generally said to be reliable, but surface rust and electrical gremlins are fairly commonplace.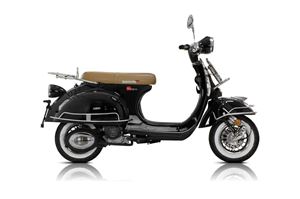 2
Lexmoto Milano 125 - £1099
Also from Lexmoto, the Milano 125 has retro styling like a Vespa, but for far less money than the Italian bike. Like the Arrow, it's not quite a well-made as a Japanese machine, but Chinese-made bikes are becoming more and more reliable without huge increases in price.
The Milano is a compact scooter, without a particularly large seat nor any weather protection, but for short urban commutes it's great, thanks to its small size and light weight. For the style-conscious buyer on a budget it's hard to do much better.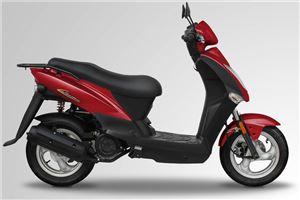 3
Kymco Agility 125 - £1499
Taiwanese company Kymco his more well-established than Chinese scooter makers, but its products are still more affordable than those from Japanese or European companies. The Agility 125 is very compact and light, making it effortless to ride and extremely fuel efficient.
However, its size means the seat is small and not particularly comfortable for larger riders. There isn't much storage space, though you should still be able to get a single helmet and a lock in the under-seat storage area. Aside from that, there's not much to say – the Agility 125 is a simple, honest, good value scooter.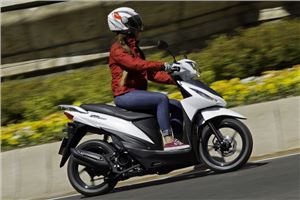 4
Suzuki Address 110 - £1899
The large wheels on the Address 110 do a better job of dealing with potholes than the smaller wheels on many scooters, which tend to drop into big holes rather than rolling over them. Also, the Address 110 is incredibly economical, achieving close to 150mpg in real-world driving.
It's not going to win any prizes for style and it's about as much fun as walking, but as a no-nonsense workhorse with a very solid reputation for reliability, the Address 110 is a terrific choice and it's not particularly pricey.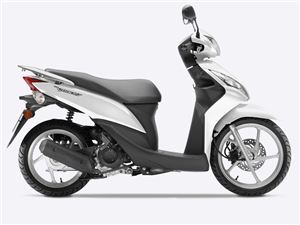 5
Honda Vision 50 - £1999
For the most part we wouldn't recommend a 50cc scooter – they're too slow for safe riding anywhere except in 30mph zones. However, if you have a full car licence then you can validate a full, L-plate free scooter entitlement for bikes up to 50cc by completing a CBT. It will then last for as long as your full car licence.
So if you're not planning on repeating your CBT every couple of years to stay on a 125, or if you're not planning on gaining a full motorcycle licence, a 50cc is the only choice. And the Vision 50 is probably the best of the lot, with a great record for reliability and incredible fuel economy.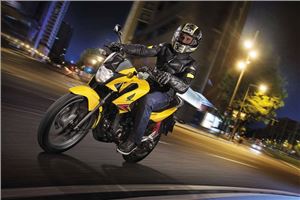 6
Honda CB125F - £2,699
Another Honda with a tremendous reliability record is the CB series, which has been called CB125, CBF125 and now CB125F. Plenty of 1990s examples are still kicking around, despite having been abused by dozens of learner owners. Cheap to fix, cheap to run and incredibly well-made, a better commuting bike is hard to find.
But the CB125F is a motorbike, not a scooter. That means getting on and off is harder, as is riding in traffic, care of the manual transmission. On the plus side, it works perfectly well out of town, so if your commute has any A or B-roads it's a better bet than a twist-and-go scooter.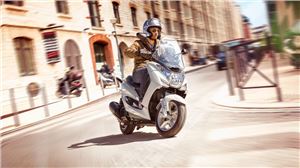 7
Yamaha Majesty S - £3299
If you're planning on all-weather commuting on your scooter, or if you're going to travel further than a few miles, a plusher, bigger and pricier machine like the Majesty S is a good idea. It has a large screen to keep the worst windblast away, plus it has a large and comfortable pillion seat, if you have a full licence and want to carry a passenger.
The Majesty S is smaller, lighter and cheaper than the Suzuki Burgman and Kawasaki J125 we have also featured in this list, making it the ideal step up from a smaller scooter. If you're planning on getting a full scooter licence further down the line, this is a great bike to practice on too.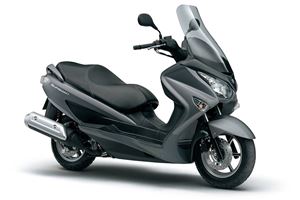 8
Suzuki Burgman 125 - £3499
Suzuki also makes the Burgman in 400cc and 650cc capacities, both of which obviously require a full licence. But the 125 version retains the comfort and practicality of its more powerful stablemates. There under-seat storage is big enough for two helmets, plus the storage area is handily illuminated.
Protection from the elements is excellent, as is braking performance and acceleration. You can tell Suzuki has really thought the design through, making this one of the best scooter choices for someone who wants to leave their car at home and move to two wheels for the first time. Sadly, it's quite expensive compared to smaller scooters.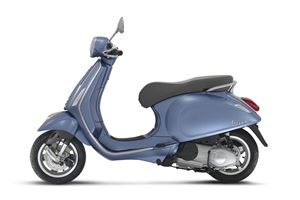 9
Vespa Primavera ABS - £3571
Style is just as important to many urban scooter riders as practicality – and they don't come much more stylish than a Vespa. The range actually includes a few different designs, including scooters with powerful 300cc engines. The Primavera offers a modern twist on the classic Vespa look, but the price is high.
It's pleasingly well-made and performs fairly well, plus you can opt for a two-stroke 50cc version if you only have a moped licence. The Primavera is nice and easy to ride in town, too, making it a great accessory for stylish urbanites. But there are more practical choices on offer for less money.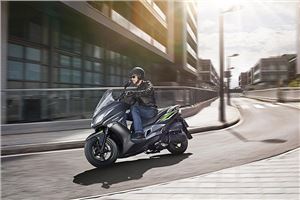 10
Kawasaki J125 - £3799
Kawasaki partnered with Kymco to make the J125, which is also available with a 300cc engine. It's a big, comfortable scooter with impressive weather protection, plus it offers decent out-of-town performance and enjoyable handling through corners.
Beauty is in the eye of the beholder, but even someone with poor eyesight will tell you this looks mean and sporty – a bit like a proper Kawasaki motorbike – which might well be the clincher for some buyers. It's very well made too, so should last well even if ridden through winter. 
Related Articles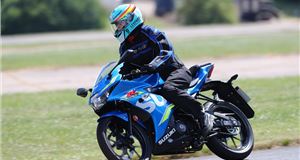 Motorcycles
Getting into riding a motorbike or scooter can be confusing when you don't quite know where to start....