Top 10: User-friendly A2 bikes
A2-friendly bikes provide a great starting point for new full licence holders – they're usually light and manageable, but pack enough performance to be enjoyable. They're typically good commuter bikes too, since they're affordable and easy to ride. We've picked 10 A2-friendly bikes and scooters that you could happily ride every day.
Click through the list below (which is in alphabetical order) to see our picks. These bikes are all A2-ready from the dealer, with no restrictor needed.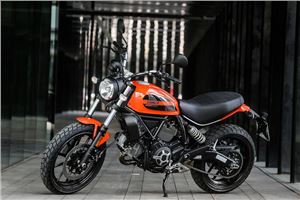 1
Ducati Scrambler Sixty2 – £6500
If the Ducati Scrambler's retro styling has made you fall in love with bikes, but you're not quite ready to go for the full-fat, 803cc version – fear not. From 2016 Ducati is offering a 399cc version with a less intimidating 41HP, which is compliant with A2 licence rules.
It still has the same air-cooled, L-Twin character of the bigger bike though, just with a lower power output. The only problem with the Sixty2 is its price – at £6500 it's one of the more expensive models in our list and it's not all that much cheaper than the full-power Scrambler.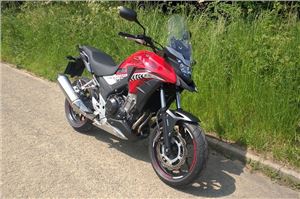 2
Honda CB500X - £5600
Probably the best all-rounder in our list, the CB500X is comfortable, well-made, easy-to-ride and surprisingly capable. It has more than enough performance to go touring and there's a whole range of luggage accessories, so it's like a real – but small – adventure bike.
Honda also makes a sports bike and a naked bike with the same basic underpinnings, but of the three the CB500X is the best all-rounder. It's so easy to ride, so smooth and so stable it can easily be used to tackle the cut and thrust of an urban traffic, too, so it's a real all-rounder.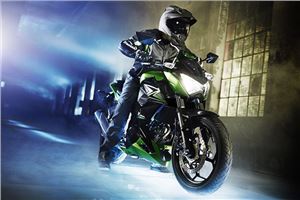 3
Kawasaki Z300 - £4349
With styling like the bigger Z800, you'd think the Z300 might be uncomfortable and aggressive, but it's perfectly easy to ride. Peak power is 39PS and comes from a rev-happy two-cylinder engine that really loves to be pushed to the redline, which makes the Z300 characterful and exciting to ride on the right road.
It's friendly and smooth at low revs, though. Practicality may not be its forte, but for riding into town on a sunny day it's fine, with enough steering lock to filter through traffic. It's also really nicely made and, to the untrained eye, could just as well be a full-power Z800. It also comes in faired, Ninja 300 form if that's your cup of tea.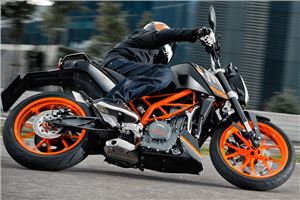 4
KTM 390 Duke - £4549
Exceptionally light, the KTM 390 Duke is as nimble and as easy to manage as a 125cc bike, but with a whole lot more punch. That means it's a genuinely exciting machine with a really fizzy, fun personality. However it has a relatively upright riding position which, paired to its nimbleness, makes it great for zipping around town.
If you're more interested in fun than riding every day, there is an RC390 that uses the same engine. It's a real sportsbike though, with exciting handling and a less comfortable riding position – but for someone who doesn't need to use their bike for commuting it might well be a better choice.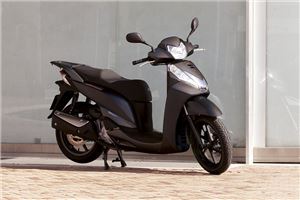 5
Honda SH300i - £4699
The SH125i is one of the best – and priciest – 125cc scooters on sale. Increasing its engine capacity to 300cc only makes it better, transforming it from a town-only runabout to a more capable, well-rounded machine. It works just as well on country roads as it does in stop start urban traffic.
It's comfortable over rough surfaces thanks to its large wheels, plus it's practical despite being fairly small. It also has some nifty features like a keyless ignition system and there are loads of accessories including screens and heated grips. It's pricey, but it's smooth, sophisticated and capable.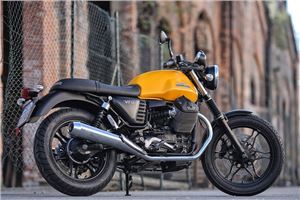 6
Moto Guzzi V7 II - £7136
The V7 is the priciest bike in our list, but it looks and feels as expensive as it is. In fact, it looks like a proper Guzzi, despite its A2-friendly power output of 46.9PS, thanks to retro details like the round headlight and low, flat seat. It's anything but old-fashioned though, with traction control and ABS as standard.
Despite its meaty, chunky looks the V7 II isn't particularly heavy, plus it has shaft drive so is very easy to keep maintained, even for riders who travel long distances. If you've got some extra money to burn there are several different versions, plus a whole load of accessories.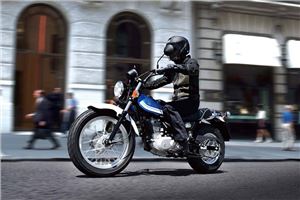 7
Suzuki VanVan 200 - £3799
A bit of an oddball, the VanVan 200 is barely any more powerful than an average 125. Its top speed isn't much over 60mph either – but that misses the point. This retro, balloon-tyred bike is a cult classic, packed with personality. A 125cc version has been available for years, but the 200 adds a bit more usability.
Not much, though – this is still very much a town bike, but with a bit more capability on B-roads than its learner-legal counterpart. It's a comfortable, easy-to-ride bike that copes well over bumps and potholes, so it's great for commuting on badly-paved urban roads.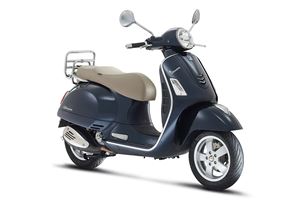 8
Vespa GTS 300i - £4693
The Vespa brand is iconic and effortlessly cool – but many Vespa scooters are limited by their small engines. A2 licence holders get it better though, and the GTS 300 is the best of the lot. It's well-made, comfortable and performs well enough for out-of-town, weekend fun.
It's pretty chunky though, so squeezing it into tiny gaps is trickier than on something like the Primavera. But the GTS 300 is smooth and effortless, plus there is a whole range of accessories from luggage to windscreens and styling extras to really give it some extra flair.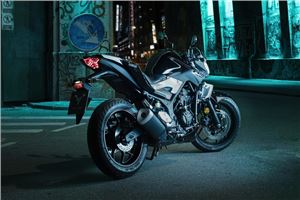 9
Yamaha MT-03 - £4499
Effectively a naked version of the R3, the MT-03 has a characterful engine and impressive handling, but it's also comfortable enough to be used for town riding, thanks to its upright riding position. As a jumping off point into the MT range it's great – with far more sensible and manageable dynamics.
The more powerful MT-07 is also available in A2 compliant form, but it requires a restrictor kit. For someone who plans to immediately move up to a more potent bike after their two years on an A2 licence it's probably a more sensible buy – but it is rather more unhinged than the MT-03.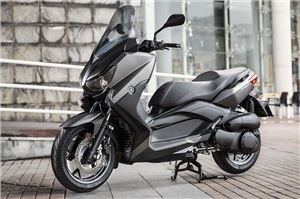 10
Yamaha X-MAX 250 - £4499
If you're going to use your bike predominantly for getting around town, shopping and commuting then a scooter, while far less exciting, is a more sensible bet than a bike. The X-MAX 250 is sprightly, responsive and nimble but it isn't the most exciting machine when it comes to twists and turns.
Nonetheless it's more than happy keeping up with motorway traffic and it offers plenty of practicality thanks to generous storage. It's great around town too, making light work of stop start driving and filtering thanks to the automatic transmission and low centre of gravity.
Related Articles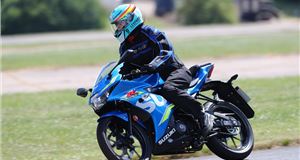 Motorcycles
Getting into riding a motorbike or scooter can be confusing when you don't quite know where to start....