It might look a bit like the type of bike a bearded American in sunglasses and denim would ride, but the Honda CMX 500 Rebel is actually a very comfortable, friendly machine that is perfect for new riders.  It's as at home on a relaxed, sunny coastal ride as it is in the bustle of urban traffic – plus it's affordably priced and A2 licence friendly.
That A2-friendliness is down the 471cc parallel twin engine, which is shared with three other bikes in the Honda range - the CB500F, CBR500R and CB500X. Its peak power of 45PS is very marginally down on those bikes, while the torque output of 44.6Nm is up. Just. Those numbers aren't going to start fires in the souls of experienced riders, but they're plenty for a first "big" bike.
Power delivery is friendly and really smooth, with plenty of low down torque for getting up to speed from a standing start, or for overtaking slow traffic. But, despite being manageable, it's far from boring thanks to a characterful exhaust note and a surprising turn of pace when you really open up the throttle.
The price of £5399 means a some noticeably budget components have been used, so the suspension isn't great and nor are the brakes - but they aren't at all bad. In fact, they're perfectly up to the task unless pressing on with real pace – and if you're going to do that then you're better off with the CBR500R.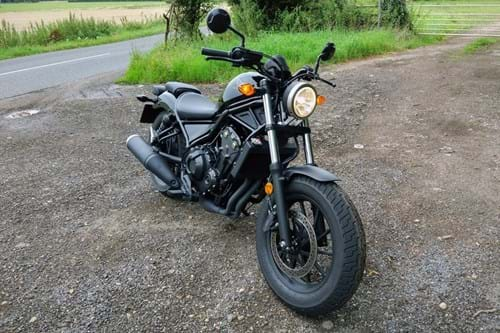 Instead, the Rebel is more at home on a sedate cruise. So if you're more interested in taking in the view and enjoying the countryside then the Rebel is ideal. For that kind of use the comfortable riding position, compliant suspension and smooth power delivery are great – but they also make town riding very manageable.
If you're planning on filtering through huge queues of traffic in London then the wide bars might get in the way a bit, but the turning circle is small, the gearbox and clutch are smooth and the brakes are nicely progressive, so making smooth progress in busy streets is easy.
The cruiser-style design means the seat is extremely low, which is great for short riders or those unfamiliar with the additional heft of a full-sized bike, since you can easily get both feet flat on the ground. In traffic jams that's extremely handy and will help build confidence if you're used to a little 125.
Having said that, if you're taller than 6ft you might find the riding position a little odd – and you'll look like a toddler on a big-wheel trike. There is a back seat but it's tiny, so don't expect to carry a pillion very far or in any degree of comfort. In fact, practicality is lacklustre in general, with no storage areas or weather protection.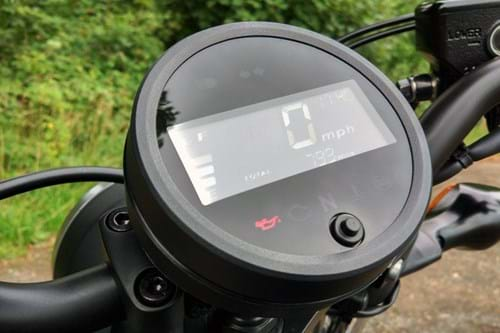 On the plus side, the engine is slightly ahead of the seat and the riding position means it, along with the air flowing through the radiator, keeps your legs warm on a cold day. But if you're planning to ride the Rebel throughout the year then you'll want to keep your stylish open-faced helmet at home through the winter.
Instrumentation is very minimal. There's a single pod containing a digital speedometer, a fuel gauge and a clock, but there is no rev counter. The switchgear is minimal too, with no selectable modes ore fancy menus to scroll through – you get what you need and nothing more. There are some odd quirks too, like separate ignition and steering lock barrels.
But that quirkiness and minimalism matches the Rebel's 'bobber' styling. And since that sort of thing is in vogue at the moment, Honda has made sure the Rebel is very easy to tinker with. You can, for example, remove the rear mudguard with just a few simple tools to make the bike into a stylish single seater.
If customising is your thing, it's a great blank canvas and, as the years pass, you can expect to see numerous accessories and bolt-ons to help make the Rebel your own. But there's plenty of appeal even if you're not a spanner-wielder – this is a great first bike for those who want classic cruiser style but with modern, Honda reliability and affordable pricing.