What is it?
Less is more. That's the philosophy behind the Ducati Monster 797. Ducati has been making the Monster since 1993 and this 797 goes back as much as possible to those roots while still being compliant with the latest safety and emissions regulations.
Intriguingly, the Italian firm has managed to make the 797 with an air-cooled version of its V-twin motor that passes emissions laws while it's immediate superior, the 821, uses water-cooling. A more significant effect of using air-cooling for the 797 is it feels like a much more traditional Ducati motor. Where the 821 can feels anodyne, the baby of the range has a character entirely in line with previous Monsters and anyone who rode an original back in the early 1990s will be instantly at home on this bike.
That's a key consideration when a large chunk of the Monster's appeal lies in its retro styling and appeal to those returning to motorcycling after a 20-year or so lay-off. Or just the sort of buyers who lusted after a Monster in their youth.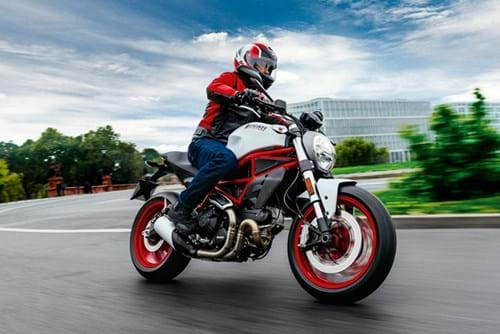 What's it like?
There will be lots of others to whom the Monster 797 holds considerable attraction as this is a great looking bike. Again, that 803cc V-twin engine lies at the heart of this as it dictates so much of the shape. Snaking its way around the upper cylinder block is the trademark trellis frame, while the other piston's barrel hangs out in the air to the front of the chassis.
There's no denying the visual excitement this provides and it's a big part of why many choose a Ducati over cheaper and objectively better bikes. With the Monster 797, though, it ranks highly for the way it's put together and how it rides. Build quality is top drawer and the riding experience is equally classy.
It may be the entry-point to the Monster range, but the 797 comes with 43mm upside down front forks from Kayaba, while the rear is taken care of by a Sachs shock absorber with preload adjustment. Together they give a sporty, firm ride - which is expected of a Ducati Monster - but it's forgiving enough in town. On open roads, the handling is nigh-on perfect for those graduating to their first big bike and riders with more miles under their heels.
Tipping the scales at 193kg ready to ride, the Monster 797 feels very light at the handle bars and tips into bends in an eager fashion. Mid-corner bumps don't upset its balance and there's loads of traction from the 180/55 back tyre.
Stopping is taken care of by twin Brembo calipers at the front clamping 320mm discs, while the rear is a 245mm rotor. ABS anti-locking is included as is demanded by a new bike, but that's the only electronic intervention fitted to this Monster and it's all the better for it.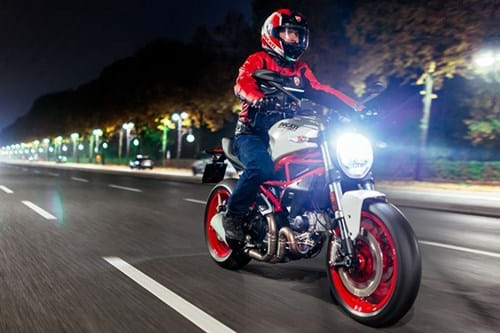 Helping to make the ride so intuitive is the seating position. It's less aggressive than larger-engined Monster models and works in this bike's favour given the sort of rider who will be attracted to it.
Urban commuters, weekend funsters and those recently graduated to their first big bike will all find it perfectly in tune with their needs. It's just sporty enough to give off that Ducati vibe without pressing too much weight onto your wrists or cramping up your knees. You can also have an optional 20mm lower seat if you've got shorter legs.
Great on country roads, the Monster 797 is also a hoot in town. The motor has bags of grunt low in the rev range and makes 80 per cent of peak torque at just 3500rpm, so you have crisp, accurate throttle response when you want to accelerate away from traffic. The steering lock is better than previous Monsters, but it's still not as tight as a Yamaha MT-07's.
As for other practicalities, the 16.5-litre fuel tank should see more than 180 miles between fills without running on fumes and pillion seat can just about cope with an average adult for short hops. The digital dash is clear to read and, more relevantly, the details of this Monster are spot on with nods to the past such as the single headlight and humped fuel tank with alloy retaining clasp.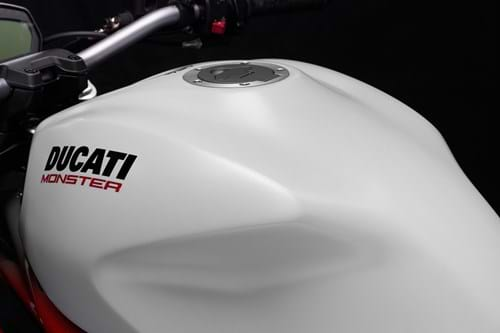 Where some will suck their teeth with the Monster 797 is the price. It's more expensive than most rivals by quite a margin, but then that badge bestows a certain kudos and also helps to keep used values very strong.
The knock-on effect of that is if you choose to fund this Monster on a PCP deal rather than buy outright, it's cheaper on monthly payments than a Yamaha MT-07. Service intervals of 7500 miles further help to lessen running costs, though you will have to budget for new cambelts every second service, but that's a tolerable price to pay for keeping that V-twin in fine fettle.
Should I buy one?
The romance of a Ducati Monster will convince many this is a price worth paying. What convinces us, however, is the depth of quality in the build and finish, and this simple, pared back Monster delivers only what's necessary to make you grin like a loon every time you sit in the saddle.