Ducati, as a brand name, is about as aspirational as it gets when it comes to motorbikes. But if you're fairly new to riding there's no reason to treat the Italian manufacturer as an out-of-reach pipe dream, thanks to its most affordable model – the Scrambler – which is available with either a 400cc or 800cc engine, with outputs of 40PS or 75PS and prices from £6450.
The 800cc model, tested here and priced from £7250, might seem like an intimidating prospect to someone without years of experience, but it shouldn't. In fact, from the saddle the Scrambler feels about as intimidating as a couch – the seat height is so low even small riders will be able to put both feet down flat, plus the footpegs and bars are comfortably placed for easy riding.
The L-twin engine starts up with a charismatic thump, immediately making the Scrambler feel special. The advantage of a L-twin over other engine layouts is torque – the peak figure of 62Nm is available at 5500rpm, right in the middle of the rev range. That means riding the Scrambler is extremely easy – it picks up pace without difficulty almost regardless of gear.
Overtaking is as simple as flexing your right wrist and yet, despite having enough performance to make light work of slow traffic, the Scrambler rarely feels dangerous or difficult to control. The exceptionally wide bars make banking into bends as simple as breathing, while the brakes shave off speed promptly, despite the relatively simple single disc arrangement up front.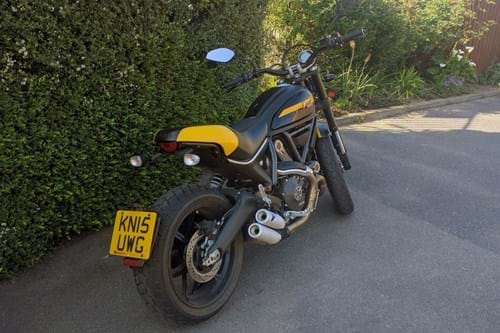 That said, the front brake lever on our test bike had a little bit of free travel before it really started to bite – and there was some slop in the clutch lever and gear change too. It was never a real problem – but cheaper bikes from Japanese manufacturers like Honda or Kawasaki manage to feel tighter and slicker – which makes you question why the Ducati doesn't.
For commuting the Scrambler is perfectly user-friendly. There is plenty of lock in the bars, so tight turns in traffic are straightforward and, while the bars themselves are quite wide, they're sufficiently high as to not interfere with car mirrors too much when filtering. The mirrors are reasonably clear and the Scrambler makes enough noise to be noticed by other, inattentive motorists, especially with optional Termignoni exhausts fitted.
However, you're not likely to have much fun on your commute on a wet or cold day. Weather protection is more or less non-existent, though there is an optional flyscreen to deflect some wind. Your legs are going to get wet, though - and there are so many nooks and crannies for dirt to get into. Keeping a Scrambler clean after a ride in wet weather will be a chore.
Depending which version you go for, pillion provision is either okay or poor. Most examples of the Scrambler come with a fairly wide pillion seat and a long rear mudguard, but others have short seats better suited to solo riders. Adjusting the suspension to suit a pillion requires a bit of effort too, but no more so than any other bike this side of a big touring machine or a Suzuki Burgman.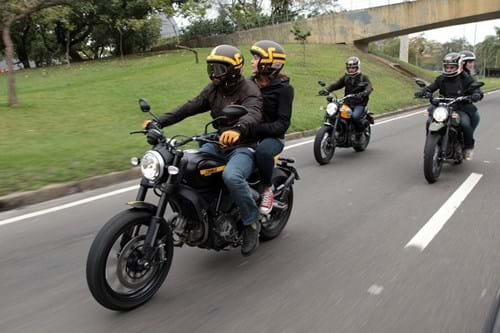 On the practicality front the Ducati Scrambler isn't very impressive. There is a small storage box under the seat as standard, complete with USB charging port, but the instrumentation is fairly rudimental. Fortunately the accessories catalogue is packed with solutions including tank bags and a luggage rack for a pair of soft bags, so with a bit of extra money the Scrambler can be genuinely practical. Other useful extras include heated grips and crash protectors.
But perhaps more important to the average Scrambler buyer is the multitude of styling extras on offer, from different foot pegs to headlight surrounds, seats, exhausts, badge designs, tank decorations and even some fantastic, old-school wire wheels. There are also several different variants of the Scrambler for different types of rider, including the vintage-styled Classic and the race-inspired Full Throttle.
Some of the pricier versions, including the Full Throttle, come with a Termignoni slip-on exhaust system that really livens up the way the Scrambler sounds – but if you go for anything other than the basic Icon model there is a premium to pay. That said, one of the best things about the Scrambler is how affordable it is on PCP, with most versions offered at less than £100 per month.
Its controls might not be as slick as some Japanese bikes, but the performance is great and it's absolutely packed with smile-inducing personality. For someone upgrading to their first big bike, or for someone returning to two wheels after a break it's a great choice. Factor in the huge range of personalisation options and the affordable finance and it's easy to understand why the Ducati Scrambler is so popular.