Exotic Italian looks, superb performance, beautiful handling and a glorious V-twin soundtrack have made the Ducati the dream bike for almost every motorcyclist. Sadly, in reality, the price and harsh riding position proves all a bit too much. Thankfully Ducati has an answer. And it's called the SuperSport.
At £11,495, the Ducati SuperSport is hardly cheap, but it's £2000 cheaper than the 959 Panigale and £6500 less than the insane 1299 Panigale. And yet you get similar gorgeous looks and, more importantly, a riding position that won't give riders serious wrist and back problems.
The SuperSport is still very much 'weight-forward' - so expect a little wrist strain – but the bars are on risers and it's much more comfortable as you're not doubled over like a Moto GP rider. You could almost ride the SuperSport every day, or even use it for the odd commuting trip. But it's spirited road riding where the riding position is at its best – along with everything else about the SuperSport.
The 110PS V-twin engine is taken from the Hypermotard 939, but with a few tweaks. It sounds great, with a typical Ducati throb and it has a thumping peak torque output of 97Nm. 80 per cent of that is available from 3000rpm, so you can open the throttle and get superb acceleration almost regardless of what gear you're in.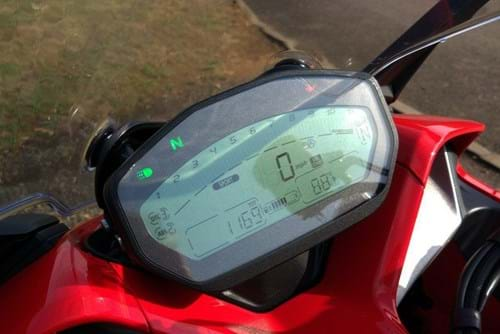 Peak power might not look impressive, next to latest crop of 200PS superbikes, but on the road the SuperSport is more than enough. Passing traffic is effortless and there's enough drama in the power delivery and exhaust note to make riding a genuinely exhilarating experience - plus there are beautifully set up Brembo brakes that are strong and communicative.
And then there's the handling. The suspension is wonderful, absorbing road imperfections and potholes while remaining taught and crisp through twists and turns, giving an almost telepathic level of feedback. It really does feel like a proper sports bike – and yet its power delivery and comfort make it much friendlier on B roads than a track-focused Panigale.
Its relative comfort isn't the only practical concession made by Ducati. There's a windscreen with two height settings, adjustable on the move without tools – plus the rear of the bike is prepared for a pair of panniers. There are also fabric loops for attaching a tail bag and the tank is metal, so you can fit a magnetic tank bag.
You could ride a decent distance on the SuperSport before aches and pains started to set in, so those extras are welcome – but proper touring trips would get uncomfortable without regular breaks. There is a Touring rider mode that softens throttle response, along with an Urban setting – but in our time with the bike it felt at its best in Sport, even when gently riding on motorways.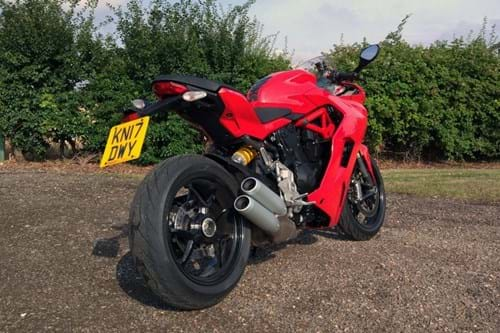 The selectable rider modes are linked to the ride-by-wire throttle, ABS and traction control system, but even in Sport mode there's plenty of assistance from the electronics - though it is subtle. But the result is a very secure and stable ride that inspires confidence even on greasy or wet roads – helped further by the excellent Pirelli Diablo Rosso III tyres.
If you have a bit more cash to spend you can get a SuperSport S, which gains a quick shifter, enabling clutchless up and down changes through the gearbox. It also gains more sophisticated Ohlins front suspension, which gives even better ride quality and control than the already impressive Marzocchi forks on the standard bike.
In terms of rivals, there are some technically clever but more focused options available for similar money - specifically the screaming Yamaha R6. Or you could get the cheaper GSX-R 750. But those bikes are less exotic and, perhaps surprisingly, less comfortable than the SuperSport. The other option is a naked superbike like the Yamaha MT-10 - but that's a very different, if similarly-priced, kettle of fish.
And so the Ducati SuperSport is very easy to recommend. If you want a focused, thoroughly enjoyable and exciting bike but you're not interested in taking to a race track for your kicks, it's ideal. Performance is great, the price (while far from cheap) is relatively affordable and yet there's still all the fiery Italian personality that riders crave.