What is it?
Like its vacuum cleaner and purifying fans, Dyson's Supersonic hair dryer is a reinvention of the traditional model. There's a whole lot of heat and airflow technology that we'll get into a bit further down but, basically, the Supersonic aims to dry your hair quicker with less heat damage and less noise than rivals. Sounds good, right?
It's definitely an impressive bit of kit, but it also costs a whopping £300. In fact, when people find out we have a Supersonic, the first question they ask tends to be whether the salon-fresh hair justifies the price. So, let's get into it...
What's it like?
Unboxing Dyson's hair dryer is a pleasant experience because there are so few bits and bobs that need to be sorted out before you get going with it. We have the Iron/Fuscia model, but it also comes in Black/Nickel if you want something a little less...pink. The Supersonic comes with three attachments; a smoothing nozzle, styling concentrator and diffuser - the latter of which makes the hair dryer look a bit like a megaphone.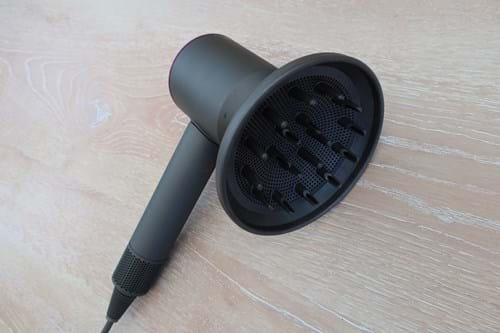 The smoothing nozzle dries and styles your hair at the same time with gentle airflow, whereas the styling concentrator - as the name suggests - is for styling your hair one section at a time. The diffuser disperses air evenly and aims to simulate natural drying, helping to reduce frizz for improved definition. The magnetic attachments simplify the often irritating and slow process of removing and connecting multiple attachments while drying your hair, so that's a big plus.
With a big hole in the middle, it doesn't look like most hair dryers on the market, but this is the brand's typical bladeless fan technology - aka 'Air Multiplier technology' - which is also used in the Dyson Pure hot+cool purifying heater fan to increase airflow.
The hair dryer isn't exactly light at 0.6kg, however, it's actually weighted nicely - just like expensive kitchen knives have carefully weighted handles for better ergonomics. It's a fine detail, but one that shows how much thought has gone into the design. Plus, we don't get the dreaded arm ache we usually do when drying our hair because it isn't too heavy at the end where the motor would typically sit. The compact size, with the attachments removed, also makes it ideal for packing inside a suitcase.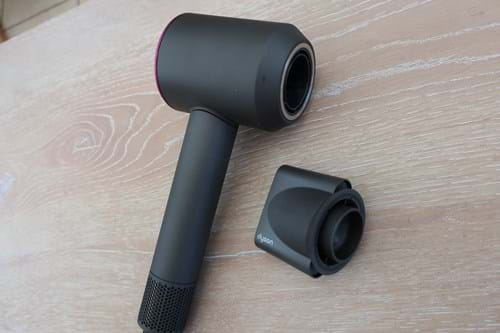 The Supersonic's 1600W, V9 digital motor sits in the handle rather than inside the dryer head, spinning at six times the speed of a normal hair dryer while producing only a third of the noise. It isn't silent, but we can just about manage to have a (very loud) conversation while using it. Air is drawn into the motor, where it's then amplified to produce a high-velocity jet of air for fast drying. Air being sucked into the handle, rather than the back of the hair dryer, also means that the filter is easy to remove and clean.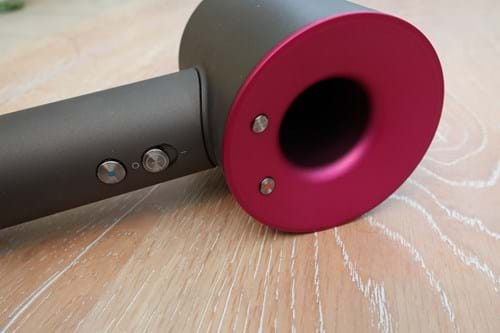 At no point during testing the Dyson Supersonic did we get that awful burning smell or get our hair trapped in the fan, which is an all too regular (and painful) occurrence with our current hair dryer. As far as performance goes, the speed at which it dries hair is very impressive. We tested the Supersonic for about a month, regularly using it on two reviewers' hair - one with long fine hair and the other with thick, curly hair.
Our fine hair, which can often look flat after drying, looked much shinier and healthier after the month of testing. We've also noticed fewer split ends because of the intelligent temperature control, which is a big positive. Our second reviewer's thick hair was dried in about a third of the 20 minutes it usually takes, with her hair parting looking neater and overall less frizzy than normal. In fact, the Supersonic's styling nozzle makes our hair smoother and softer, eliminating the need to straighten our hair after drying it.

Should I buy one?
The Supersonic took four years, plus £50 million and 600 prototypes, to perfect - so no expense has been spared when it came to engineering the motor and designing the hair dryer. It also goes a long way in explaining the premium price tag. It'll definitely save you time in the morning and, on top of genuinely feeling like a quality-built product, you might even end up ditching all your styling kit for the Supersonic.
Bottom line: it'll surely improve your morning routine and outlive cheaper rivals, but it also costs the same as two months of PCP finance on a Kia Picanto...