What is it?
The Hive is probably the most well-known smart thermostat system in the UK, competing against the likes of Nest and Tado. The Active Heating system from British Gas is now in its second incarnation, having vastly improved since launching in 2012, but you don't need to be a British Gas customer to use the Hive.
Aside from cutting your energy bills, the Hive aims to give you full control via a smartphone app (for Android and iPhone) or using the website, so you can do things like boosting the hot water as you leave work if you want to run a bath when you get home or turning the heating off if it's feeling a bit stuffy after you've already gotten into bed.
Like Nest, Hive Active Heating also works with other Hive products to turn your house into a smart home - as well as with smart assistants. However, it doesn't have learning capabilities and lacks some features that rivals offer.
What's it like?
The Hive Active Heating Kit costs £249, although it's regularly discounted on Amazon, including the cost of installation. We had a British Gas installer over to set up our Hive 2, but you can opt for another certified installer to fit it - or do it yourself if you're capable. The kit alone will cost £179, with heating control available only if you have a combi boiler. Users of the first-gen Hive can upgrade to the new hardware - including installation - for £99, too.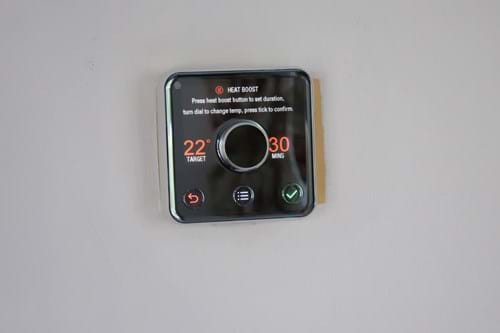 The system is comprised of three parts: the hub, the receiver and the thermostat. The thermostat is obviously the bit which can us used to control your heating and hot water, so it goes where your previous thermostat sat. Luckily, it's quite an attractive little thing so don't worry if it's sat in quite a visible place, like ours, which is on the wall in our lounge.
The small box sports a chic mirrored face and features a large dial at its centre. When the dial is turned or pressed, the thermostat lights up with all sorts of information about setting schedules, boosting heating and/or hot water, setting it to holiday mode etc. The hub is a white, plastic box that connects to your router while the receiver hooks up to your boiler - controlling when it turns on and off.
Nothing went wrong with the professional installation, which took about an hour. Nor did anything seem amiss over the next week. Strangely, after that lovely week, our boiler packed in. The boiler is very old, about 30 years to be exact. It had been certified a few weeks earlier, but the repairer told us it needed a new fan, so it's very likely to be a coincidence - possibly brought on by the boiler being fiddled with more than usual for the Hive installation. After all, the Tado blew a fuse in another reviewer's boiler when we tested it.
The interface is well designed enough that we haven't had to refer to the manual. There are two physical buttons on the top of the thermostat which boost hot water and central heating systems. Other than that, the dial is used to control temperature and scheduling, while the three buttons on the front are fairly self-explanatory.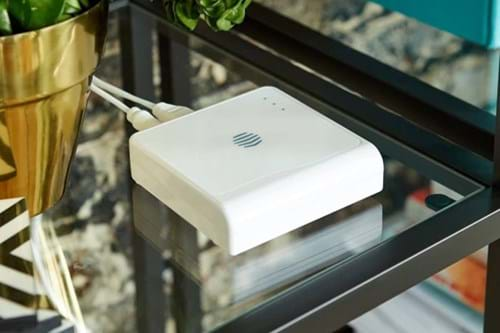 Although, it is easier to use the app than the actual Hive thermostat. In fact, that's kind of the point. Scheduling is customisable so you can set different times for the heating or hot water to come on at different times. Or, for example, you can stop the heating coming on from your phone if you make last minute plans and don't want to pay to heat an empty house.
The app is very easy to use, however, we did find the heating was on a few times when we didn't expect it to be - like the middle of summer. The heating even turned on when we put the thermostat into holiday mode - which puts the heating and hot water in frost protection mode, i.e. off unless the temperature falls below the preset level – for the period that you're away.
For some reason, which we haven't quite worked out, the heating is coming on every time the hot water is scheduled to start - which is definitely not supposed to happen.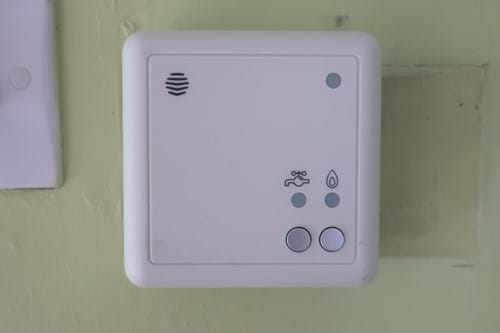 Other than that, the device has been faultless, but it was as if our Hive had gained sentience and started acting of its own volition (I, Robot style) for a little while.
The worry about turning a house into a smart home is one of the big hurdles that prevent people from making the switch. However, the Hive isn't scary nor is it time-consuming. It comes with plenty of add-ons - like smart plugs, lightbulbs, motion sensors, security cameras etc - so that you can update your home slowly over time using the same system, but there's no necessity to do this.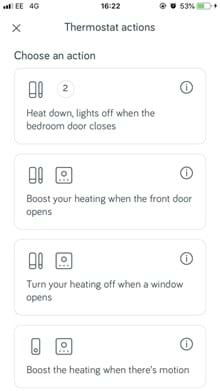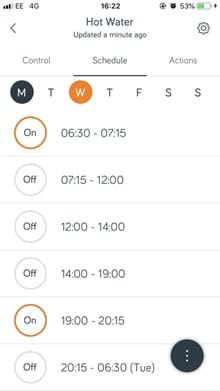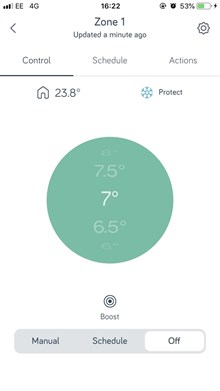 If you do opt for these extra smart home products, you can set up 'Actions' in the app to control things automatically. These include things like turning on a light when a sensor detects motion or turning the heating off when a window is opened. Hive even claims, "you could save up to £130 a year on your heating bills" by not heating an empty home.
The big benefit people see with smart home systems like Hive are the self-learning element. It's not quite AI, but Nest thermostats use a motion sensor to learn when you're in the house and when you're not, tweaking your heating schedule accordingly. Hive's Active Heating 2 can also tell when you're in or out using GPS data from your phone rather than a motion sensor, but it doesn't learn from that information.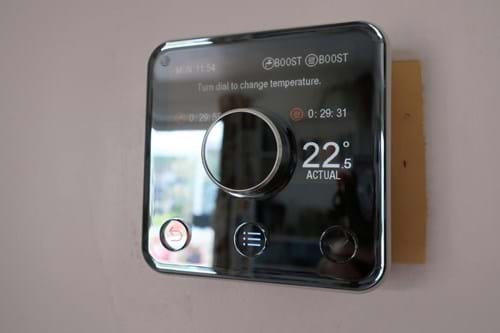 Instead, the Active Heating 2 will alert you when your phone's GPS ventures a certain distance from home and you've left the heating on. You can control up to three heating zones if you have more than one boiler, too, but Hive currently doesn't have individual radiator valves for room-by-room control.
Amazon Alexa and Google Assistant connectivity are a big positive. But some of the products, say, the smart lightbulbs don't currently have direct controls, so you can't buy a light switch to operate your lights; you have to rely on the app or use a voice assistant. There's currently no OpenTherm support for boiler modulation either.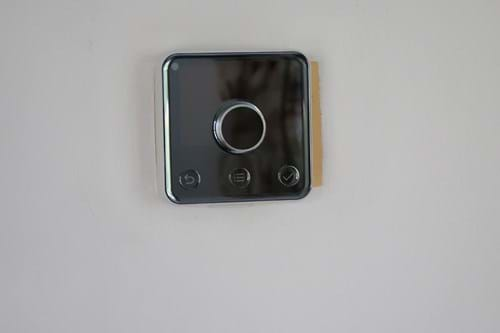 Should I buy one?
The Hive is much more than a thermostat, so it's important to consider its value as both a smart home ecosystem and simply as a heating system. The installation is quick and getting the hang of using the Hive is easy, especially using the intuitive app. However, it's not without its faults - namely turning our heating on when we'd selected 'off' in the app. That was fun on the hottest day of summer...
It's cheaper than the Nest Thermostat, although, the Nest offers smart learning so you don't have to worry about rigidly scheduling your heating and hot water. On the plus side, Hive is a modular system, so you can add sensors, lights, smart plugs and security cameras - which can all be managed and monitored with a smart assistant like Amazon's Alexa.
It's definitely not cheap, with Hive's smart lightbulbs starting at £19, but it's a well thought out system for those wanting to upgrade to a proper smart home. Imagine: "Alexa, dim the lights and play Tom Jones." Or not. Thankfully, Hive does offer packs - like the Warm Welcome Home Pack, which offers the Hive Hub, Active Heating Thermostat, dimmable lights, motion sensor, smart plug and Amazon Echo Dot (Alexa) - to make the price a little less steep (£339 or £28.25 per month).
All in all, Hive is a great smart home system with lots of potentials and its range of devices to add are still growing. However, if you're looking just for a smart heating system, there are smarter options available.