What is it?
It's a smart thermostat, similar to those sold by Nest, Hive and Honeywell. If you're not familiar, it's one of those gadgets that makes your life easier and can save you money. It replaces the 'normal' thermostat that controls the heating in your home with a digital unit that can be connected to an app on your phone, allowing you to adjust the temperature of your home remotely - or even do it for you, saving the energy that's wasted by heating an empty house.
With heating accounting for 60 per cent of the average household energy bill, Tado claims that its smart technology could save you up to 31 per cent on your annual heating costs. With a price tag of £199.99, the Tado smart thermostat could pay for itself within a few months.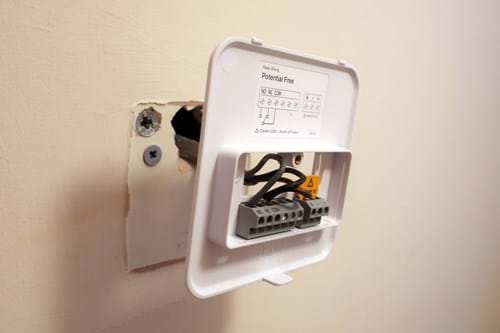 What's it like?
In the starter kit, you get the smart thermostat itself (a slim, stylish device), an internet bridge to be plugged into your internet router via an ethernet cable (also provided) as well as screws and sticky pads for mounting the thermostat. Fitting it is a simple enough task - removing your old thermostat might be the most time-consuming part of the job, and it works with 95 per cent of all heating systems.
Once all the hardware is in place, getting to grips with it is easy. The app tells you the current temperature in your house (as well as other interesting factors like the humidity and whether an open window has been detected). Changing the desired temperature is a simple process, as is setting a smart schedule.
We've set up a schedule that turns the heating up for a few hours in the morning and evenings during the week, allowing the temperature to drop during office hours when the house is empty. That's nothing groundbreaking - most conventional heating systems allows you to do similar - but being able to do it easily using a phone app is handy.
For £2.99 a month (or £24.99 a year), users can subscribe to Auto Assist. This means you have to do even less to operate the Tado smart thermostat. It will use your location to change the temperature - so, for example, if you're a long distance away it'll allow the temperature to drop. As you start heading home, it'll turn the heating up to make sure the house is toasty when you get there.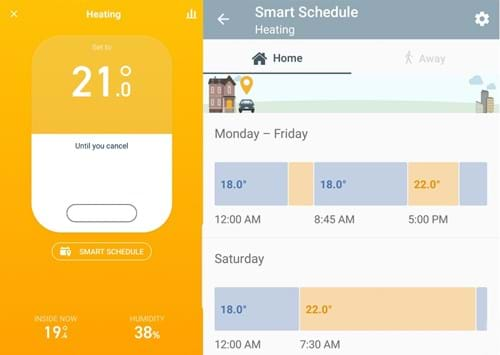 This works fairly well, although our test house takes a while to warm up, so we found it better to manually turn the heating on before heading home rather than relying on the Auto Assist feature. It works well as a backup in case you forget, though. That £2.99 a month also turns the heating off when an open window (or door) is detected for a long period, while the weather adaptation will turn the heating down when sunshine is predicted. Both clever money-saving features.
The Tado works with Google Assistant, Amazon Alexa and Apple HomeKit too. We particularly like its integration with Android Auto in the car - being able to turn the heating up or check the temperature using voice commands while driving is a very useful feature. If you want Amazon Alexa capability in your car but don't have it, you can buy the Anker Roav Viva.
Of course, if you wish, it's still possible to adjust the temperature via the thermostat like you would have done before fitting the smart thermostat. Just tap the slick LED matrix display and press the arrows to turn the temperature up or down. We rarely feel the need to do this, but it's useful if there are multiple people living in the house (although, more than one app can be used with the device).
If you wish to take your smart heating system a step further, you can buy extensions such as a smart radiator thermostat - allowing you to change the temperature of an individual radiator remotely - or even control the hot water.
Should I buy one?
We're totally convinced that smart thermostats are a good idea. Not only will they save you money, but they'll also make your life more comfortable - especially over winter. Driving home from work? Turn the heating up so your house is snug when you get home. In bed wishing it was a bit warmer? Just tap the app or tell Alexa to adjust the temperature.
Compared to rivals like Hive or Nest, the Tado represents good value for money. There isn't really anything it doesn't do, and it's easy to install and use. However, we're not convinced £2.99 for Auto Assist is worthwhile - many people will be happy that the Tado does everything they need once installed, without paying any extra costs. And that's a good thing.