Honda is one of the most respected brands among motorcyclists. Its reputation for building exceptionally sturdy, long-lasting machines is decades old, but its bikes aren't necessarily wallet-friendly. Fortunately, that's not the case with the CB500X, which is well-priced at £5600 and can be ridden by A2 licence holders.
Its adventure bike styling is more or less just for show – you're not going to beat Ewan McGregor to the North Pole on one – but it gives the 500X great road presence. That's handy when filtering through traffic, where the tall, upright riding position provides an excellent view forward and great control. Exploiting little gaps is very easy despite the bike's size.
But as good as the 500X is in town traffic, it's better on a country road. Getting through bends is incredibly easy thanks to the light, effortless handling – even when banked right over the bike feels safe and stable. The controls – brakes, clutch and gear selector – are all buttery smooth, making the 500X very easy for new riders to get used to.
The 471cc, two-cylinder engine produces 47PS, so is A2 licence-friendly – but don't be put off if you're a full licence holder. Compared to big, 1000cc performance machines the pace of the 500X is best described as leisurely, but it's still more than a match for nearly every car. There's plenty of fun to be had, yet acceleration never feels daunting or dangerous.
The seat height of 810mm is, for an adventure-styled bike, quite low. That's good news if the 500X is your first big bike, since it's easier to get both feet down, which helps if you're getting used to the heft of something heavier and bulkier than a 125cc learner bike. The CB500X carries its weight nice and low too, so never feels top heavy or unmanageable.
If you ride regardless of the weather the 500X isn't bad. It has ABS to give reassurance on slippery roads, plus there is a small but surprisingly useful screen to keep wind buffeting at bay. From 2016 onwards this screen is a touch larger and more useful – plus 2016 bikes also get a snazzy LED headlight and a meatier exhaust note.
They also gain new front forks with spring preload adjustment which, along with the five-stage adjustable rear preload fitted from the bike's launch in 2013, enables the rider to better set the bike up for carrying a pillion. The pillion seat itself is a good size, plus there are chunky grab rails to help passengers feel comfortable.
If you want additional weather protection then there are some optional extras including knuckle guards to keep your hands out of the wind and rain, along with heated hand grips for cold days. There are also practical extras, including a top box and side panniers – handy for touring or for shopping trips – along with styling add-ons and an Akrapovic slip-on exhaust.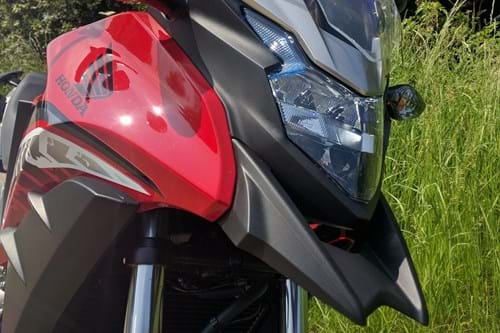 Those practicality extras will be important if you're a commuter, since there isn't much in the way of storage space on a standard 500X. In fact, there isn't any – under the seat you'll fit a wallet or a lock, but that's all. If you don't want to carry a bag then the £230 top box kit from Honda's accessories catalogue is the best bet, since side panniers are pricier.
The CB500X might be affordable at just over £5599, but Honda cost-cutting hasn't resulted in a slip in quality. The switchgear is sturdy, the paint is thick and everything feels built to last. The instruments are simple and there are no fanciful selectable driving modes, but the bike doesn't feel any worse for it.
One of the cleverest ways Honda has saved money with the CB500X is by sharing its basic underpinnings with two other bikes. The CB500F and CBR500R both use the same A2-friendly engine as the 500X, but with either a street or sports bike personality. Both are similarly priced too, so if adventure bike styling isn't your cup of tea one of those might be.
But for our money the 500X is the best choice of the three. The 500F is cheaper at £5100, but it lacks the weather protection and comfy riding position of the X. The CBR500R costs the same as the CB500X, but its sporty riding position makes it less friendly to use in town. So, if you're planning to use your bike every day, the 500X is a great choice.