What is it?
Honda's CB500F is pretty much the perfect do-it-all motorcycle, but that doesn't stop riders wanting something with a bit more focus. Hence the CBR500R with the same 471cc 48PS parallel twin engine for those of a sportier bent.
On the other side of the equations sits this, the CB500X, for anyone who fancies longer range touring or a spot of off-roading. Before the CB500X's 2019 makeover, it wasn't wholly convincing as an adventure bike. Now, however, the longer travel front and rear suspension, new rear shock absorber and 19-inch front wheel make it a much more suitable choice.
As ever, the 500X comes with Honda's superb build quality, ease of use and that elusive X-factor that just makes the Big H's bikes so very desirable. If you're in the market for a superb commuter or first bike adventure machine for touring, the 500X hits the spot.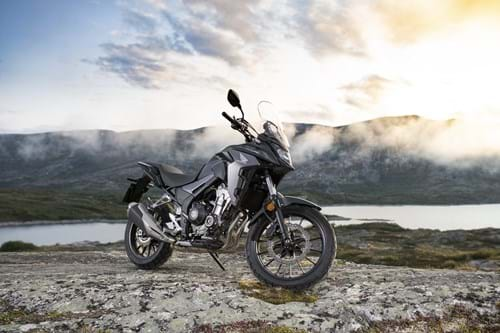 What's it like?
Small changes can add up to big differences, and so it is with the latest Honda CB500X. The biggest improvement for this bike is the 19-inch front wheel that replaces the previous 17-inch item. It was an alteration the bike, and many owners, had been crying out for and we're very glad Honda has responded appropriately.
Not only does it give the 500X much more of that adventure bike look we like so much, it has practical advantages when it comes to riding over rougher terrain and dealing with pockmarked tarmac.
Along with the larger front wheel is an added 10mm of suspension travel front and rear. This ups total movement in the front forks to 150mm and 135mm for the rear swingarm. Again, these are minimal changes in the grander scheme of things but finesse the 500X into the bike it was always trying to be beforehand.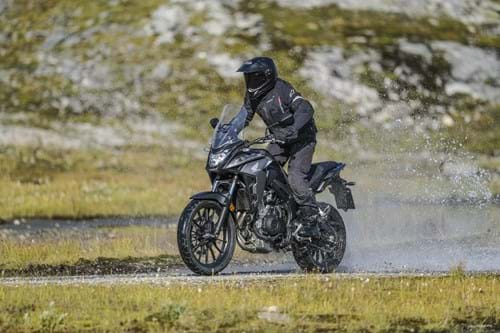 Combined, the new suspension settings and front wheel mean you can ride up and over kerbs with ease. That's not just a turn of phrase but a reality as many 500Xs will be used to commute on and hopping over a kerb to get to a parking space is part and parcel of urban riding.
Away from the city, it means the Honda can now be used for some more challenging green lane routes, though you'd need to change from the standard Dunlop Trailmax Mixtour tyres if you want to deal with wetter, more slippery trails.
More pertinently, the suspension endows the 500X with brilliantly superb comfort, so you can spend long days in the saddle without any creeping aches or twinges. Given the 17.7-litre fuel tank is capable of delivering nearly 300 miles between fills, it makes the 500X a marvellous long-distance tourer and this is aided by the excellent screen and weather protection from the fairing.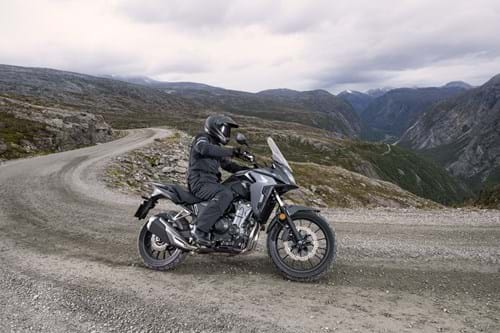 Complementing all of this is handling that feels very un-adventure bike-like. We'd go as far as saying the X is more enjoyable than its F and R sister models. Perhaps this is down to the unexpected agility on a tall, softly suspended bike you experience on the 500X or maybe it's the tighter steering lock it now has that makes it even better through town traffic.
Either way, the X is now an unalloyed joy to thread along any road and you can do this with considerable verve when the mood takes you. If you want to up the ante further, swapping from the standard tyres to something more road biased would help, but we suspect the 500X is ideally balanced as it is.
Powering all of this is the same 471cc parallel twin motor as in the other CB500 models. Its 48PS is not exactly a tower of power, but it's more than enough to make the X fun and capable up to and beyond legal speed limits.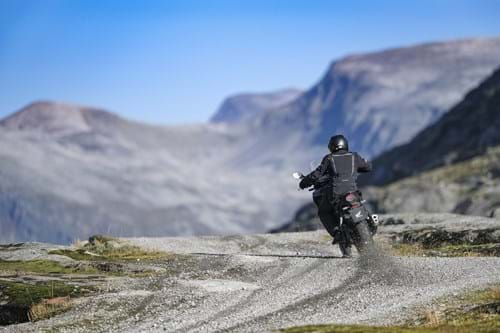 Even two-up, it feels like an engine that's larger than its true capacity, helped by the bark from the twin exhausts on this model. There's also lots of low and mid-rev urge, so you don't have to constantly work the six-speed manual gearbox when you just want to potter.
As with every other facet of the 500X, the transmission works seamlessly and is much smoother than Honda transmissions have sometimes been in the past. The same polished perfection applies to the weight and action of the clutch, while the brakes are strong and responsive. They come with ABS as standard, which more adept off-road riders might not like so much, but the average 500X owner will find them ideal.
The handlebars are positioned higher and further back than on other CB500 variants, so the riding position is very relaxed and natural. During our time with the Honda, we never once found ourselves aching for a break.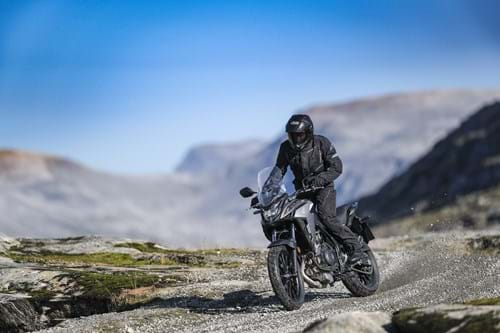 With the front screen now 20mm higher than before an adjustable to two heights, albeit with an Allen key to do this, you can tailor the seating position to suit and keep the weather at bay. Even the 830mm seat height isn't as much of an issue as shorter riders might fear as the updated 500X's fuel tank is now 20mm narrower. It allowed this 5'10" tester to get feet flat on the floor when coming to a halt.
Lastly, there's the new fully digital dash display. It presents all of the relevant information clearly, though we found bright direct sunlight could obscure the readout briefly. However, this isn't a problem unique to the 500X.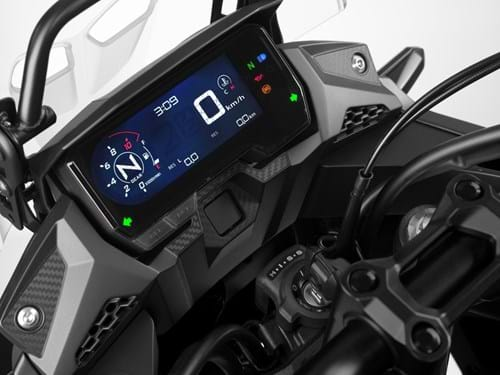 Should I buy one?
It might not be the cheapest 500cc machine, but the Honda 500X more than makes up for that in its superb build quality and equipment count. Further bolstering that value for money proposition is the superb fuel economy and range that makes this a serious alternative to more obvious touring bikes.
Unless you have your heart set on a very particular make, model or type of motorcycle, the Honda CB500X should be on your shopping list. Even adventure bikes with larger capacity engines are within the X's sphere of competition as it's so capable. It really is the most rounded and impressive machine we've ridden in a very long time.