In the UK, most people see the humble scooter as a vehicle for teenagers who can't afford a car. But while a 17-year-old is allowed to ride a Honda Forza 125 with L-plates, its appeal is far, far broader. In fact, it's one of the best commuter machines in existence, no matter your age or experience - or the bike licence you hold.
It's not just a bike for getting around town either – performance is surprisingly strong. In fact, if you give yourself a big enough gap for passing slow traffic, it's quite happy cruising along the motorway at a steady 70mph - and without making an ear-piercing scream as the needle bounces off the rev-limiter.
The Forza copes with corners well too. The steering is natural and, since there's very little weight, it's immediate too. You can more or less think your way through bends, with minimal effort required. There's no escaping the fact this is a 125 though – meaning acceleration can be a little sluggish out of turns, especially at more than 35mph.
But obviously it's in town where the Forza really shines. It might be quite bulky, but it feels light and has intuitive controls, strong brakes and smooth, surprisingly potent acceleration up to 30mph. Getting away from the lights ahead of everyone else is incredibly easy – plus there is a stop/start system, so you won't burn fuel when you're waiting for the lights to change.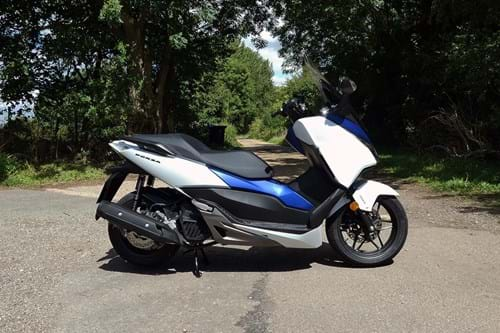 It's not perfect of course. The Forza is quite big and wide, so squeezing through gaps when filtering through traffic is sometimes difficult compared to smaller scooters. Fortunately, the mirrors (which are actually useful and don't just remind you what your elbows look like) are easy to fold if needs be, plus the Forza's bulk means other road users notice it and treat it like a big bike.
The ignition system is keyless, as is the locking system for the under-seat storage. As long as you have the key in your pocket you can open the storage compartments and start the bike up – and a nice side-effect is that you can't accidentally lock your key in the under-seat storage.
There's also a screen that can be adjusted without tools, so you can enjoy the breeze when the sun is out and then, when the weather turns, keep the rain off. Weather protection is good overall, with leg shields that keep the worst of the cold and wet off – though your hands will still get chilly in winter.
Under the seat there's enough space for several shopping bags, or you can easily store a full-face helmet, or two at a push. There's also a cubby hole to the left of the instruments which is ideal for odds and ends like a disc lock, plus it has a 12V outlet for charging your phone. Sadly it doesn't lock, so remember to empty it of any valuables.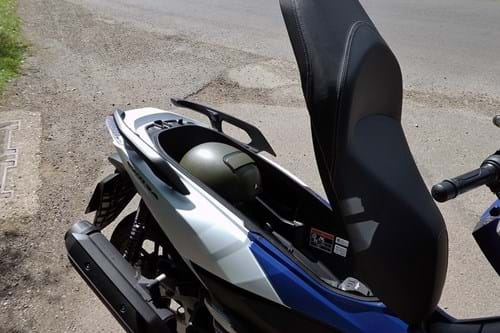 Both a side stand and centre stand are fitted. Some new riders are daunted by the prospect of getting a bike on and off its centre stand but it's very easy with the Forza, since it's well-placed and provides plenty of leverage. In fact, the Forza hides its bulk very well and is surprisingly easy to move around a garage or in and out of tight, crowded bike bays.
Running costs are tiny. Annual tax is £17 and fuel economy is genuinely upwards of 100mpg, no matter how you ride. If you're thinking of using the Forza instead of paying for a pricey train season ticket, it should itself off in savings fairly quickly, particularly if you're on a PCP.  
Of course, the same could be said of most 125cc scooters – and there are lots of options that give the Honda a run for its money. The Kawasaki J125 provides a similar experience for less money, while Honda's own PCX 125 is significantly cheaper to buy and just as cheap to run, albeit less plush and high-tech.
The Forza 125 is very pricey for a 125cc scooter at £4566 – but we think it's worth it for the level of quality, refinement, economy, performance and practicality on offer. In fact, we think the Forza 125 is the best scooter you can buy if you want a hassle-free, two-wheeled commuting machine.