What is it?
The Kawasaki W800 is about as close as you can get to buying a brand new classic as it gets. Like its rivals from Moto Guzzi, Royal Enfield and Triumph, it draws heavily on its heritage, which in the case of the W800 can be traced back to the 1965 W1. At a glance, the W800 could easily be taken for a bike from that era, which is what its retro appeal is all about.
However, this latest W800 is far from a rehashed oldie and now comes with a rear disc brake to replace the previous model's drum. There's also a reworked engine to make it Euro 4-compliant even though it sticks with air-cooling for an authentic look and riding experience. A new chassis coupled to a smaller 18-inch front wheel gives much-improved handling too, even if the W800 is more focused on comfort. You can opt for the Café model if a sportier ride is on your priority list and it comes with cowl fairing and clip-on handlebars.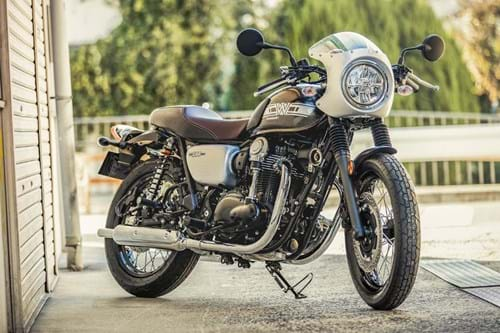 W800 Cafe
What's it like?
It may sound like a back-handed compliment, but this latest W800 feels very much like the old model. We mean that in the best possible way as the previous generation of Kawasaki's modern classic was easy to live with and delivered a pleasingly genuine old bike experience blessed with modern reliability. Yet some subtle differences and upgrades make this new W800 an even more appealing machine.
Let's start with the biggest updates, namely the chassis and smaller 18-inch front wheel. The double-cradle frame is far from radical in its design and geometry, which suits the W800's purpose and rider demographic. This endows it with a decently low seat height that makes getting your feet on the ground is easy, which matters when the bike tips the scales at 221kg. For those with an A2 licence, the W800 is an unthreatening bike that works with you to instil confidence. Go for the Café model and its seat is 20mm taller but it's also narrower, so there are no issues with planting a boot on the deck as you come to a stop.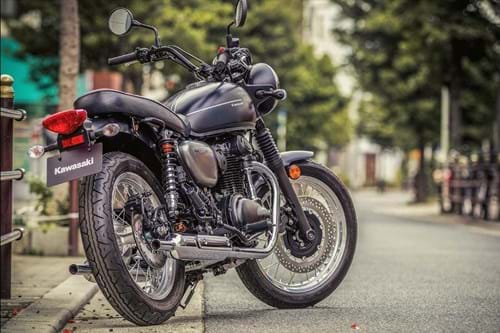 W800 Street
Bringing the W800 to a halt no bother thanks to the 320mm single front disc and new 270mm rear disc. They offer lots of stopping power and comes with ABS as standard, plus the bar levers are span-adjustable so you can be sure of a secure pull on the handle when a hazard presents itself. During our time on the W800, we encountered plenty of wet roads and the bike always felt stable under heavy braking, helped by the relaxed riding position and heft of the bike.
Speaking of the riding position, the W800 has that natural limbs-at-right-angles seating style that means you can trot up and down motorways and back lanes and across town without twinges or aches. Even a three-hour ride didn't cause any numbness in our posterior, which underscores the W800's credentials as a long-distance touring bike. The naked version could do with a small screen for higher speed riding, while the Café's domed fairing keeps the worst of the blast off. Also, the Café's racier riding position is still remarkably easy on the spine as it's not too crouched.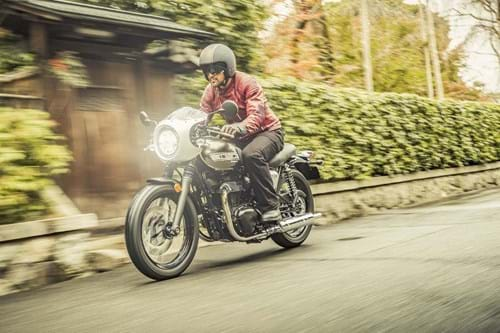 What we did find with the Café is its riding position and style raise expectations a little above what it can deliver in performance and handling. It's perfectly stable into and through corners, but it's not as lively as a Triumph in corners and the engine doesn't have that last bit of gusto when accelerating out of a bend.
Sling your leg over the standard W800, however, and all of that weight of expectation disappears. Instead, you're left with the impression of a bike that has just the right amount of power at 48PS and sufficient torque to see you make easy progress and overtake with confidence. The five-speed gearbox works efficiently and dropping down a gear is more than enough to liven acceleration when required. Just as importantly, the parallel twin engine sounds spot-on with its classic thumping note through the pea-shooter exhausts.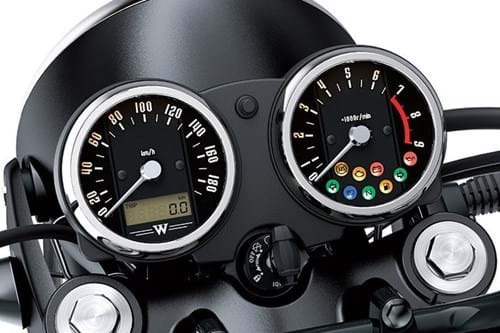 As such, there's very little to dislike about the W800, but we do have a couple of niggles to raise. First off, there's no fuel gauge or miles to empty indicator, so you have to trust to memory how many miles you've covered since filling up. It's not a disaster as the W800 is capable of around 180 miles to a tank. We'd also like to see a gear position indicator, but that's about it for a bike that is otherwise built to a very high standard.
Should I buy one?
There's plenty of choice in the modern classic sector, but few offer quite the level of authenticity of the Kawasaki W800. Not only in its looks and ride does it hit the mark, but there's a clear lineage back to a bona fide classic machine. However, Kawasaki has made a superb job of updating the W800 for modern roads and riders, and we'd happily recommend it to anyone looking for an all-rounder A2 licence machine. It does come at a price, mind, especially when compared to a Royal Enfield - but the quality, finish and detailing of the W800 justify the expenditure.