With the dimensions and weight of a 125cc bike but twice the power and torque, the Kawasaki Z250SL (SL stands for Super Light) is the perfect tool for commuting into town. It's also ideal for someone who wants to upgrade from their learner bike without jumping straight onto an intimidatingly heavy and powerful 'proper' motorcycle. 
It's a fairly humble machine on paper. Peak power from the liquid-cooled, single-cylinder engine is 28PS at 9700rpm, while peak torque is 22.6Nm at 8200rpm – numbers that, in the context of most A2-friendly bikes, aren't very impressive. But it's better to think of the Z250SL as a 125 Plus – a small, manageable bike with a bit of extra performance.
The seat is fairly high for such a small bike, but most riders will be able to put their feet flat on the ground. The footpegs are high but quite far back while the handlebars are low and reasonably flat. That means the riding position is surprisingly sporty – a fact reinforced by the incredibly thin seat padding. Even so, it manages to be comfortable unless on a long trip.
Performance isn't going to set the pulse of a hardened biker racing, but for someone new to riding it's ample – top speed is upwards of 90mph and acceleration is brisk enough to leave most cars behind from a standstill. What's more – even ridden hard the Z250SL delivers strong economy of more than 70mpg, so fuel bills are tiny.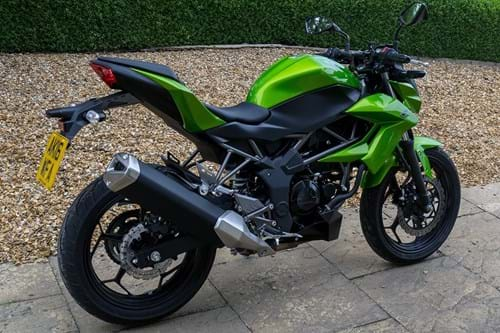 Handling is nimble and immediate. The light weight of the Z250SL really helps here, making turns incredibly easy – you can almost think your way through bends, since so little physical effort is needed to lean in. The brakes are surprisingly strong and progressive, but the standard tyres aren't particularly communicative, especially in the rain.
In town the Z250SL is as friendly to ride as a 125. The clutch is light and the bars are narrow, so filtering through traffic is easy – though the mirrors could provide a better view back. The exhaust is barely audible too, which isn't ideal in busy town centre riding. It doesn't need to be loud, just noticeable.
Practicality is poor. The Z250SL offers no real weather protection, the underseat storage is barely large enough for a wallet and the pillion pad, while present, is too high up and too small to be of any real use. The rear suspension can be adjusted for carrying a pillion, but it's difficult and hardly worth the effort considering how uncomfortable a passenger would be.
That said, there are hooks for strapping luggage nets or tail bags to the rear of the Z250SL if you need to carry some extra luggage, while aftermarket manufacturers like Puig offer small windscreens to improve weather protection, if only slightly. Other extras include crash protection and a pillion pad cover to make the Z250SL look like a single-seater.
The instruments and controls are simple but perfectly useful – there's a digital display with rev counter, speedo, ODO, fuel gauge and a clock. The rest of the minor controls are exactly where you would expect to find them and everything feels sturdy and well-made, as is typical of all Kawasaki bikes. It should stand up to use in all weathers.
If the Z250SL's light weight and easy-riding nature appeal but you want better weather protection there is a faired version, called the Ninja 250SL. It has the same frame and engine, but it has a basic, sportsbike-style fairing and clip-on handlebars. It isn't much pricier than the Z250SL though, at £3849.
In terms of rivals, there aren't many that compete directly. Most A2-licence friendly bikes are a bit bigger and more powerful than the Z250SL, but the Suzuki Inazuma is a direct competitor. It's about the same price as the Kawasaki, but its two-cylinder engine isn't quite as powerful and the Inazuma is heavier too.
That puts the Kawasaki Z250SL in a unique, if very niche position. But to treat it as a commuting tool is a real shame because it's more versatile than that – you could merrily ride it every day to and from work and take it out for a fun, spirited ride at the weekend. All for about £3500 – a lot less than a Yamaha MT-125, which is half as powerful.  
We're living with the Z250SL to see how it fares over a longer period – click here to find out how we're getting on.