Blending stylish retro looks, a characterful V-twin engine, beginner-friendly riding dynamics and excellent quality, the Moto Guzzi V7 II is a great choice of bike for a newly-qualified A2 licence holder. But it feels more substantial than many A2 machines, so would also suit a more experienced biker looking for something easy-going yet enjoyable.
Being a Moto Guzzi, the V7 II is powered by a transverse-mounted V-twin – hence the two chunky cylinders that stick out from either side of the bike under the petrol tank. That arrangement is unusual and gives the V7 character – but not just in terms of style. Fire it up and it rocks gently from side to side when revved - it feels more alive than many bikes even when sitting still. 
The layout calls for a shaft final drive instead of a chain. It's unlikely to make much difference to most riders, but it does have the benefit of easy maintenance – there's nothing to adjust or lubricate with a shaft drive. Aside from that, the V7 is pretty conventional – the controls and riding experience are very easy to get to grips with.
The seat height is forgivingly low and, despite that meaty-looking engine, the bike feels extremely manageable at low speeds. It weighs 189kg which, while far from super light, is by no means heavy – especially compared to something like the 229kg Harley Davidson Street 750. Beginners should feel at home very quickly.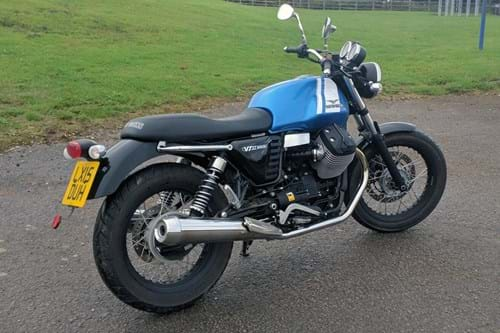 Low seat makes the V7 II feel manageable
The 744cc engine is much bigger than the engines in most A2 compliant bikes but it's no screamer, meaning peak power is a manageable 48PS. More important is the 59Nm of torque, which makes the V7 II responsive at low engine speeds and provides really punchy, relaxed performance and a great, burbling, popping soundtrack even through the standard exhaust.
Sure, it won't keep up with superbikes, but for nipping past a slow-moving truck it's effortless, as is the handling. Again, it won't keep up with performance machines on knee-scraping twisty roads, but the wide bars and upright riding position mean placing the bike in bends is easy and forward visibility is excellent, plus the brakes are adequate and progressive, despite there being just a single disc up front.
Something that will appeal to new riders is the standard fit traction control and ABS system, which provides plenty of reassurance on poorly surfaced or wet roads. Warning lights illuminate when starting up to show the systems are working, but then they disappear. After that the riding experience is typical of any bike - the systems won't cut in unless the absolutely have to, so won't impair the riding experience. 
You won't want to ride it in the wet though, despite the safety net of ABS and traction control. There is very little to keep the elements at bay and there's also a lot of exposed, hot metal for water and road dirt to bake itself to. If you're going to ride in all weathers then be prepared for some meticulous cleaning to keep things looking their best - and you'd better invest in some decent waterproofs.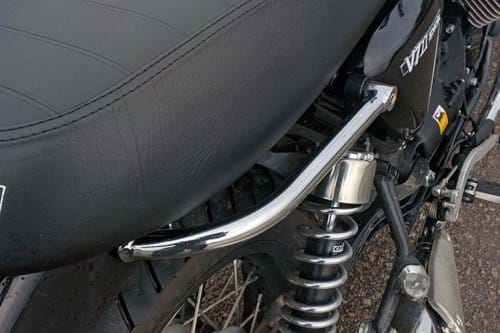 Decent grab handles and easy access suspension make it pillion-friendly
Practicality is an afterthought. If you want to use the Guzzi V7 to get to and from work then you'll need to invest in a decent backpack, or set some money aside for some luggage from the accessories catalogue. If you plan to carry a pillion the V7 II should be fine - the rear shocks are easily adjusted, plus there is plenty of space and a good grab rail, provided you don't choose the Stornello or Racer models. 
We rode the V7 II Special, which has 1970s styling and colour schemes, but there are plenty of variations. The basic Stone model costs just over £7000, making it expensive for an A2 bike – but it's easy to see where the extra money goes. Quality is very good, with a real sense of solidity to the nicely finished components.
If you've got more to spend then for £8600 there is a V7 II Racer, which has café racer styling including rear number boards and a little fly screen. There's also a Storello variant for the same price, which has scrambler-inspired styling and a high-level Arrow exhaust system that looks and sounds the part. There's also a huge range of options in the accessory catalogue to customise your bike and make it your own.   
But even if you keep it simple and go for a cheaper model you'll likely be very pleased. The Moto Guzzi V7 II is a well-made, stylish bike that is easy to ride and comes with modern reassurances including traction control. For either a beginner or an experienced rider who values style it's a great buy, but even in its basic form it is expensive for an A2-friendly bike, so be sure to check out alternatives like the Ducati Scrambler.