What is it?
The Multimac allows you to fit three or four children in the back of your car. While most family cars can seat three in the back, they can't often accommodate three child seats – which is where the problems start.
So the Mulitmac is great if you're expanding the family but don't want to swap your car for a van with seats. It even has its own rear facing baby seat – called the Minimac, which is good until your child is about three years old.
The unit can be used from birth up to 36kg, which is about 11-12 years old. Prices range from £1299 to £1499. We tested the three-seater SuperClub which at £1499 is quite expensive. But there is no other system to rival it and it might work out cheaper than replacing your car.
Installation takes about an hour and costs £99. A variety of fixings are available – from straps that wrap around tubular chassis to replacement fixing bolts for the seatbelt anchor point. All are incredibly secure, but beware – it won't fit onto Isofix points. We opted for an engineer fit and didn't have to worry about what kind of fittings we needed, as the engineer had all the relevant parts to hand.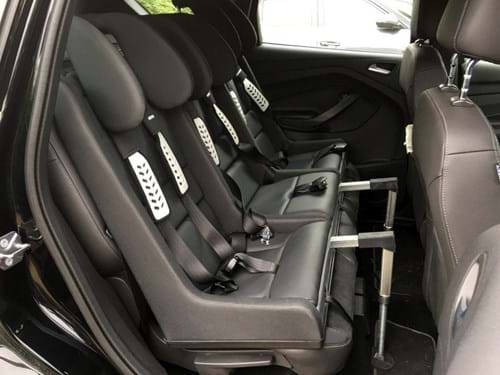 Multimac secures safely on top of your existing seat.
Although you'll need to remove (and store) your car's existing headrests, the unit sits securely on top of the rear bench seats – no matter how sculpted they are. While you won't be able to fold the seats down, the unit can be quickly removed if required.
What's it like?
Once fitted, the unit is secure and doesn't float about so there are no safety issues to be concerned about. Children are secured via a five-point harness, the straps of which can be tightened or made looser as required.
While my two girls, aged four and seven, could easily 'clunk, click' regular seatbelts – they found it difficult to strap themselves into the Multimac. And so did we - at first. Getting the two halves of the metal clip to line up can be fiddly, but it can take some real determination to fasten it to the bottom half of the belt. This became easier as towards the end of the test as the items bedded in, though. But you will need to loosen and tighten the straps each time.
One good thing is that as your kids grow, the unit grows with them. So the outside seats can be adapted for use with an adult seatbelt. Three days a week, we take a friend's daughter to school and it's not a squeeze - there's easily room for all three.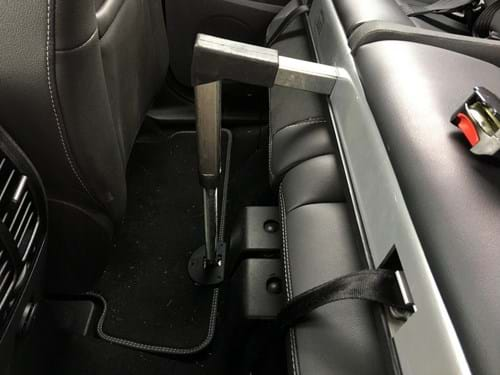 On our Kuga, the unit's legs protrude - but on other models it's a flusher fit.
Another aspect to be mindful of is the protruding legs that help secure the unit. On some models, these can fit flush against the seat, but on our 2016 model year Ford Kuga they stick out. This has resulted in a few bumps. Thankfully, protective rubber covers any sharp edges.
During the two weeks on test, we were never able to successfully remove the unit. I'm sure that this was down to operator error, but we either felt like we were about to snap clips or wouldn't be able to get it back in securely enough.
Weighing 39kg for the main unit, it's not the easiest thing to lug about - it's heavy. It's sizeable, too – so if you're removing it out you'll need somewhere to store it. And we're talking about storing something that's practically the same width as your car here.
Another thing to be aware of is the noise. When the Multimac is loaded up with children it's fine – but if you've just dropped them off at school then you'll spend the rest of your journey to work listening to the rattles and clunks from the unit. Not the end of the world, but something to be mindful of.
Should I buy one?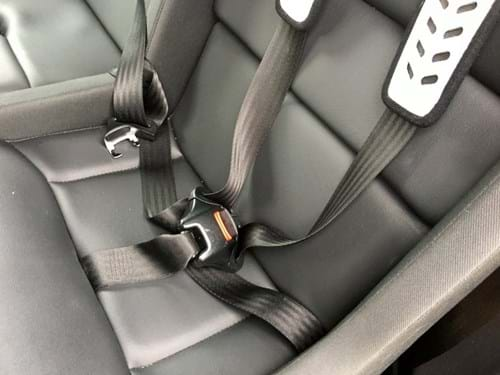 Children are secured with a five-point harness.
There is no doubt that the Multimac is a very sturdy, and secure unit – especially when compared to a traditional seatbelt-fixed booster seat. And while it does fit most cars, each model has to be individually approved - so you'll need to get in contact to check before buying.
The Multimac has been developed and stringently tested. That bench structure makes the unit strong and the way it is fixed means it's basically attached to the chassis of the car. There are side-bolsters and head rests for occupant protection, too. And the unit is put through its paces in Sweden, as well as being developed with input from UK safety bodies, such as the Transport Research Laboratory.
There is nothing else like it on the market, so if you want to get three or four kids across the back but don't want to change your car, this could be the solution you've been looking for – albeit a costly one.
Details
3 seats : 3 x SuperClub seats (400mm)
Overall width: 1230 mm
Fits in a range of cars, from a Volkswagen Polo, Ford Fiesta, and Hyundai i20 upwards
Each seat berth will take children from 0-36kg in the adjustable harness.
The Honest John Kit Car Seat Chooser
Choosing - and buying - a car seat for your baby or child is a pain. It means visiting every child seat manufacturer - either online or in-store - to see if their seat fits your car and, if it does, it goes where you want it to. So we decided to do something about it. We built a car seat choosing tool that starts with the most important thing (well, after your child, that is): your car.

Tell us what car you have, or plan to get, and we will show you those that fit your car.
Select your car's make to get started
Tell us what car you have, or plan to get, and we will show you the car seats that fit.