What is it?
The Oxford Mondial Advanced Rider jacket is different from other textile jackets in the sense that rather than being a layered construction, it's laminated. Most textile jackets feature an outer shell with a waterproof layer and a thermal lining inside with all sorts of detachable layers and vents that can be removed/attached and open/closed depending on the weather conditions.
However, the Mondial jacket is constructed of a laminate outer shell, incorporating Oxford's Dry2Dry waterproof and breathable membrane bonded to a tough nylon construction. That means the jacket is both breathable in warm weather and waterproof in the wet because the waterproof membrane is built into the outer layer.
Laminate jackets have traditionally been at the very top of rider's budgets, however, Oxford claims the Mondial jacket is within reach of all discerning motorcycle riders. And they aren't wrong - it's very good value. So, let's get into what we thought of it...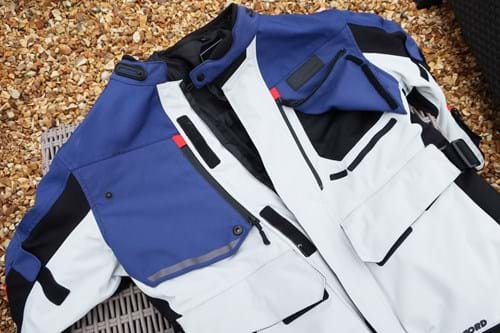 What is it like?
We started testing the Oxford Mondial Advanced jacket in early April when the weather in most of the UK was still quite cold and rainy. With the weather perking up in May, we've had a good chance to see how the jacket copes in most conditions - and it's highly impressive.
It features Oxford's Dry2Dry membrane - which is a high-quality waterproof, windproof and highly breathable membrane - and DirectVent to improve airflow in the jacket. Adjustable frontal air intakes and rear exhaust ports are located in key zones to allow excess heat and perspiration to escape, making it far more comfortable than other textiles in warm weather.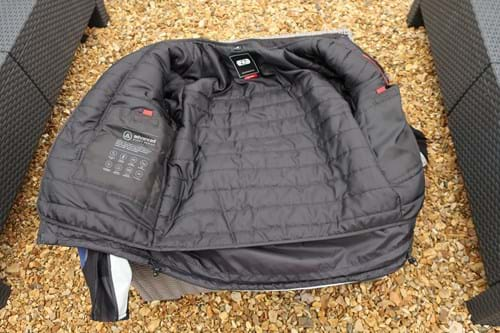 Oxford's Warmdry high insulation, low bulk, detachable thermal liner also sits within the jacket to prevent wind chill and hold in heat when the weather isn't so great. So, what does that mean for you? Well, you won't have to make a guess about whether to bring along a waterproof layer just in case it rains, especially considering how unpredictable British weather can be. The Oxford Mondial Advancer Rider jacket is adapted for all conditions and it's pretty lightweight as well.
The jacket is fairly snug without feeling bulky. Although, if we had one complaint about the fit, it's that the jacket is a touch short. This can be remedied with the Oxford Mondial Advanced Pants, which we also have on test (review coming soon). The salopettes design of the Mondial trousers means they sit quite high up, so it compensates for the short jacket - but if you don't own/wear them, the jacket does feel a little too short.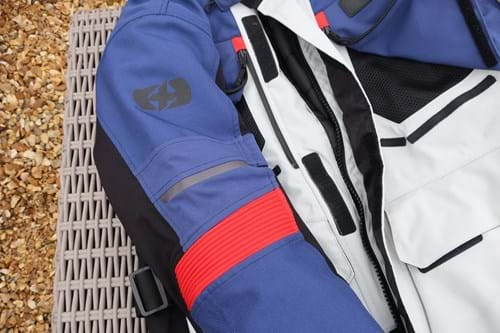 In rain, it feels very warm but it does hold onto the water rather than beading like we expected. On the plus side, the jacket dries much faster than other jackets we've tested. Is it an all-weather jacket? Not in our opinion, it's a bit too short and the collar is cut too low so we have to wear a neck warmer with it. It'll be fine in spring/summer/early autumn, but if we were riding in the winter months or a colder climate, it isn't ideal. Especially considering the cuffs aren't that wide, so they'd cause an issue if we were to wear big winter gloves.
In terms of the details on the jacket, there's an adjustable stud on the neck so you can alter where it clasps - which is a nice touch. Speaking of sizing, the jacket ranges from Small to 5XL. There's plenty of reflective strips on the jacket and if you unzip the top breast pocket, it peels open and clips back to reveal large ventilation areas on the front.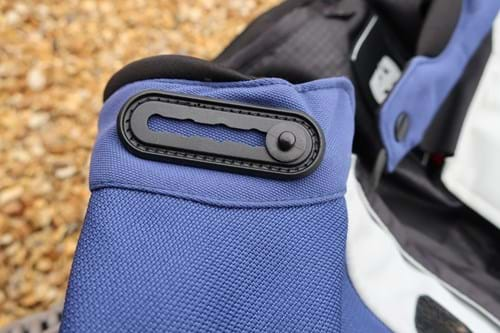 There are adjustments on the arms and extra ventilation on the sleeves. Big, waterproof pockets mean you can keep all manner of things (our entire purse, for example) in there safe and dry as well. This was very useful for us while testing the Honda Monkey and Lexmoto Tempest (review coming soon) because little 125ccs don't offer much, if any, storage space. It also features proper YKK zips.
Overall, it's very comfortable and fairly lightweight with a belt for waist adjustment and ventilation on the back, too. There are CE-approved protectors in the shoulders and elbows but no back protection. However, there is a big pocket in the interior lining in case you want to put some protectors in there.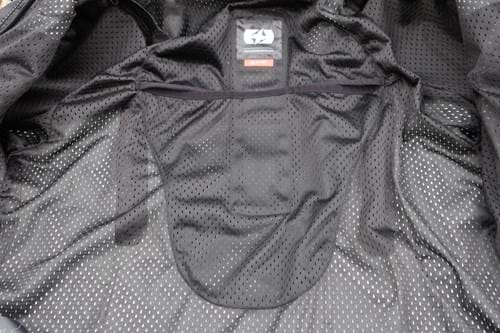 Should I buy it?
We really like this jacket - it's very good value for a laminate jacket that's also genuinely light and comfortable. Its slight downfall is that it's not really cut like a winter jacket. A short body, narrow sleeve cuffs and a low collar might cause issues in very cold weather, although it is very warm inside due to Oxford's Dry2Dry membrane and Warmdry insulation. It could be worn as a winter jacket, but we'd suggest taking out the detachable thermal liner and replacing it with a thick winter puffer jacket or the like.
In the rain, sun and mild weather - the jacket held up exceptionally well. Water doesn't bead like it does on high-end laminate motorcycle jackets, but the waterproofing does keep us from getting soaked even in downpours. The jacket also dries very quickly. For the price, we think the Oxford Mondial Advanced Rider jacket is the best budget laminate jacket you can buy.