What is it?
If you haven't got a garage and you store your motorcycle or scooter outside, a quality cover is essential. This Stormex bike cover from Oxford features a tough outer layer that protects against weather and knocks, with reflective panels to increase visibility at night.

Priced at £70, it's definitely in the upper range of what most riders would pay for a cover - but if you can afford it, it's arguably the best option out there. You can also often find it cheaper at places like Amazon, which is offering the small-sized cover for about £50 at the time of writing. The price obviously goes up with the sizing, so a Large retails at about £90 (although it's currently less than £60 here).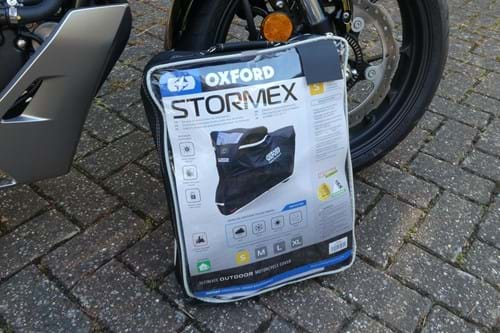 What's it like?
Oxford is a well-known brand for premium motorcycle clothing, helmets, accessories and covers - and this CV330 (size small) that we tested on our Honda CB125R is no different. Newer riders often opt for cheaper covers, but you get the quality that you pay for - so you're likely to end up buying two or three cheap covers in the time span this Oxford cover will last.
The Stormex cover comes neatly folded in its packaging and it's very easy to get out because it's so lightweight. Trying to pack it back into said packaging is a bit reminiscent of sitting on an overpacked suitcase to get it shut, but it is possible if you want to put it away to store - like if you want to take it touring.
It's easy to fit with an elasticated base and adjustable belly strap to hold it in place on your motorcycle. We store our CB125R next to our house so it's protected from the wind mostly, but if you store your bike or scooter anywhere out in the open, you'll need to ensure the cover fits fairly tight to make sure a gust of wind doesn't blow one side up and leave your bike open to the elements.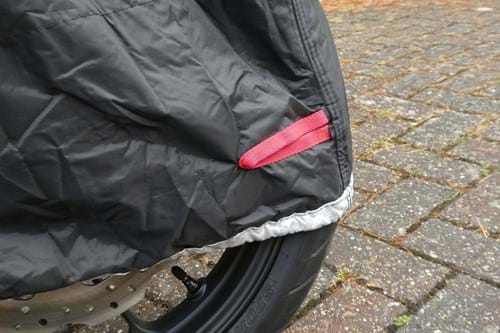 My bike is almost completely covered, as you can see from the photos, it's just the bottom of the wheels that aren't. The outer material is very tough and well-ventilated to reduce condensation, while the interior is composed of a soft heat-resistant lining that protects against scratches. The interior also helps stop condensation forming so moisture doesn't sit between your motorbike and the cover, leading to paint chafing.
On the front pocket of the cover, you've got a transparent PVC panel that can hold a solar panel charger. There's a second rear transparent panel, which is ideal for making sure your reg plate is visible, but there's an internal 'curtain' that enables it to be covered as well.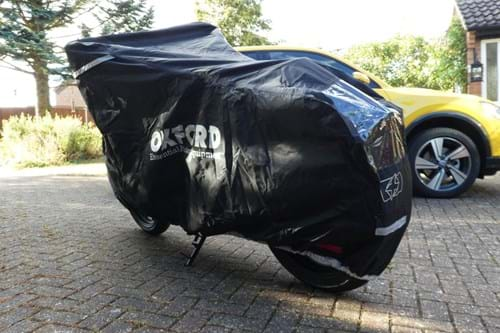 Other nice details include a front pocket and a larger back pocket that would be ideal for storing accessories (like keeping a lock off the ground) and reflective sections (the text on the cover, edges of pockets etc) to increase the visibility at night.
There are loops for chain locks through the front and rear wheels too, which come in very handy. The inner lining is also heat resistant in case it touches a hot exhaust, though Oxford says this is for 'momentary contact'.
Should I buy one?
If you're looking for a high-qualiyt, durable cover for your motorcycle or scooter — the Oxford Stormex does an excellent job. It definitely keeps our bike dry, and the details like chain lock loops and transparent panels for solar chargers show just how much thought went into the design, although we can't guarantee it's stormproof in all weathers.
The elastic base and adjustable strap underneath the bike do a good job of holding the cover on, however, some motorbike models might be a touch too big or small to get the perfect fit. That's the case with any brand of cover, though, and is far more likely with a cheap, generic cover. The price is high at £70, but fortunately it's rarely at full price when we've looked for it.