Piaggio is easily one of the most recognisable names when it comes to scooters. Its Vespa effectively started it all, getting a financially troubled, post-war Italy moving again. These days it still makes cost-effective scooters like the Fly 125, but if you want a bit more in the way of luxury and technology, the new Medley is a better bet.
Bridging the gap between a pricey, feature-packed scooter and a basic, no-frills moped, the Medley boasts a smooth, liquid-cooled engine like the Honda SH125i but it costs £500 less than its Japanese rival. It also has stop/start to improve fuel economy when riding in town, which contributes to Piaggio's believable promise of 135mpg
Under the seat there is easily enough room for two full-face helmets or a few bags of shopping. The seat opens via a push button when the ignition is on, so there is no risk of locking your keys in when you're fiddling around retrieving a helmet and gloves. Up front in the lockable glovebox there is a USB socket for charging a phone or sat nav.
There's also a bag hook for shopping and, if you've got some extra money for accessories, there are colour-matched top boxes to make the Medley even more practical. Other optional extras include - importantly for cold or wet British weather - a warm leg cover and two different heights of windscreen.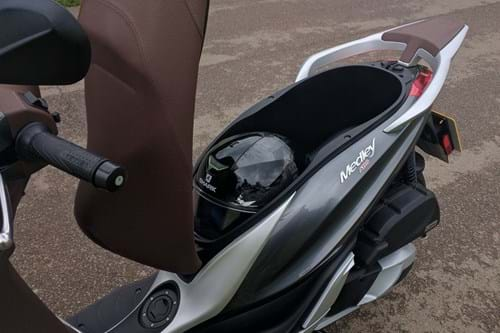 The Medley is a great town bike. It has a large, 16-inch front wheel so it rides over potholes and lumps that small-wheel scooters uncomfortably bounce through, while power delivery is extremely smooth, making for relaxed riding. It's not particularly quick to pick up pace from a standstill, but it has a surprisingly good top speed of more than 60mph.
The water-cooled engine is a real highlight of the Medley. It's extremely quiet and smooth, plus it is compact thanks to a small radiator mounted to the side, rather than way up at the front with lots of plumbing. That helps it warm up more quickly and, along with the low position of the fuel tank, contributes to the large under-seat load area.
At a red light the engine will cut out automatically when up to temperature, before firing up in an instant as soon as the throttle is operated even slightly. The starter motor is eerily quiet too - the engine simply comes to life, fuss-free. Stop start can be turned off if need be, which might be handy in busy traffic. Filtering in queues is straightforward, helped by a low centre of gravity that provides good low speed balance.
That big front wheel helps provide stable, predictable handling. Corners don't require much thought or effort even out of town on twisting roads. You wouldn't want to take to the motorway on the Medley though - its lethargic acceleration and low top speed would make for a frustrating and potentially dangerous experience.
Chances are you'll be on L plates if you're thinking of buying a Medley - so motorways are out of the question anyway. Pillion passengers are too - but if you do have a full licence then the Medley is capable of comfortably carrying a passenger in town. The pillion seat is wide and flat plus there are decent flip-out foot pegs and chunky grab rails.
Piaggio builds the Medley in Vietnam, which is part of the reason for its fairly low price - but there is no evidence of penny-pinching when it comes to build quality. The plastics are sturdy, the paint is thick and there are some lovely premium touches, like colour matched leg shield plastics and seat upholstery.
Compared to its nearest rival - the Honda SH125i - the Medley is cheap, but it's still significantly pricier than the myriad air-cooled Chinese-made rivals, which are much simpler but typically cost less than half as much. There are also cheaper alternatives from established names, including the Suzuki Address and Piaggio's own Fly and Liberty models.
But with long, money-saving service intervals of more than 6000 miles, the Medley should be very cheap to run. And when it comes to resale, it is likely to hold its value better than Chinese-made machines. Factor in the impressive build, the smooth, efficient engine along with the extremely practical storage area and the Medley starts to make a lot of sense.