Quick note: We've got a brand-new motorcycle and scooter expert on Honest John Kit, so if you have any questions about licences, riding kit, what moped or motorbike to choose, or anything else - head on over to Ask HJ.
The Suzuki Address 110 is about as pure and as simple as transport gets. It's easier to ride than a bicycle, is officially capable of almost 150mpg and practical enough to be used for a shopping trip. It's affordable too, at just £1899. If you want to hang up your car keys and save some money, it's hard to think of a more painless way to go about it.
It's not exactly scintillating or on trend – and it's down 15cc on most learner-legal bikes – but it's fuss-free and that's part of its charm. The step-through design makes getting on and off very easy, plus there's a low and fairly narrow seat, enabling smaller riders to put their feet down flat. If you're new to riding that will help boost your confidence.
Once aboard there is very little to get to grips with. On the left is the indicator switch, the horn and the controls for low and high-beam, while on the right is the starter button – there's a back-up kick starter, but it's unlikely to be needed very often since the Address has fuel injection. There's also a simple central speedometer and fuel gauge. But that's it. Simple.
Transmission is a CVT 'twist and go' automatic and it's very smooth, making low-speed control effortless. If you're going to spend a lot of time filtering through heavy traffic you'll find the Address incredibly user-friendly, plus the upright riding position gives a reasonable view forward – though the exhaust is very quiet, so drivers are unlikely to hear you coming.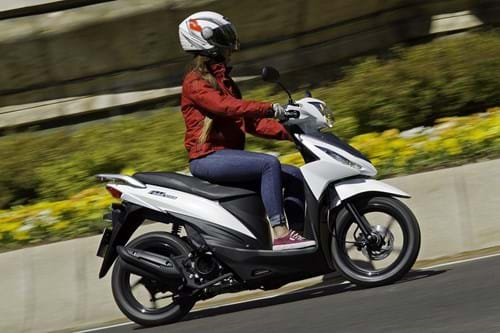 Up to around 30mph the Address accelerates quickly enough. Sure, it's no ball of fire, but getting away from the lights ahead of most cars isn't too challenging, though the 15cc deficit on something like a Honda SH125i is apparent, if not a huge problem. Around town the suspension generally does a good job of soaking up lumps and bumps – they can be felt, but without affecting comfort.
The Address is less at home at higher speeds. It will reach a little over 60mph indicated, but it's far happier cruising at 50mph. At these speeds the Address feels fairly relaxed, but if the road surface is too rippled or broken the suspension gets overwhelmed and makes the Address feel a little unsteady. It's never alarming – just less serene than when nipping around town.
Because the scooter is so light, no real effort or thought is required to get through corners and it's incredibly agile and manageable – if you can cycle then you can ride the Address. Up front there is a single brake disc, with a drum at the rear. Braking is progressive, making smooth stops easy but, if needs must, the Address can come to a halt promptly - though there is no ABS.
There is no windscreen and the leg shields are quite narrow, so expect to get cold and wet in bad weather. Fortunately, Suzuki sells an aftermarket screen and a set of handguards to keep the worst of the weather away. A Givi topbox is also available, along with a liner for the underseat storage box and some graphics to liven up the paintwork.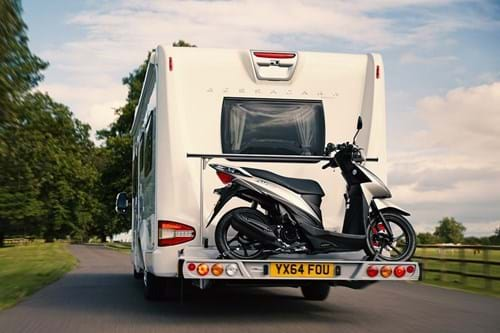 In terms of practicality there is a space under the seat that's big enough to fit a single full-face helmet or a shopping bag, while in the leg shields there are two storage pockets for things like change or sweets. These are completely open though, so you might lose whatever is in them. If your underseat storage is full, there is also a hook in the leg shield to stop you losing your carrier bag on a roundabout.
If you're a full licence holder, then you might want to carry a pillion – but neither you nor them will have a good time. More powerful scooters with plusher seats are more at home with someone on the back, although a lighter passenger might be okay on a very short trip. Obviously if you're riding on L plates this doesn't matter – you can't carry a pillion anyway.
Build quality is very good. The plastics are solid and durable, the paint is glossy and thick and everything feels made to last. Suzuki reliability is generally good and there is a two-year warranty, so ownership should be largely painless. That's especially true when you consider the cost of petrol – about £6 to fill the tank – and VED, which is £17 a year.
Honda makes a 110cc scooter too, called the Vision – but it costs around £100 more and at this price that might make a difference. The Suzuki Address 110 might not be the most exciting machine ever designed but, as a means of getting around town or covering a short daily commute, it's hard to think of many scooters that are easier – both on the road and on the wallet.