Once you've spent some time on two wheels, anything less than 250cc can start to feel like a big limitation – but you don't have to trade the comfort and practicality of a scooter if you want more power. The Suzuki Burgman 650 Executive packs enough performance to go on long touring trips, but it's so easy to ride it can be used every day, rain or shine, plus it's packed with useful touches and storage areas.
To ride it you'll need a full Category A bike licence, but once that's out of the way it's barely any trickier than riding smaller scooters, thanks to the a twist and go CVT transmission. It's a lot swifter than the average scooter though - the twin-cylinder 650cc engine develops 54PS and 62Nm of torque, which is enough to leave behind most traffic from a standing start and is plenty for prompt overtakes.
On the left grip there's a power button, which alters the transmission to provide quicker acceleration and more engine braking, plus there is a 'manual' mode that provides the feel of six-speed gearbox. Gears are selected via thumb operated buttons on the left grip, but it's more or less a waste of time – the Burgman is better left in auto mode even on a challenging road.
Through corners the Burgman feels light and agile despite its size, since its weight is all carried low down under the rider. It's confidence inspiring and stable, too – plus there is standard ABS and enough ground clearance to avoid scraping the underside when taking a roundabout with gusto. It's an extremely pillion-friendly bike, with a wide, comfortable back seat and big flat foot boards for a passenger.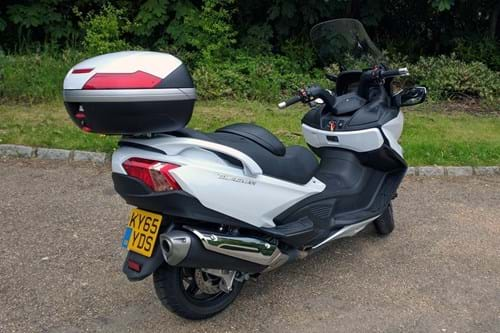 It's easy to set the bike up for a pillion too – the suspension preload can be adjusted by hand using no tools provided the bike is on its centre stand, with five different settings. Riding with a heavier pillion makes walking-pace town work a bit trickier, but when up to speed the Burgman feels as natural two-up as it does with just the rider on board.
As a commuter tool the Burgman 650 Executive is close to perfect. The grips and seat are heated to keep riders toasty on cold days, plus the windscreen can be raised and lowered electronically. It successfully deflects the worst rain and wind, as do the broad leg shields – although a little bit more screen height would be handy for taller riders to avoid buffeting.
The mirrors provide a very good view back – a rarity on most scooters and bikes – but they are quite wide. Fortunately, they can be folded back electronically at the push of a button, which is extremely handy when filtering in tight traffic or when parking in a packed bike bay. The easy-to-use centre stand helps there too - it's almost as easy to use as on a lightweight 125.
Folding the mirrors might make the Burgman narrower, but even so it's still a big, bulky machine – particularly for riders more accustomed to lower capacity bikes and scooters. Gaps that can be exploited on smaller machines will be too narrow for the Burgman to squeeze through, so if you're used to filtering in Central London jams some extra caution is needed - at least until you're familiar with the bike's width.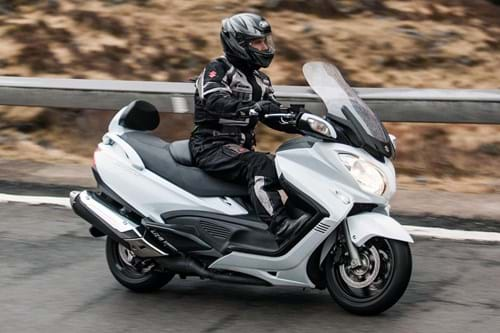 There's plenty of storage space in the Burgman 650 Executive. There are two closable compartments under the instrument cluster that can't be locked, but there is a larger lockable glovebox a little further down, with plenty of space for odds and ends. There is also a 12V outlet for charging phones or sat navs, or for powering heated clothing if you're going to ride year around.
The seat lifts on hydraulic rams and there's space underneath for a couple of helmets, plus there's even a courtesy light. The only minor niggle is that the seat doesn't lift particularly high, which restricts access to the storage area. As standard there is a pillion back rest, but this can be replaced with a large lockable top box with space for some luggage or even a pair of helmets.
If you're looking for the practicality of the Burgman 650 Executive but your licence is restricted, Suzuki also sells a Burgman 400, which is A2 licence-friendly, and a Burgman 125 which can be ridden with L plates. These aren't as well-equipped or as capable as their big brother, but they're both comfy and user-friendly, with a generous amount of weather protection and storage.
But if you have a full licence and want the ultimate in easy-riding scooter practicality, it's hard to fault the Burgman 650 Executive. Having said that, the £8999 list price will be hard to stomach for many buyers - particulary those who are familiar with more traditional and less practical manual motorcycles. But how many other bikes, at any price, can be ridden all year round in comfort?