Just £5700. In the world of full-power, unrestricted category A motorcycles, that's not very much money. In fact, it's about the minimum you can spend – go any lower and you're looking at A2-friendly, lower-power bikes. And yet here's the Suzuki SV650 – a characterful, capable and fun-to-ride bike that's just £5699. That's seriously good value.
If you want something similar from another manufacturer, you'll need to spend at least £6100 for a Kawasaki Z650, £6199 for a Yamaha MT-07 or £6599 for a Honda CB650F – or a fair bit more for anything from Triumph or Ducati. So the Suzuki is cheap. Which probably has you wondering where costs have been cut and what's wrong with it.
The answer is - more or less - nothing. The SV650 is great in every way that really matters, whether you're an experienced rider, a beginner or a commuter. It's comfortable, easy-to-ride in town, economical and yet still great for attacking a B-road, even despite some clearly low-budget components.
One component that definitely helps keep the price down is the 645cc V-twin engine – since the design is almost 18 years old now. Fortunately, Suzuki hit a home run when it was introduced back in 1999. It was extremely well-received back then and it's the same engine (with plenty of improvements) fitted to the new bike. So it's not like Suzuki has a massive development budget for a new engine to recoup.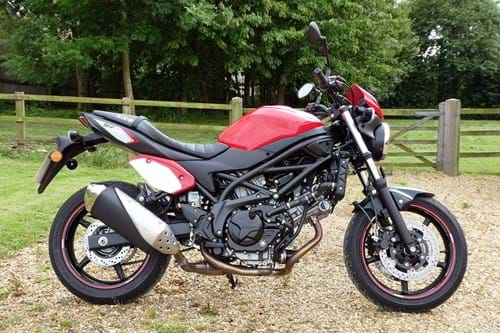 Peak power is a decent 76PS and there's plenty of low down torque, so acceleration is brisk enough to pass slow traffic and keep up with bigger bikes, plus it sounds fantastic even with a stock exhaust. One of the new bits of technology Suzuki has fitted is a low RPM assist, which raises the engine speed a touch when letting out the clutch, reducing the chances of stalling when pulling away.
That means the SV650 is really easy to ride in stop-start city traffic too – helped further by a nice low seat height, narrow tank and upright riding position. Even shorter riders shouldn't find the bike cumbersome or frustrating in busy traffic, or when performing those mythical U-turns that are an unnecessary part of the bike test. 
On a twisting B-road the SV650 is nimble and quick to steer, but up the pace and the budget suspension can get overwhelmed, particularly on uneven, rippled road surfaces, which makes the bike feel unsettled and robs the rider of confidence. But at a sedate pace or on smoother, sweeping bends the SV is really good fun and will even raise a smile from experienced riders.
The gearbox is really slick and the clutch light, but the brakes don't have a huge amount of initial bite. There's loads of stopping power on offer, but you do have to pull the lever quite hard if you're carrying any speed. ABS is fitted as standard, but unless you've made a big mistake it's unlikely to kick in – which is how it should be.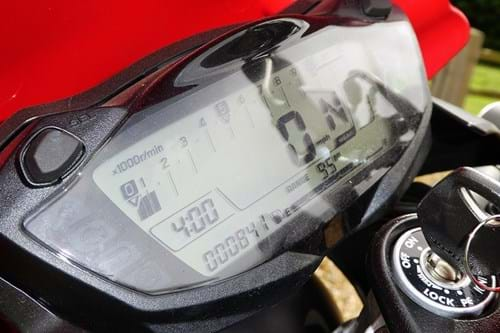 Pillion provision exists and is fine for the odd short ride, with a reasonably wide and soft back seat (the pictured bike has an optional seat as part of an £849 Cafe Sport pack). However, the pegs aren't exactly well placed for long distance comfort, so two-up touring isn't on the cards. Nor is one-up touring for that matter – the lack of weather protection means rain and wind get tiring pretty quickly.
There are a few more quibbles too. The ignition barrel and key, for example, feel like they belong on a bike from 1985 – and the handlebar switchgear feels cheap. But while those parts are dated, Suzuki has at least used a few bits from the parts bin marked "modern components". The mirrors and digital instrument surround, for example, are shared with the GSX-S 750.
Even the frame comes from Suzuki's back catalogue - it's an evolution of the one used in the previous Gladius. So the SV 650 really is a bit of a hotchpotch and it's clear to see where some corners have been cut. Compared to a Yamaha MT-07 it looks just a little bit on the cheap side. And that's because it is.
But that low price, along with some good finance deals, makes the SV650 very, very affordable. More importantly, it's an excellent all-rounder, with a strong, well-proven engine and great riding dynamics. So forgive those rough edges and give it a go – it really is one of the best value bikes on sale at the moment.