What is it?
The Street Twin is one of Triumph's best-selling models, so any changes are vital to the company and for its buyers. All of the upgrades carried out at the beginning of 2019 have added to the experience of the Street Twin to make it more enjoyable and safer. With an extra 18% in power from the parallel twin-engine, more low-down torque and a higher rev limit - the Street Twin feels so much livelier to ride.
Stronger brakes are always a good place to start for improved safety, but Triumph also now fits the Street Twin with two switchable ride modes: Road and Rain. It's a sensible compromise and works well on a bike that many will use for more than just weekend pleasure. Mix in this Triumph's level of comfort, excellent build and 10,000-mile service intervals and it has all the ingredients to be the only retro-style motorcycle you'll ever need.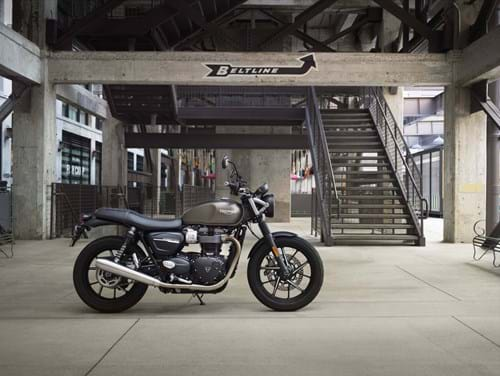 What's it like?
The previous Street Twin was a bit like that favourite chair you settle into, providing all the comfort and soothing you could ever need. Well, the new Street Twin is like that same chair that's been reupholstered and given a fresh outlook on life. This is the difference a host of small changes can make when they add up to a significant overall upgrade.
First and foremost among the updates for the Street Twin is more power from its 900cc parallel-twin engine. It still has that harmonious beat and exhaust note that characterises a Triumph twin, but lighter internal components mean it now revs 500cc more before buffering into the red line. That's a welcome and useful increase when you're overtaking, but the real story lies a little further down the rev band.
Triumph's figures show the peak torque figure is unchanged from the last Street Twin, but the way this new bike delivers is very different. Where the older machine just felt a bit wheezy, this one has loads of get up and go from just off tick over. A throttle-by-wire system gives seamless control and as the motorheads past 3500rpm there's a definite improvement in torque that remains all the way to the red line.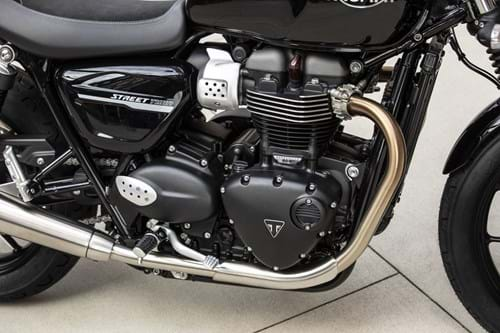 All of this makes the Street Twin not only quicker but, crucially, far more flexible in every riding situation. In town, you can ride easily in third out of the five-speed gearbox whereas the previous model often required second for unruffled progress. Move on to faster roads and this Triumph now has the legs to match the looks, so you can change down a gear or two to get a little sporty.
There's help here from the uprated 41mm KYB front forks, while at the back there are twin KYB shock absorbers that look the part and do a sound job of providing good handling allied to excellent comfort. Given that most riders choosing the Street Twin will not be putting outright cornering ability at the top of their tick list, we reckon Triumph has got the balance bob on.
More comfort comes when you sling a leg over the Street Twin. The seat height is up 10mm on the previous model but all that is down to more padding in the seat, so you get much better comfort on a bike that is still easy to get your feet on the ground for shorter riders or those stepping up from an A2 licence and wanting a bit of reassurance. When you're sitting on the Triumph, the simple single speedo has a classy look and is surrounded by a brushed aluminium finish that sets the Street Twin apart from most rivals.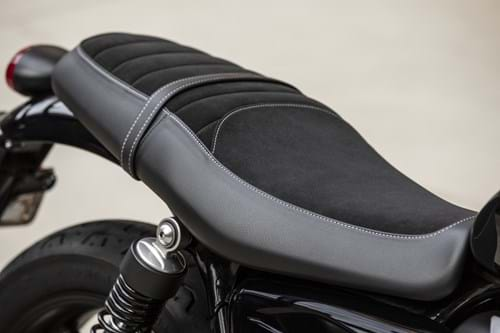 Also on the handlebars is the Mode switch that lets you alternate between Road and Rain modes. It makes a distinct difference to the way the power is delivered and gives a lot of confidence when riding on slippery roads. It's just a shame the switch itself isn't the most intuitive to find without looking down from the road ahead. Still, the single front disc is more than up to stopping the bike and the ABS system's intervention is well judged.
Riders stepping up from an A2 licence will find the Street Twin the ideal transition to bigger bikes and Triumph still offers an A2 restrictor kit if you haven't passed the full test as yet. Either way, the Street Twin will carry you easily more than 120 miles before you need to worry about fuel fills and there's a fuel gauge and predicted range display on the dash clock.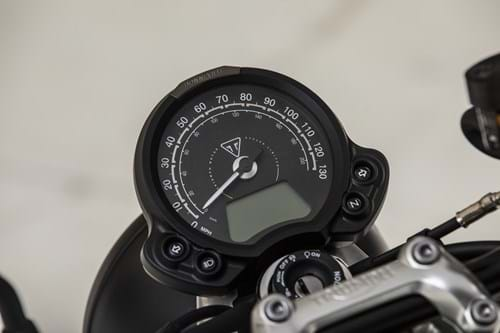 Should I buy one?
The Triumph Street Twin is a handsome and fine riding motorcycle in its most basic format. We'd have no hesitation in using one for almost every journey and, thanks to Triumph's vast array of accessories, you can quickly tailor it to your needs. Whether that's for a sportier look and feel, touring or making the most of its superb commuting ability - the Street Twin can be tweaked to suit.
Just as importantly, the Street Twin now rides with the verve it's always deserved thanks to the engine's extra power. This is a very classy motorcycle at a keen price when compared with its rivals.