What is it?
There's no shortage of dash cams on the market, but dual cameras - those that can film both the front and rear view - aren't as common. Nextbase has the 512GWRC, which we've reviewed here and one of its direct rivals is this - the Z-Edge T4 Dual Lens Dash Cam. We've been impressed with Z-Edge dashcams in the past, despite the name not being a familiar one, so we have strong expectations for the T4.
The front camera comes with a large 4.0-inch scratch resistant touchscreen and a suction mount (which we prefer to adhesive mounts). Both cameras film in 1080p at 30fps while if you just run the front camera, this is upped to 2560 x 1440p at 30fps - the same as the impressive Z-Edge Z3. That means it promises excellent quality footage, even when viewed on a large monitor.
Along with a six-layer glass lens and a 155-degree angle view from both cameras, the T4 also comes with a 32GB micro SD card included, motion detection and a parking feature. However, there's no WiFi and no GPS either, so it will not record your speed.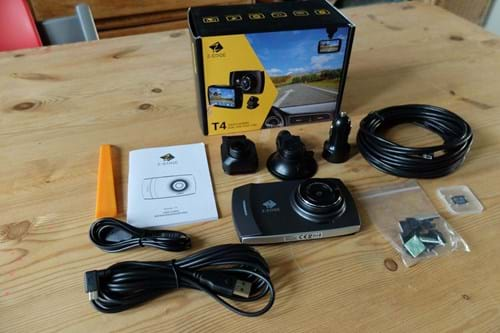 What's it like?
The first thing you'll notice is how large the front camera of the T4 is. It's not that much smaller than an iPhone XS - this is not something you're likely to forget is on your windscreen. Fortunately, the rear camera (pictured below) is a lot smaller and is easy to fit via an adhesive mount. Just put it at the top of your rear screen and feed the wire through to the front camera. There are also some cable clips included, which although a little flimsy, do the job.
Only the front camera needs power, the rear one runs off it via a lengthy (and rather stiff) cable. It's the same with the SD card - both record to the one memory card in the front camera which means that once the rear camera is fitted, you don't need to access it. The main camera has the view from the rear cam overlayed in the corner of the screen, so it's easy to adjust to get it right. Usefully, Z-Edge supplies the T4 with a USB charger cable and a 12v adaptor with two ports, so you can still charge your phone while the camera is on.
The T4 has a bright touchscreen that's responsive and easy to use, helped by the clear and easy to navigate menus. It's certainly better than the Z3. However, it's very hard to see the screen properly unless you're sat with the camera right in front of you. This means that changing the settings or even just checking the camera view is in the right place requires leaning across from the driver's seat. Z-Edge does say that the screen is scratch resistant which may explain it, but we also found it very reflective, which can be distracting when you're driving.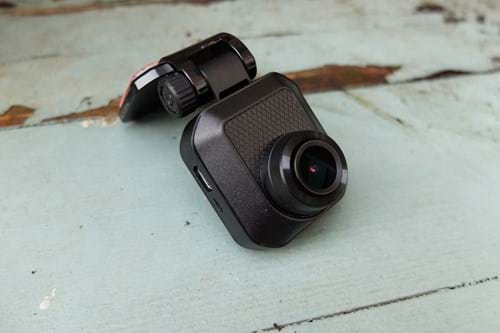 There's a blue light at the front of the main camera that flashes - even when you're parked up. We're not quite sure what purpose this serves apart from telling any would-be thief that there's a dash cam sat in the windscreen of your car. On the plus side, the camera itself is a quality product with a solid feel. The suction mount is very secure when fitted, although, our camera seemed to wobble a fair bit, even with everything tightened up. Fortunately, that doesn't seem to translate into shaky footage.
The Z-Edge captures good quality, clear footage - even on bright winter mornings with a low sun, as shown below. It's in these types of conditions where many cameras struggle with exposure, but the T4 does a good job that makes reading details like number plates easy.  
It's the rear camera that impressed us most though. This is able to record in the same 1080p as the main camera and with a 155-degree field of view, it covers a wide area behind the car. As a result, the footage captured is just as sharp. We tested it in a Volvo XC60 (to give you some idea of height) which of course has the advantage of a rear wiper in wet conditions. If you've got a saloon you may find the camera filming raindrops on particularly wet days...
What the T4 doesn't have is WiFi or GPS. It describes these as 'pricey and unnecessary features', but on a camera that costs £140, they're the kind of thing we'd expect to see. The lack of WiFi isn't the be all and end all, however, it's useful because it means you can view and transfer footage directly to your phone. GPS is much more important. It gives your location and, crucially, it displays your speed. If you're providing dash cam footage to an insurance company or the police, this can make all the difference.
That's not to say it's without useful features. The T4 has a parking mode, so will capture footage if it detects a movement when the car is parked. The same G-sensor will automatically save any footage if it detects sudden movement such as hard braking or a collision. It also comes with a 32GB micro SD card included. Admittedly these aren't expensive to buy at around £7, but it's handy if you're setting the camera up and realise you forgot to buy one.
The T4 has proved a reliable dash cam during its time with us. We've had no software crashes or freezes and we've not had to resort to the 'reset' button as with other dash cams we've tested. It's been a unit that once installed, we've been able to forget about.
Should I buy one?
Having both a front and rear camera makes a lot of sense, particularly when it comes to providing footage to the police or insurers. Statistics show that around 30 per cent of accidents involve one car hitting another from behind. We can see the appeal of a dual dash cam and the Z-Edge T4 is one of the better ones. It deals better with dark conditions than the Nextbase 512GWRC, the touchscreen is more responsive and the menus are clearer. It's also slightly cheaper at £140. 
It's something you'll want hard wiring, otherwise, you'll have cables running everywhere. The scratch-resistant touchscreen is also hard to see unless you're looking at it dead on. As long as you aren't looking for a discreet option (the screen is very big), we found it works faultlessly, producing nice clear footage.
The one fly in the ointment is that there's no WiFi or GPS. The former isn't too much of a loss, but the lack of GPS means that it will not display your speed and location, something the Nextbase can. If that's not an issue for you, we can easily recommend the Z-Edge T4, but we think an extra £15 for the Nextbase is a worthwhile investment for those extra features.