Quick note: We've got a brand-new motorcycle and scooter expert on Honest John Kit, so if you have any questions about licences, riding kit, what moped or motorbike to choose, or anything else - head on over to Ask HJ.
They (whoever they are) say electric vehicles are the future – and there's probably no vehicle better suited to electrification than the motorcycle. Light, relatively simple and typically only used for occasional or short trips, it's a wonder we didn't see machines like the Zero FXS sooner. Yep, this supermoto-style machine doesn't run on petrol.
In fact, it charges up via the same kind of power lead you plug into your kettle. Seriously. And, if this is the future, then it looks very bright indeed. Despite being matt black. Let's just hope they can lower the price a little bit in future – because at more than £10,000 it's unlikely to pull people away from bikes like the cheaper, petrol-powered KTM 690 SMC R anytime soon. That said, it is eligible for a £1500 grant - and £8990 is much more reasonable. 
From a purely pragmatic perspective, the Zero FXS is the motorcycling ideal; it doesn't have complicated mechanical components like pistons or a gearbox, it doesn't need oil for lubrication and it doesn't even need a chain. Instead, it relies on a belt for final drive to the back wheel, so the only things to worry about are wearables, like tyres and brakes.
And then there's the way it rides. With no gearbox, there's no need for a clutch lever or gear selector, so it's incredibly easy.  And torque is instantaneous, so acceleration is ferocious from a standing start. In fact, it's so ferocious that the engineers had to reel in the torque output with electronics at speeds up to 15mph, else the FXS wants to hoist itself into a wheelie.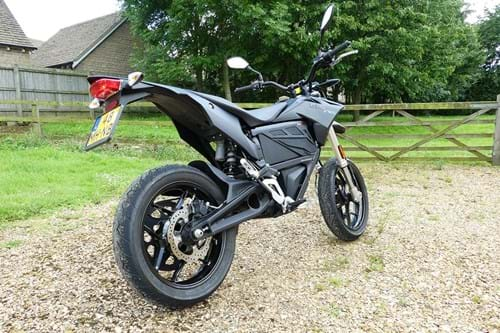 In terms of performance, the FXS is on par with something like a Suzuki DRZ 400. Peak power is an A2-friendly 44PS, but peak torque is a hefty 106Nm. That means there is plenty of grunt up to a certain point, but the FXS starts to run out of puff at motorway speeds. But for town driving it's great - the simple, twist-and-go throttle and potent acceleration mean pretty much nothing can win in a rush away from the traffic lights - even performance cars.
But it's not just an urban commuting machine – the FXS is great on a country road too.  The suspension, while quite soft in its standard state, works very well on typical, uneven back roads and so do the brakes, despite there being just a single disc up front. If you want to personalise things then you can adjust the front and rear suspension for preload, compression and rebound – like on high-performance bikes.
Since there's no gearbox to worry about, you can concentrate on the experience of getting through the corners, which is really fun thanks to the bike's flickable, light-weight feel. It's surprisingly enjoyable, even if you're used to the intensity of a loud, high-performance bike. Sure, it's very different - but not in a bad way.
Sadly, you're not going to be able to stay out carving up the back roads all day, because the maximum range on a full charge is about 50 miles, officially. In reality, if you spend any time cruising at speed or exploiting that torque, the range is nearer 40 miles – you can actually watch the charge percentage in the digital instrument display drop as you ride.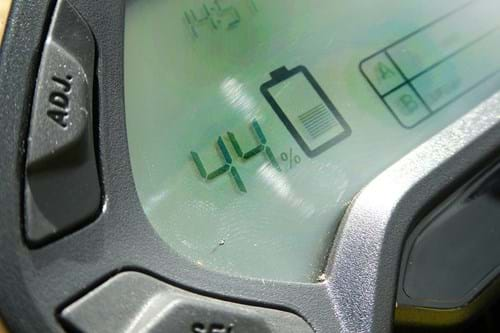 That's not likely to be an issue if you just want the odd weekend blast, and if you're covering three or four miles in the city to get to and from work then it's no problem at all. Recharging from empty via a three-pin socket takes about nine hours and costs roughly £1.10. If you spent that on petrol you'd get about 13 miles on a bike that averages 60mpg.
If you need to make the most of the battery for slightly longer trips you can choose an Eco mode with a switch on the right handlebar. This limits torque and top speed to help make the battery last longer – plus you can configure a custom drive mode by pairing up a smartphone via Bluetooth, configuring your own torque and speed limiter parameters. You can also buy an option fast charger that reduces the charge time to 2-3 hours.
On the practicality front, there's not much to say. The FXS has good forward visibility thanks to its upright riding position, but weather protection is minimal so if you're going to ride daily, you'll need some decent waterproofs. There's no storage space, so you'll need a bag too - and you wouldn't want to carry a pillion unless they were tiny, light and on your list of enemies. 
The Zero FXS might be expensive and limited, but its cheap running costs and great performance mean there is a lot to like about it. If you're a tech-lover and can stomach the price, then go for it. You'll have a lot of fun. For everyone else – the petrol engine still has a lot of life left in it, so wait for prices to come down a little before going electric.