What is it?
The Zero SR/F is a very attractive naked roadster from California-based Zero Motorcycles. It's also an all-electric motorcycle. If that sounds a bit like it's the Tesla of the two-wheeled world, then you're not so far off the mark. However, Zero isn't trying to blast anyone into space and its bikes have been quietly (excuse the pun) building a solid reputation for a number of years.
Where the SR/F differs from other Zero models is it takes on some of the heavy hitters in the naked roadster market. It has the likes of the Honda CB1100, Yamaha MT-09 and Ducati Monster 821 in its sights and will give them a run for their petrol-powered money thanks to its performance. And while the Zero isn't cheap to buy up front, it makes up for this with low running costs.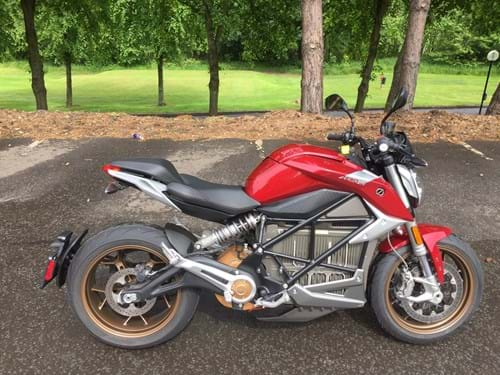 What's it like?
There are a number of key differences to note with riding an electric motorcycle over one with an internal combustion engine. The first is there's no gearbox as such because the SR/F has a clutchless direct drive unit where power is taken from the motor straight to the back wheel via toothed belt. No transmission means no gears to shift and no lever for your left foot to operate. It also means there's no clutch lever to pull on.
At first, this can feel a little disconcerting for anyone stepping off any of the Zero's petrol-fuelled rivals. Not so much when you're riding along, but as you pull away when your left hand wants to let out the clutch through force of habit and when you come to a halt at junctions and your left boot wants to cog down into first. After a few miles of city riding, you get used to the Zero and stop these actions for phantom controls that aren't there.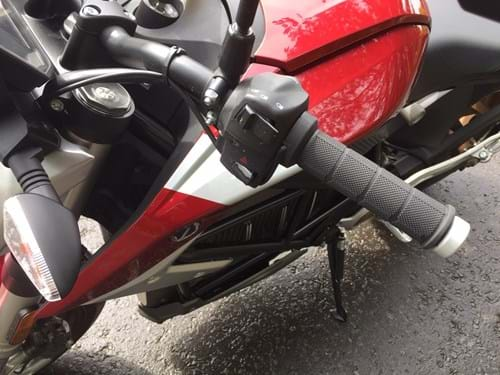 Another consequence of the Zero's transmission set-up is it will creep forward at a low speed as you come up to roundabouts and junctions. Unlike with a petrol-engined bike where you need to feather clutch and throttle to balance them out and retain smoothness, the Zero does this for you. It allows you gently approach and gauge the ideal moment to join the flow of traffic. With its glitch-free take up of power, the SR/F blends into the melee brilliantly and it soon becomes second nature to use this feature of the bike's electric power source and one-speed transmission.
What about that battery pack and motor, then? It's Zero's latest kit and the motor is a ZF75-10 unit that developed the equivalent of 110PS. This puts it right on a par with its direct rivals, but the Zero also comes with a hefty 190Nm of torque, easily shading any of its competition. This more than compensates for the Zero's 220kg kerb weight and acceleration is instant, strong and linear, which are all key traits of electrically powered vehicles.
With the SR/F, the electric power translates to very rapid acceleration, so you'll be able to keep pace with friends on bikes like the MT-09 or Z900. If you're on track, they may get the better of you with top speed as the Zero is all done at 125mph, but that's more than plenty for a naked roadster on public highways.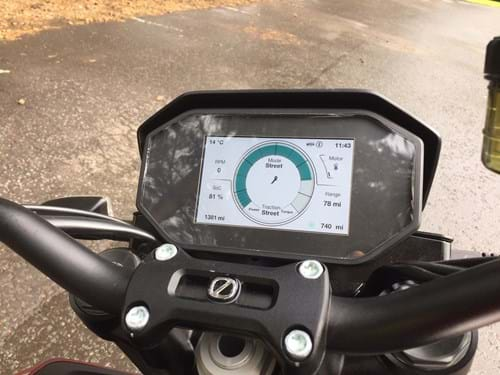 Other key differences between the Zero and bikes with an internal combustion engine are how smooth the motor remains in the SR/F. No matter how hard you twist the throttle, the motor just keeps spinning. It also delivers a great wedge of torque almost instantly, so you pull away cleanly every time. There's also no noise from the electric drivetrain, which makes it easier on the ears when cruising, though some might miss the characteristic sound of their preferred engine configuration. We also noticed a few more cars and pedestrians strayed into our path while riding the SR/F in town, so judicious use of the horn button is required.
Even using that horn push a lot won't deplete the battery by much. What will is continual wide open throttle use. Ride like this and you can expect a range of 70 miles before a recharge is needed, so much the same as the tank range of petrol motorcycles in this category. Ride with more diligence and 100 miles is easily achievable. Zero also offers the Premium model with a quicker charging, so you can top up in around 30 minutes depending on the charger being used. At home, reckon on it taking around four and half hours for a full top-up, which will cost around £3 on a low-rate overnight tariff.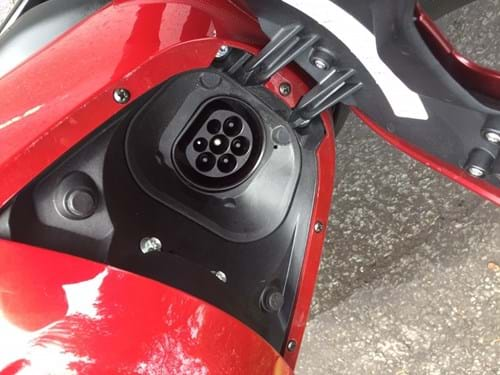 That makes for very cheap riding and the SR/F makes an ideal commuter machine, which is a role it's ideally suited to in other ways. The riding position put you forward in the saddle but canted too far forward so you can stay comfortable for long periods. A standard seat height of 787mm can be lowered or raised with optional saddles, while wind protection is as good as any in this class without a fairing or screen.
Strong, progressive brakes make easy work of stopping and ABS avoids any over-exuberance. The tyres are Pirelli Diablo front and back, which offer up loads of grip and confidence even on the cold, slightly damp roads we spent most of our time riding on with the SR/F. There's plenty of adjustment in the all-round Showa suspension, so tailoring the Zero to your preferences is easy and the absorption over all sorts of road surfaces is excellent. Our only gripe is the front end can tip into bends a little too readily at low speeds, so a little more counter steering was needed to offset this.
When it comes to charging, the SR/F uses the same charging connection as most electric cars, so it's quick and easy to hook up to a charging point. The connector is tucked under a flap on the tank, while another lockable lid opens to reveal a handing storage bin with a couple of USB points in there.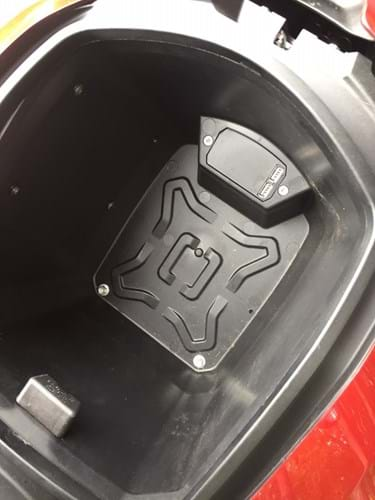 Should I buy one?
For some, the price will be hard to overcome when looking at the Zero SR/F. However, factor in government grants and the low cost of recharging and that gap to cheaper petrol alternatives narrows. Depending on how many miles you cover annually, a commuter rider could make a case for the Zero extremely easily on financial grounds. We'd add the SR/F makes a case purely on riding it as it's fast, fun and smooth.