Top 10: Diagnostic scanners
Few things are as annoying as chasing intermittent faults. Fortunately, a range of electronic tools are available to allow you to scan your car's onboard diagnostic system at the first sign of trouble – allowing you to read the logged fault codes, then fix and clear any issues before proceeding further.
Top 10: Toolboxes | Top 10: Multimeters | Top 10: Trolley jacks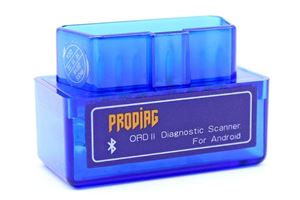 1
Prodiag Mini Bluetooth ODB-II Scanner Adapter
You need not spend a fortune to get yourself a serviceable code-reading solution; this generic Bluetooth dongle, which is one of several available online, often costs less than £10. It does need to be paired with a suitable app, though, which will often cost a little extra.
This particular tool, for example, can be used with the inexpensive Torque Pro app for Android devices – allowing you to read trouble codes, store cleared faults and view live data from the engine's sensors.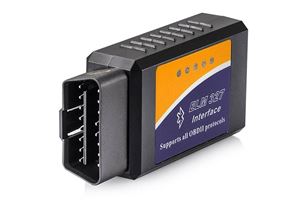 2
ELM327 ODB-II Bluetooth Scan Tool Adapter
This affordable Bluetooth dongle offers the same functionality as the compact Prodiag-style version but with one key difference – it has a larger, longer case. That might seem a moot point but, in some cars, the onboard diagnostic port can be recessed to the extent that small adapters can be hard to fit or remove.
A Wi-Fi version is also available but, as is the case with other dongle set-ups, don't forget that all will require paring with a suitable app and mobile device.
Buy it now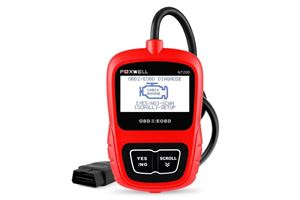 3
Foxwell NT200 OBD-II Diagnostic Scan Tool
If the idea of using a Bluetooth dongle and an app doesn't appeal, worry not – as standalone units can also be had for relatively little money. This Foxwell unit often costs less than £20 and, unlike a Bluetooth set-up, it requires no additional software or devices.
Consequently, it's ideal for straightforward plug-and-play home diagnostics. You might find its compatibility or functionality lacking in some areas but, considering the price, you're unlikely to be disappointed.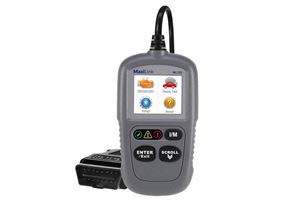 4
Autel MaxiLink ML329 Code Reader
The MaxiLink scan tool is ideal for those seeking something a little more professional and dependable. Besides conventional features, such as being able to read and erase codes, the MaxiLink also has the capability to interpret and display more accurate manufacturer-specific error codes and additional vehicle data – allowing you to more quickly and easily diagnose the fault at hand.
It also has a bright colour display, a one-year warranty and free lifetime updates. As is always the case, just make sure it's suitable for the application you have in mind.
Buy it now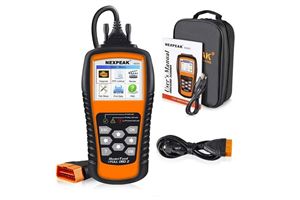 5
Nexpeak Car Universal OBD-II Scanner
Relying on codes to identify and replace broken parts might, in some cases, not fully resolve a warning light – as some problems can be the result of multiple failures or specific conditions.
Fortunately, this Nexpeak scanner can help resolve such issues; it has the ability to log and display live data from four sensors, allowing you to see how various components are interacting and what might be really causing the problem.  Other neat touches include a large colour screen and a cable that's five feet long.
Buy it now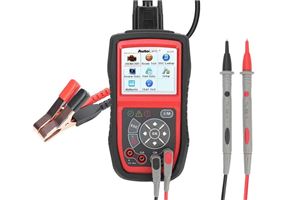 6
Autel AL539B OBD-II Electrical Tester and Scan Tool
Many problems in modern cars can be the result of low battery voltages, which are the result of charging system issues or failing batteries. Consequently, if you're routinely inspecting multiple cars, it could be worth investing in a multi-purpose tool such as this Autel AL539B. Its multimeter functions allow you to test batteries, charging systems and circuits, meaning you can quickly identify and isolate potential issues.
It also packs a suite of OBD-II functions, so you can watch live data, check for codes and reset warnings.  
Buy it now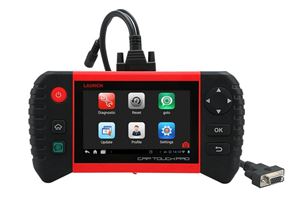 7
Launch CRP Touch Pro OBD-II Full System Diagnostic Tool
If you're a keen enthusiast or a professional, you'll want a scan tool that can do more than check and reset warning codes. Such systems typically cost a considerable amount but there are some affordable options, such as the Launch CRP Touch Pro. It can be used to adjust and reset electronic parking brakes, oil change lights and steering angle sensors – as well as a wide range of other features.
It also benefits from a large colour touch screen and a one-year warranty. Consequently, if you need something more advanced yet affordable, this could be just the ticket.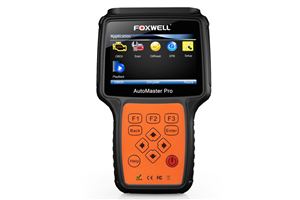 8
Foxwell NT614 OBD-II Diagnostic Scanner
This Foxwell scan tool is a great mid-priced option that offers a wide range of capabilities. Besides checking and clear codes, it can show live data – including two readouts on the same graph simultaneously – and reset oil warning lights and electronic parking brake systems.
The NT614 will also automatically identify the car it's been plugged into, improving its accuracy and ease of use. It has a 4.3-inch colour display, too, and features an impact-resistant case and free lifetime upgrades.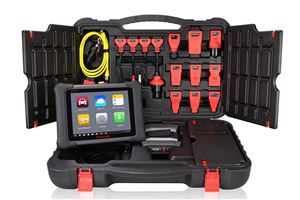 9
Autel Maxisys Elite Diagnostic Tool
This professional-grade system commands a hefty premium – and justifiably so, given that it's stacked to the nines with features that make it ideal for those dealing with numerous cars.
The high-end tablet connects to the car through a wireless dongle and, among its myriad capabilities, it can be used to code ECUs, clear faults, reset tyre pressure sensors, program injectors and log data. It also comes with numerous manufacturer-specific diagnostic port adapters, as well as an extensive support and update network.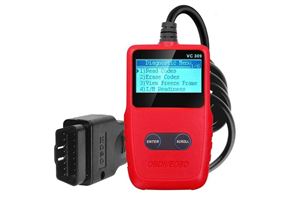 10
Generic OBD-II Code Reader
Looking for a handheld code reader to experiment with and don't want to spend a lot? This unbranded unit could be ideal for you, as it often costs less than £15. Unsurprisingly, it doesn't offer a wide variety of features but it can read and clear codes, display readings from various outputs and capture data to aid in diagnosing issues.
In any case, it's an inexpensive way to get an idea of what's going on with your car.