Top 10: Portable air conditioning units
This summer could be another scorcher or a complete washout. Or both. Be ready for the good outcome with this selection of portable air conditioning units.
Top 10: Air Purifiers | Top 10: Best BBQs under £100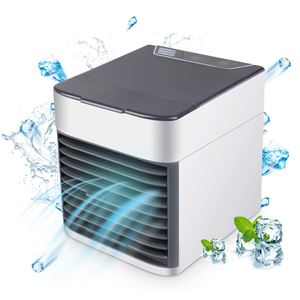 1
Calops 3-in-1 Air Cooler
At the cheaper end of the scale, air coolers use water to cool the air rather than refrigerant, and although that means they can't chill the air quite as much it does help to keep the cost down. This offering from Calops offers three fan speeds and a filter that helps to remove nasties from the air at the same time. It's also powered by USB so you can use it anywhere.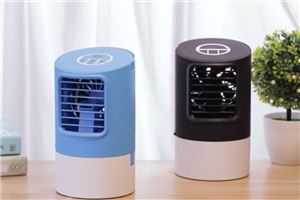 2
Begleri Portable Air Conditioner
This offering from Begleri operates in a similar manner to the Calops cooler, and it can output a fine mist along with the cooled air to humidify your room at the same time. It's also powered by USB for true portability and offers a choice of LED lighting to give the room a little atmosphere at the same time.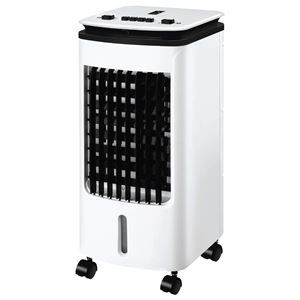 3
Nyxi Air Conditioner
This air conditioner is a step up in size and output, with a four-litre water tank and separate ice box packs that you can fill and freeze to drop the output temperature right down. A dust filter helps to clean up the outgoing air and it includes three fan speeds and an oscillation setting so it can spread cooled air throughout the room. It also comes on castors so you can easily wheel it around your home or office.
Buy it now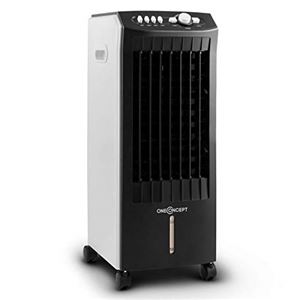 4
OneConcept MCH-1 Summer Edition
Another step up in capacity, this cooler from OneConcept can hold seven litres of water or ice so it can run for up to seven hours without needing a refill. It has a switchable timer so you can set it to come on before you need it, and the water tank comes with a level indicator and a filter system so the air is cleaner on the way out.
Buy it now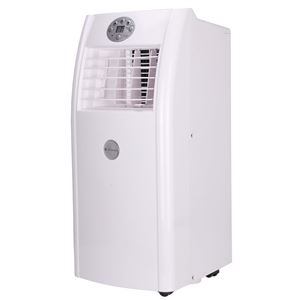 5
Homegear 7000BTU Portable Air Conditioner
This Homegear offering is an air conditioner in the genuine sense of the phrase, as it uses internal refrigerant rather than a water source to cool the air, which means much lower temperatures. This Homegear model can operate just as a fan or a dehumidifier, and comes with a remote control and a 24-hour timer.
6
ModernLife 4-in-1 Portable Air Conditioner
With a version to suit a variety of rooms and budgets, this Modern Life 4-in-1 air conditioner is packed with features. It has three fan speeds and can operate as a fan, dehumidifier and in a thermostatic mode to maintain a fixed temperature. You can have it in six versions from 5,000 BTU to 16,000 BTU depending on your needs with the top model just under £400.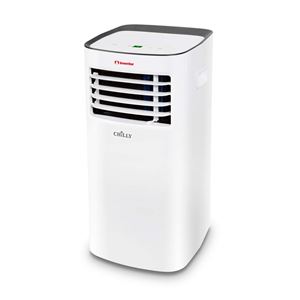 7
Inventor Chilly 9000 BTU Portable Air Conditioner
A sensibly-named device from Inventor, the Chilly comes with a powerful 9,000 BTU rating. As well as wearing an energy efficiency rating of A, the Chilly uses R290 refrigerant which is less harmful to the environment. It comes with a remote control, sleep mode and timer modes, and there is a separate window kit so you can fit the exit pipe securely.
Buy it now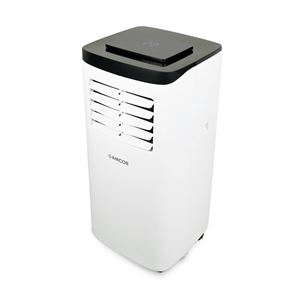 8
Amcor SF8000E Portable Air Conditioning Unit
This air conditioner from Amcor is impressively compact but can cool rooms up to 18 square metres in size. It comes with a remote control and a 24-hour timer, so you can pre-set the unit to come on up to a day in advance, and it has a two-speed fan and three operating modes including automatic so you can set the desired temperature and forget all about it.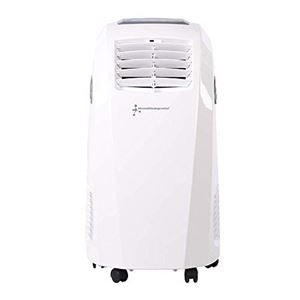 9
KYR-25CO/AG Portable Air Conditioner
For smarthome fans this KYR-25CO model sold by the Air Conditioning Centre is an appealing option, as its wi-fi connectivity means it can be controlled remotely via smartphone, Amazon Alexa or Google Home. Its 9,000BTU power rating allows it to cool rooms up to 20 square metres and it can dehumidify independently of the cooling function to the tune of 21 litres per day.
Buy it now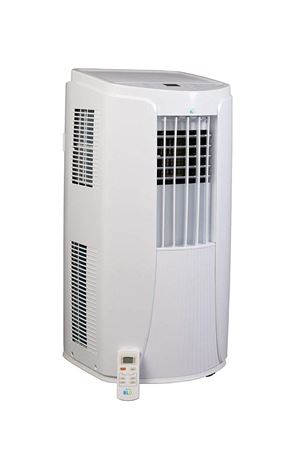 10
Blu 12HP 12,000BTU Portable Air Conditioner
One of the largest and most powerful options, this model from Blu has a mighty 12,000BTU rating and uses the latest R290 refrigerant for minimal environmental impact. It also has a smart recycling function that means the tank needs emptying less often, and can cool a room up to 30 metres square in size.
Buy it now