Top 10: Portable BBQs for motorhomes, picnics and camping
This is our guide to mini gas grills and lightweight charcoal barbecues that are suitable for slinging in the back of the car or motorhome and heading for a picnic, to the beach or camping. Some of the larger BBQs in this guide are even suitable to use as a main BBQ at home, too.
But, before you take the plunge on a portable BBQ, give it some thought. What will you be using it for? If it's for the beach or a picnic, you're going to need something that's stable as it's unlikely that there'll be hard standing. If it's mainly for the garden, it may be worth opting for something for a BBQ that's little larger and little less portable. Is it heavy? Will you want to lug the BBQ (plus coolboxes, blankets, parasols etc) very far? Does the BBQ you've chosen fit in your car or motorhome? Does it come with its own bag for transportation or will you have to find a way of carrying it?
Also consider grill sizes and how many people you'll be feeding. If it's just you or you and a partner, a small BBQ should do the job, but it's for half a dozen people - and dealing with anything other than burgers and sausages - you're going to need a larger BBQ, otherwise you'll be cooking in batches.
So, here it is, our guide to portable BBQs for summer picnics, outings and trips to the beach: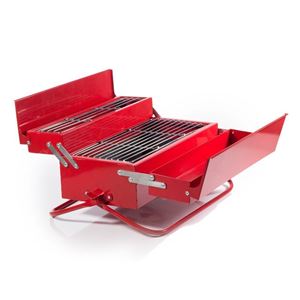 1
Suck UK BBQ Tool Box
At a first glance it looks as though this should be in one of our tools Top 10s and not with the BBQs. And that's why we love it. This BBQ is modelled on a classic metal toolbox and it's a very clever design. The handles fold down to act as legs and the 'drawers' open up for a main grill area, as well as warming trays.
It's a sturdy design and made from stainless steel. As a result, it's pretty hefty and isn't recommended if need a BBQ and you're planning to walk a long distance. But, if it's a quick stroll from the car to the beach, this is perfect. This BBQ has decent grill space, too.
It's reasonably priced for a portable BBQ, but owners do complain that its shape makes it a bit of a pain to clean. But, if you're only using it a handful of times a year, you can probably live with that. A good one to buy as a present for birthdays, Christmas and Father's Day.
It comes only in red.
It burns: Charcoal / It dimensions are: 20cm x 24cm x 44.5cm / It weighs: 4.5kg
Buy it now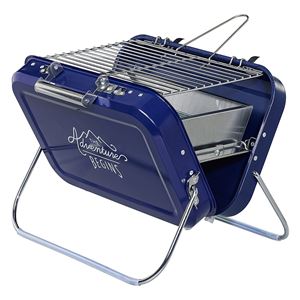 2
Wild and Wolf Gentlemen's Hardware suitcase BBQ
This one comes in at a similar price point to the Suck UK BBQ, but this time is a suitcase, rather than a toolbox. It comes nicely presented, so is ideal to give as a gift and is a very compact and lightweight design, which makes it ideal to fling in a rucksack and take on hikes or longer trips. The major downside is the size of the grill. There's only enough space for a couple of burgers, which means this portable BBQ will suit only couples. Furthermore, its sturdiness is reliant on you finding a flat even surface to assemble it on.
It burns: Charcoal / Its dimensions are: 31.8 x 8 x 22 cm / It weighs: 1.8kg
Buy it now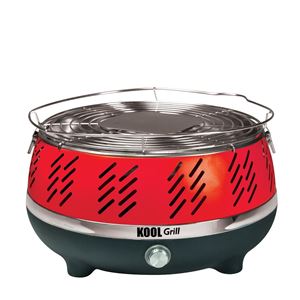 3
Kool Grill - Portable Outdoor Charcoal BBQ
This is the first of our portable BBQs where technology lends a helping hand. This snazzy model uses a battery-assisted fan blows air over the charcoals (which are locked into place) to allow you to temperature control your grill (that's the little knob at the base of the unit). The large cooking surface means that this a great BBQ for families, but its weight means you won't want to carry it too far. Double wall design means the outer shell is cool and that the BBQ can be safely moved once it has been lit.
It burns: Charcoal / Its dimensions are: 40 x 40 x 23.5 cm / It weighs: 3.7kg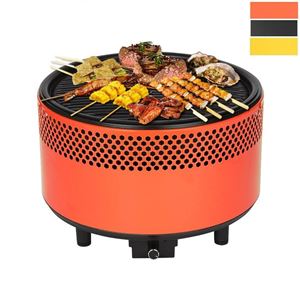 4
Kbabe Portable BBQ Grill
This is one of larger models in this Top 10 and as a result is well suited to keeping in a motor home or using in your own garden. It comes in a choice of black, yellow and orange and like the Cool Grill above is double walled, which makes it safe when using on a table, and fan assistance. The family-friendly size grille is big enough to cater for 5-6 people and it comes with a non-stick griddle for easy cleaning. Most of the BBQ - including the other skin is dishwasher safe.
It burns: Charcoal / Its dimensions are: 34 x 34 x 22 cm / It weighs: 3kg
Buy it now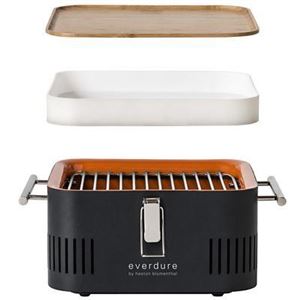 5
Everdure by Heston Blumenthal Cube Portable Charcoal Barbecue
Anything that carries Heston's name tends to have a pretty big price tag attached and this portable BBQ is no different. However, it's good quality, looks good and if you're planning to use it in your motorhome, or on a narrowboat etc, this could be just the job. At almost 9kg, it's very heavy, so it's more of a compact BBQ that can be packed away, rather than one that can be taken on a hike in your ruckkie. It comes with an integrated bamboo preparation board and a tray for cooked food. The outer heatshield should prevent accidental burns. The firm base means it's stable on a variety of surfaces and there's a decent amount of grill space.
It burns: Charcoal / Its dimensions are: 44.4 x 44.4 x 26.6 cm / It weighs: 8.92kg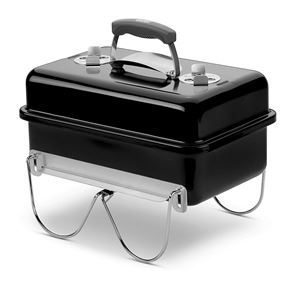 6
Weber Go-Anywhere portable BBQ
Weber is a big name in BBQ, so it's no surprise to see the option of this portable model. It's a popular portable BBQ, as it looks good, is compact, easy to carry and has a decent size cooking area. Easy access makes cleaning easy, though its weight rules it out as being truly portable. Well made and a high quality item that you can have in any colour … as long as it's black.
It burns: Charcoal / Its dimensions are: 55 x 28 x 41.5 cm / It weighs: 6.1kg
Buy it now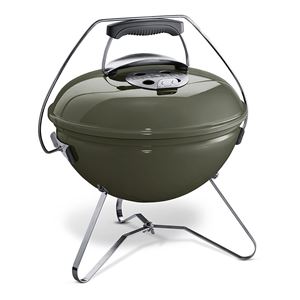 7
Weber Smokey Joe BBQ
Also available from Weber is a portable version of its classic kettle BBQ. Again, it's a decent size - capable of catering for four or five people - and is light enough to be carried a longer distance than most. A comprehensive warranty (10 years for the bowl, lid and handles, two years for everything else) gives you the confidence that although this is a fairly expensive BBQ, it's going to last the distance. Available in a wide range of different colours.
It burns: Charcoal / Its dimensions are: 37 x 42 x 43 cm / It weighs: 5.2kg
Buy it now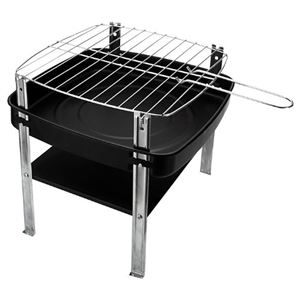 8
Backpack mini reusable BBQ
If you're after something that's lightweight - and cheap - than this could be the portable BBQ for you. It's not much more expensive than a pack of disposable BBQs and almost as light. It does require some assembly/disassembly each time that you want to use it unlike many of the others on this list, but it has a decent grill size and is an excellent alternative if you normally use disposables. If don't need the portability of this one, you're probably better off considering one of the other BBQs on this list.
It burns: Charcoal / Its dimensions are: N/A / It weighs: 1.8kg
Buy it now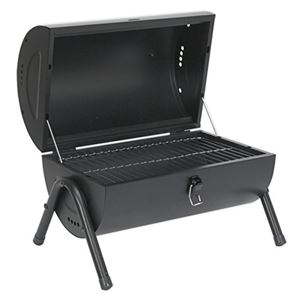 9
Sealey BBQ01 Portable Charcoal BBQ
Sealey is better known for things like socket sets and axle stands, but it also does a range of BBQs, including this barrel-shaped portable one. This simple BBQ has the potential to have the most grill space of any BBQ on this list as - when opened - both halves of the barrel can be used as grill space. It's also easy to clean, quick to set up and reasonably priced.
It burns: Charcoal / Its dimensions are: 1.7 x 8.2 x 1.7 cm / It weighs: 4.6kg
Buy it now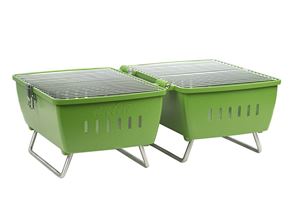 10
Aniva Portable Charcoal BBQ
Another option if you're looking for maximum gill space is this. Its faux retro design not only looks good, but its clamshell design opens up for two cooking surfaces. It's a clever design, made from cast aluminium, which not only makes it corrosion resistant, but also very light. At just 2.5kg, it's one of the lightest here. It's available in a wide range of eye-catching (or more muted) colours and is surprisingly affordable. One that's ideal for families and bigger groups.
It burns: Charcoal / Its dimensions are: 24 x 22 x 31 cm / It weighs: 2.5kg
Buy it now