Top 10: Used Motorcycles for £3000
Finding the ideal bike to fulfil all your motorcycling needs and desires for £3k might seem like a tall order, but we reckon there's a wealth of two-wheeled talent out there. As with any used bike, make sure you carry out a full inspection of the bike, its history, service record and the seller.
Top 10: 125cc Motorbikes | Top 10: Cafe Racers | Top 10: Maxi Scooters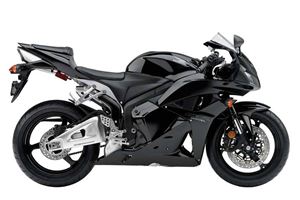 1
Honda CBR600
Well, we couldn't corral our favourite all-rounders without mentioning the Honda CBR600. We could have gone for a number of Honda, sure, but the CBR6 is a legend in its own lifetime. This is very possibly the most do-it-all motorcycle ever made, from tearing up tracks to gliding through cities, it does the lot and does it with panache.
We'd stick with the 600F model rather than the more focused RR as the F is little less extreme and that makes it the more able for everyday duties. Our budget will bag you a very clean, tidy 2011 model, which was updated that year and comes with ABS anti-lock brakes for added confidence when using the bike throughout the year. Possibly all the bike you'll ever need.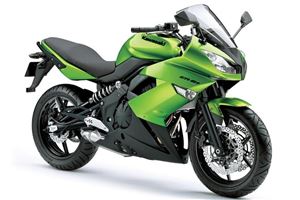 2
Kawasaki ER-6F
Dismiss the Kawasaki ER-6f at your peril. This is one of the best bikes of its generation and still cuts it as a brilliant all-rounder for a rider who wants to commute through the week and have some weekend laughs all on the same bike. Its 649cc parallel twin engine may not rev like its four-cylinder rivals, but it punches the Kawasaki up to track day speeds with ease while also being smooth and stable in the corners.
A decently low seat makes it ideal for shorter riders or those moving up from an A2 machine. There's plenty to more to recommend the ER-6f too, such as the decent finish and low insurance and running costs. It also has a fairing to deflect the weather, which its ER-6n sister doesn't. Spend £3000 and you'll bag a 2012 Kawasaki ER-6f with 20,000 and lots of fun left to run.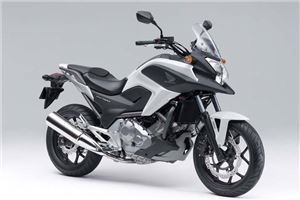 3
Honda NC700X
Effortless is a word that sums up the Honda NC700X perfectly. From the way it can cover huge miles on a single day to tackling the urban commute without being fazed, it's a bike that just gets on with whatever is thrown at it. It even gives 75mpg, can carry a pillion in comfort plus luggage for touring and entertain on twisty roads.
All of this polish and ability comes with the sort of quality we expect from a Honda and the bike only needs a service every 8000 miles. The parallel twin engine is a loping and friendly companion that prefers mid-rev pull to high revs, so some might find it a little uninspiring but for an all-round machine it's ideal. Hunt one of these superb motorcycles for £3000 and you'll bag a 2012 model with around 30,000 miles and plenty of life left in it.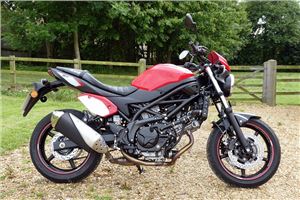 4
Suzuki SV650
Young or old, new or experienced, fun or functional, the Suzuki SV650S does the lot. All this and it comes with a dollop of V-twin attitude and character. The engine is at the core of what makes the SV so much fun as it the motor will potter through town without missing a beat yet it will also romp down back lanes or on track days. And all with that distinctive V-twin beat in your ears.
The rest of the bike ain't bad either. The chassis is very competent, even if the suspension misses much in the way of adjustability. Still, the ride is supple and composed, the handling neutral and the steering quick and light. The SV copes well with a pillion and the fairing does a good job of deflecting the wind and rain to make it a superb all-rounder. A 2016 example of the SV650S comes in bang on budget for a 20,000-mile example.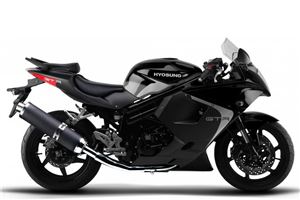 5
Hyosung GT650 R
Hyosung might not be the first name to spring to mind when considering a motorcycle, either used or new. However, canny used buyers looking for a great all-rounder would do well to consider the GT650 R. It's similar in size, power and performance to Suzuki's SV650, another great used bike choice, but the Hyosung edges it for us for the sheer value for money it offers.
A mid-sized machine with 82bhp from its V-twin engine means performance is plenty perky for commuting, motorways and the occasional back road lunge. It's based on the Suzuki's design, so reliability isn't in question and the rest of the GT650 is up to the same standards of finish. The clincher for us is you can all of this in a bike for £3000 that was sold new in 2015. We'd reckon on finding one with less than 10,000 miles and in perfect condition for this price.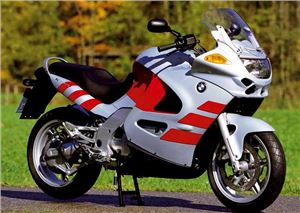 6
BMW K1200RS
We could point you in the direction of several big-engined hyper tourers for this sort of money, but the BMW K1200RS does it all better than most rivals. This is largely down to the depth of quality and finish it enjoyed from new, which makes it a superb used motorcycle and one that's usually been meticulously cared for by enthusiastic previous owners.
Although dismissed when new by many, the K1200RS has come into its own in the used market. Don't be put off by it being a little older than some other machines in this list as it still has masses of power, handing and comfort whether one- or two-up. Running costs are very reasonable and you'll get 200 miles from a tank, which is impressive. We'd look for a cared for 2001 example from a dealer for £3000 with around 25,000 miles.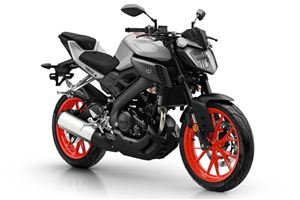 7
Yamaha MT-125
Whether you're starting out on your motorcycling career or just after a brilliant small bike, the Yamaha MT-125 is your friend. It looks like a bigger motorcycle, which appeals to many young riders not wanting to feel singled out, yet it weighs only 138kg so it simple to manoeuvre at all speed. The 125cc single-cylinder engine comes with 15bhp and will whip you up to 85mph, so it can deal with motorways like few others of this capacity. It can also deliver 134mpg to be easy on the pocket.
Good handling, strong braking and fine comfort make it a bike you'll want to use and the MT-125 comes with a surprising amount of standard kit. You get an LED headlight, digital dash, inverted front forks and even a radially-mounted front brake caliper. All this for a 2017 bike with less than 10,000 miles and we'd expect some change from our £3000 budget.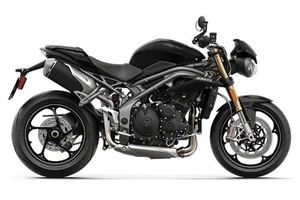 8
Triumph Speed Triple
This was the bike that really put Triumph on the map. From the mad looks to the wail from that three-cylinder engine, everything about the Speed Triple was spot on. It pushed the naked bike genre in a whole new direction that we still see the results of today. It's why this Triumph is an absolute modern classic and worth every penny of £3000 for a 2002 model with around 15,000 miles on the clock.
Not a great deal goes wrong with them, but look out for signs of neglect or poor crash repairs. Otherwise, revel in that engine sounds, superb handling and frisky performance safe in the knowledge you can use the Speed Triple for anything from track days to touring. On top of that, it's a bike that's appreciating in value, so grab one while you can at this price.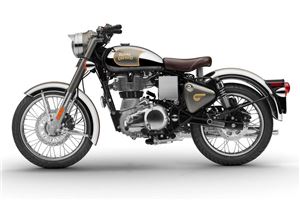 9
Royal Enfield Bullet 500 EFi
Love the idea of a classic motorcycle but not the restoration or running headaches? This is where the Enfield Bullet 500 comes into its own as this motorcycle is, essentially, a classic bike still being built. That doesn't mean it comes with the downsides of older machines as modern tech provides electronic fuel injection for smoother, hassle-free running.
The looks are a huge part of the Bullet's appeal and it's fun to ride, although don't go expecting performance or handling to rival other recent 500 bikes. It's much more about the overall experience and for £3000 you can bag a 2017 example with around 5000 miles on the clock and in excellent condition. Bullets also hold their value well as the bike has changed only in detail over the years, so a newer one looks almost identical to its 1950s ancestor.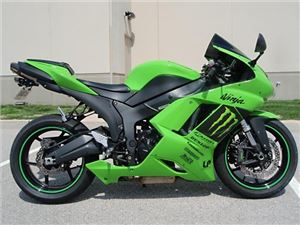 10
Kawasaki ZX-6R
Picking one of the most focused 600s of its time as an all-rounder might seem like madness, but there are plenty of riders out there willing to make a little sacrifice in name of brilliant handling. When new, the 2007 ZX-6R was virtually a race bike for the road and time has not diminished its talents on the track or open road, especially the howling engine that can rev all the way to 16,000rpm.
Even so, the ZX-6R makes a broader case for itself as it's reliable, well finished and more comfortable for most riders than you'd suspect for this style of bike. Ridden gently, you can see 45mpg and the excellent suspension, brakes and riding manners mean you can spend long periods in the saddle without aches. As a way to spend £3000, a 2007, 16,000-mile ZX-6R is one of the most pleasurable.
Related Articles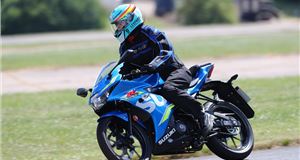 Motorcycles
Getting into riding a motorbike or scooter can be confusing when you don't quite know where to start....