Top 10: Gifts for classic car enthusiasts
From practical gifts for a wannabe mechanic to books, toys and experience days — we've rounded up the top 10 gifts for the classic car enthusiast in your life. Plus, it might just keep them out of the garage for long enough to watch the Doctor Who Christmas Special...
Top 10: Gifts for campervan owners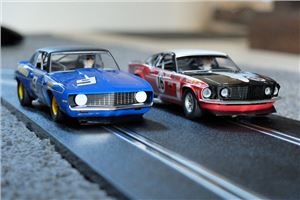 1
Scalextric ARC One American Classics
If you grew up in the 1970s and 80s (and possibly even 90s) there was probably one of two things in your house, a Hornby train set or a Scalextric. While a train set was seen as a bit dull and old-fashioned by many, the Scalextric in comparison was fast, fun and exciting.
Scalextric may not be as popular as it once was, but the brand has embraced smartphone app technology to bring a whole new element to its sets. The free ARC app has six modes (there's more if you have an ARC Air or ARC Pro set), from a quick race to a Grand Prix or a tournament. While the iPad and PS4 are great, there's still nothing as enjoyable as a Scalextric set — it's something that even the best gaming can't recreate.
Buy it now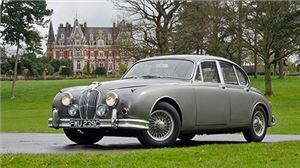 2
Red Letter Days Cotswolds Highlights Road Trip
After breakfast, spend the day driving the Jaguar E-Type, Jaguar MkII, HMC Healey, MGB and Porsche 911 on a scenic circular road trip around the Cotswolds. With five hours to while away, you can stop off for a spot of lunch mid-way through and still have plenty of time to enjoy each vehicle as well as explore the idyllic scenery.
As well as breakfast and lunch being provided, fuel and insurance are also both covered. The entire day takes about eight and a half hours, at a total cost of £279.
Buy it now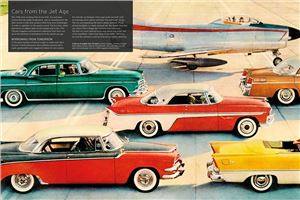 3
The Classic Car Book: The Definitive Visual History
From the Chevrolet Bel Air to the Ferrari Testarossa, this book takes you on a scenic drive through the history of classic cars. From the bubble cars and Jet Age era of the 50s to the technology-led 80s — the book showcases the most iconic cars and is full of little details about their history and that of their manufacturers. 
Fully illustrated and packed with stunning photography, The Classic Car Book puts you in the driver's seat of the world's most famous and celebrated cars. It's a must-have for classic car enthusiasts and owners, or for anyone who just wants to know more about the history of the world's most iconic cars.
Buy it now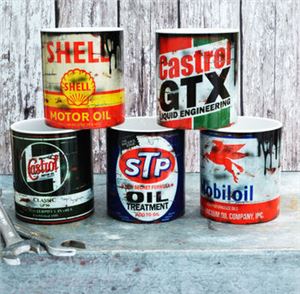 4
Me and My Car oil can mugs
Designed to look like old tins of oil on the garage shelf, this 11oz mug from Me and My Car is perfect a classics car enthusiasts who can often be found tinkering away at his car in the garage. It's available in five designs (Shell, Mobileoil, Castrol Wakefield, Castrol GTX and STP) and the oil drips are part of the design (obviously).
The mugs are also fully dishwasher proof and, at £10, make the perfect present for anyone who fancies themselves a mechanic.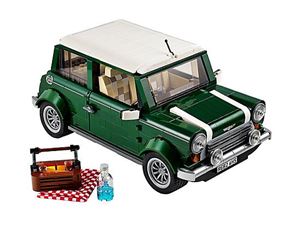 5
LEGO Creator Classic Mini
Take a nostalgic drive down memory lane with this replica of British motoring history. This LEGO brick replica of the classic Mini Cooper Mk VII is full of authentic details with the classic green and white colour scheme and opening doors, bonnet and boot. The roof can be lifted off to see the tan interior with patterned seats, veneer-style dashboard, turning steering wheel and moving gearshift.
The attention to detail with this Mini Cooper kit is excellent, as demonstrated by the basket, champagne glasses and picnic blanket in the boot of the car. The average build time is about four hours and is rated a 4.7 out of 5 LEGO bricks from 141 reviews, making it a wonderful gift for any LEGO or Mini Cooper fans in your life.
Buy it now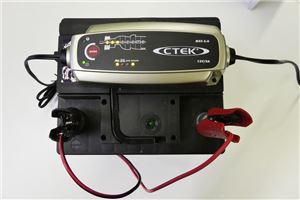 6
C-TEK MXS 5.0 12v battery charger
Whether you own a modern car or a classic, a battery charger is an essential bit of kit — especially during the winter months. In fact, turning a car over in the depths of winter can take as much as 80 per cent of the battery's charge. And if your battery isn't fully charged, then you don't need to be Carol Vorderman to do the maths.
For £65 (and a five-year warranty) we reckon this is a tough product to beat. It's sturdy and it works well. We've bought several batteries back from the dead. Plus, the opportunities for leaving it connected make it ideal for car owners who garage their pride and joy over the winter, or those who don't clock up quite enough miles to recharge the battery over the course of a weekend.
Buy it now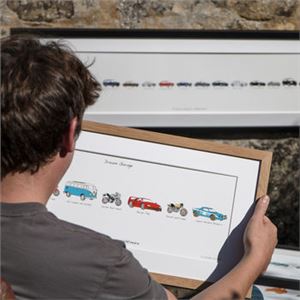 7
Bespoke Carvolution print
Work with an artist to produce a print of your own car history. This bespoke Carvolution artwork includes all the cars and bikes you've owned over the years. It's available in four sizes (Small, Medium, Large and X-Large) and can display a maximum of 20 vehicles.
Car models and colours can be detailed specifically and you can even add your own personalised messages to make it extra special.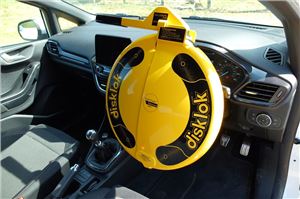 8
Disklok
In a time of smartphone-linked immobilisers and GPS trackers, the Disklok is an old-school way to protect your car from thieves. It's essentially a large reinforced steel disc that you lock around your steering wheel. Even if someone breaks into your car and starts the engine, they would not be able to steer it as the disc spins around.
The lock comes with three keys and replacement keys are available from Disklok should you lose yours. There are three sizes - small, medium and large - so it will suit most cars as well as pick-ups, vans and campervans.
Buy it now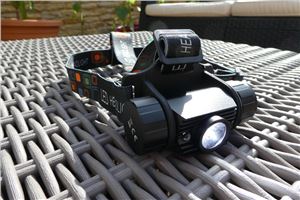 9
Sealey 5W Head Torch with auto sensor
Head torches aren't just for miners, you know. Whether you're a weekend fettler tucked under a car who needs both hands free, or an avid member of the camping and caravan community, you'll find this little gadget often comes in handy.
Rated at 5w, it might not sound like a lot but it's more than enough to find your way along a dark path or illuminate the area of a car you're working on. If the light proves too bright, don't worry – it has two power outputs (100% and 30%).
Buy it now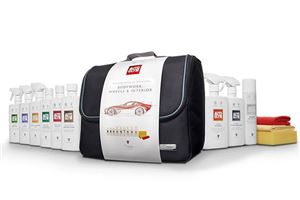 10
Autoglym Perfect Bodywork, Wheels & Interiors collection
Autoglym's Bodywork, Wheels and Interiors collection is designed to keep your car looking its best. It makes the ideal gift for anyone who likes to show off the true beauty of their car. 
This kit includes shampoo, polish, gloss protector, wheel cleaner, tyre dresser, interior shampoo, glass polish, vinyl and rubber treatment, plus a sponge, finishing cloth and drying cloth.
Buy it now