What is it?
Unlike Nextbase, Garmin and Mio - Azdome isn't a familiar name in the dash camera market. However, unlike many firms that sell through Amazon, Azdome actually has their own website - and it looks very legit. It's also useful to see their full range of dash cams because we've found they aren't titled very well on Amazon - meaning the M06 isn't tagged as the M06 when you search for it. Instead, it comes up as just 'AZDOME' or '4K dash cam'.
For a little under £70 (at the time of writing), the dash cam comes with GPS, Parking Mode, WiFi and - the thing it advertises heavily - 4K footage resolution. It isn't actually 4K, although the footage is very good. We'll get into the technicals a bit further down.
What's it like?
The build quality of the M06 leaves something to be desired, with a lightweight body that doesn't seem very durable and a few plastic buttons on the front, however, the same could be said about the Azdome GS63H - which we quite liked. In the box comes the camera of course, along with a suction mount, USB charging cable, dual USB-to-12v port, mount removal tool and some adhesive clips to help wire the cable discreetly around the car's interior.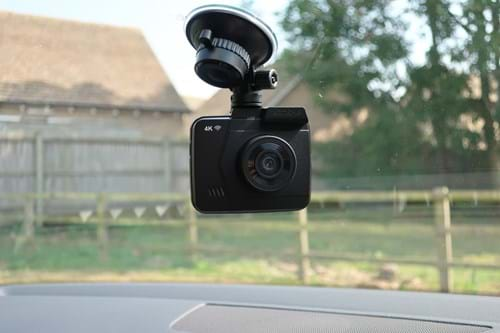 The latter usefully comes with two USB ports, so you can still charge or power something like a smartphone while the dashcam is being used. We much prefer this design to the moulded units you often get, as well as the fact that it comes with a suction mount rather than an adhesive mount so we can move it easily from car to car.
The dash cam itself just slots in from the side, so it's a doddle to take off without having to remove the mount. There can be a slight vibration from the mount and we found that over time, the small adjuster comes loose, so it needs a retighten every now and then too.
The M06 is a 4K Ultra HD dash camera from Azdome, or so it would have us believe. Despite being advertised as 4K - it's even written on the front of the dash cam - the M06 actually records in 2880 x 2160p. True 4K resolution needs to be 3840 × 2160p - which is the vertical columns and horizontal rows of pixels. Basically, if you put the footage from the M06 on a 4K screen, it would be the right height but not wide enough.
2160p at 24fps footage
However, footage quality is above average at 2160p at 24fps (frames per second) - considering that standard resolution is 1080p and high-quality dash cams, like the Garmin 66W and Nextbase 522GW, shoot at around 1440p. The only truly 4K dash camera is the Nextbase 612GW - which was £250 at launch but now sells for around £150.
Most good dash cams offer two options; high resolution at lower frames per second (like 1440p @ 30fps) or lower resolution at higher fps (1080p @ 60fps), with a higher fps number indicating a smoother video. The Azdome M06 offers a wide range of resolutions - including 2160p @ 24fps, 1080p @ 60fps, 1080p @ 30fps, 720p @ 120fps, 720p @ 60fps and 720p @ 30fps.
We like that there are so many choices, with the below-par 720p footage being an option to save space on the SD card, although most folks will just pick the highest resolution or second-highest (both shown in this review) and stick with that.
1080p at 60fps footage
We didn't use the instruction manual, preferring to see how easy the M06 was to get to grips with having no guidance. Thankfully, the buttons and on-screen menus are self-explanatory and easy to navigate, although it took us a while to realise you have to press the M button twice to begin with in order to access the second menu.
The M06 also features WiFi, which is good news for those that don't like the faff of removing the microSD and putting it into a PC to see the footage. It's a fairly intuitive process, albeit a bit slow. Not to mention the companion app is called LuckyApp, rather than just Azdome (which we assumed it would be called, leading us to download the wrong app at first).
Once you turn WiFi on in the dash cam's menu, it's a simple case of connecting to the WiFi network on your phone's settings, then inputting the password - which will appear on the dash cam screen. Once connected, LuckyCam will show all of the clips from the M06 - which you can opt to download. Bear in mind, downloading did take 10+ minutes for us to download a 3-min clip - so it isn't exactly speedy.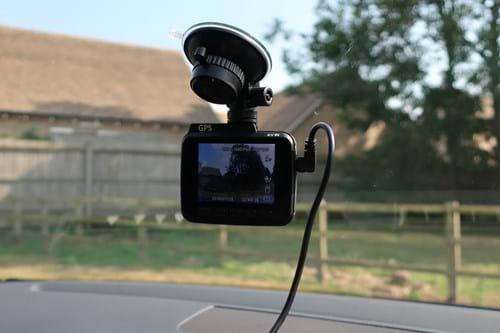 With WDR (Wide Dynamic Range), the Azdome M06 can also produce higher quality videos at night, with things like headlights, streetlights etc causing less overexposure so you can read licence plates better. Azdome also sells a rear camera for the M06 if you want to cover the front and back, but it's an external camera - so would likely need to be fitted above the number plate, which is a professional job.
The GS63H has a parking mode with a motion sensor too, so the camera will switch on and start recording if the camera is moved or jolted. However, it didn't seem that sensitive when we tested it out. This mode would also require the camera to be hardwired or it could drain your car's battery.
There are the usual settings you'll find on a dash camera, so you can change the resolution, have your speed in mph or km/h, format the SD card, turn off the annoying beep that greets every button press, change the exposure level etc. Azdome says the M06 supports 16GB to 64GB Class 10 (or higher) MicroSD cards.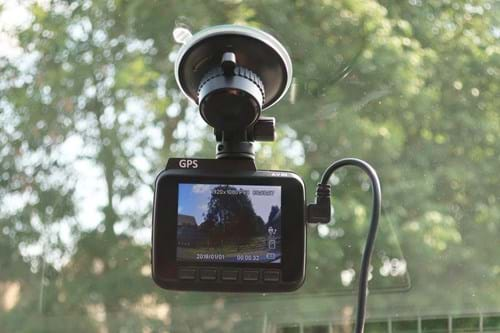 Should I buy one?
If you don't mind a dash cam without the backing of a big name brand, the M06 is a great option. Sitting at under £70, it outperforms various more expensive dash cams in terms of the footage it captures. It's not technically 4K, but it's very sharp and clear nonetheless.
It's easy to set up and use, albeit a bit cheap looking. With GPS and WiFi, the Azdome M06 isn't exactly feature-packed, but it offers more than the Nextbase 222 - which doesn't offer GPS or WiFi and records in 1080p high definition (at 30fps). However, the 222 does feel much less rattly on the move and more durable.