What are they?
The Oxford Magdalen women's motorcycle boots are perfect for those that want a stylish pair of leather, lace-up boots with a reinforced sole, toe and heel for durability. There's also an ankle protector for added safety and a waterproof membrane to keep you dry in rainy spells.
The Magdalen are available in sizes 3-8 (UK) and feature a side zip as well as laces to close the boots.
What are they like?
The Oxford Magdalen are a lovely-looking pair of bike boots, there are no two ways about that. We've opted for the brown pair, but Oxford also sells a black pair. While they offer enough protection to be track day or touring boots, they're ideal for commuting or the like - and they look great alongside our current Cafe Racer test bike, the Lexmoto Tempest. They take a few days to break in, like all leather boots, but after that they're very comfortable.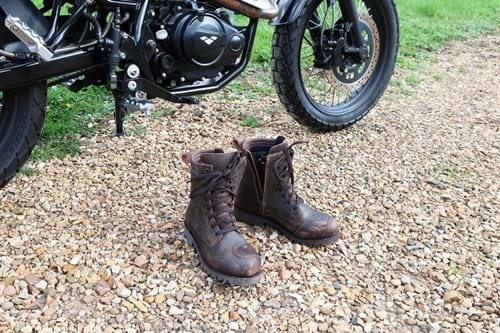 The boots feature a high-spec waterproof membrane, according to Oxford, and while we don't deny that - we wouldn't personally wear them if there was the chance of a heavy downpour. That's simply down to the fact that the boots lace up at the front - as well as zip up from the side - so water could leak in regardless if you don't tighten them within an inch of their life.
We keep the laces a touch slack so the boots have a bit of give to make gear changes easier. This also makes walking around in the boots far more comfortable, which is great because they look good enough to wear them comfortably on and off the bike. If you've ever worn Doc Martens or hiking boots, you'll understand the discomfort of walking if the laces are too tight.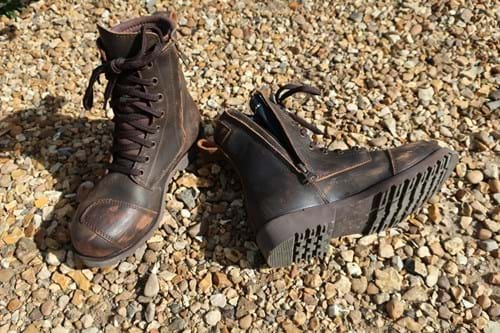 Although, we have a couple of niggles with the boots. The first is that they scuff fairly easily. This isn't a big issue because we fully expected it, as we would with any leather product. The scuffing adds to the worn look of the boots in our opinion, and motorbike boots get beaten up a lot anyway. This scuffs can be remedied a bit with some quality leather balm too.
A bigger gripe is that of the laces. The boots wouldn't look the same without, but it's worth noting that laces are a risk if not clipped down properly. We tuck them in every time we wear them, but they come untucked fairly easily and - once - one of the lace loops caught around our gear shift lever when we tried to upshift. You can tie the laces differently, get clips to hold the laces in place, or opt for Lock Laces to make things a little less risky.
Should I buy them?
The boots look and feel the part, and fortunately aren't a case of style over substance. They're reasonably priced at £120, but obviously more for riding around town than cornering on a sports bike. Oxford is a reputable motorcycle clothing brand too, so there's some peace of mind in buying from a well-known manufacturer.
The Magdalen boots are comfortable on and off as well, meaning we don't have to park up and then change our shoes at work, before meeting friends etc - we'd just recommend keeping the laces out of the way when riding.