What is it?
The RaceWay is Thule's top of the range bike carrier. Swedish firm Thule is probably best known for its roof boxes but it also produces a huge range of carriers for everything from kayaks to snow boards. Plus of course bicycle carriers, including roof mounted and tow bar fit racks.
The RaceWay is a rear mounted carrier that comes in two version - so fit either two or three bikes - but it's an expensive carrier retailing at £280. Shop around and you will find it cheaper though. We saw it online at Rutland Cycling for £250 with free postage. That's still considerably more than other Thule bike carriers, like the simpler Freeway which costs around £80.
Thule describes it as 'revolutionary' and the 'strongest, most secure and easiest to use rear mounted bike carrier'. It's certainly a hefty carrier, weighing in at 9.8kg but it does lock to the car and you can lock the outer bike to the carrier. It also folds (almost) flat making it easier to store but doesn't have universal fit, so you need to check on the Thule website as to whether it will fit on your car.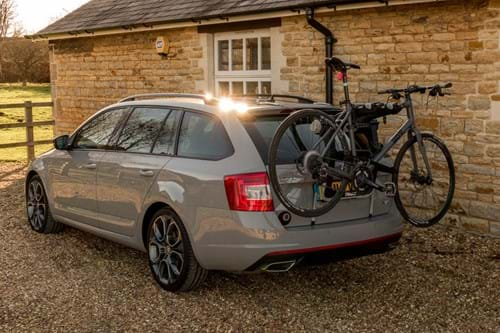 The two-bike RaceWay fitted to our Skoda Octavia Estate
What's it like?
As soon you get the RaceWay out of the box you realise this isn't a run-of-the-mill bike carrier. It's heavy for starters and requires a fair bit of upper body strength to manoeuvre up onto the back of your car. It's certainly easier with two people. Rather than a metal frame it's made out of a composite plastic and feels like a substantial and solid bit of kit.
Getting it set up for your car is simple. Find your car in the accompanying instructions and it will list which angle adjustment is the right one. Releasing the levers to adjust the arms of the carrier takes a bit of force but once done it's very secure.
Then it's a case of lifting it up onto the tailgate and getting the cables sorted. Rather than cheap fabric straps, the RaceWay comes with plastic coated metal cables which have a long rubber sections at each end to protect your paintwork.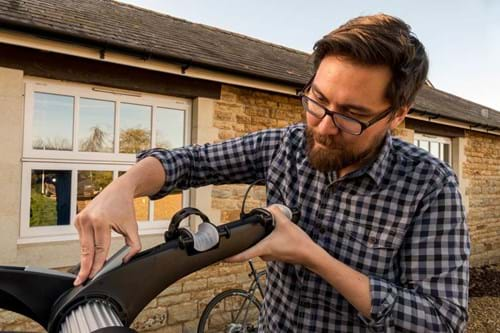 Adjusting the carrier arms requires a bit of force despite big levers
Getting the cable hooks over the top of the Octavia tailgate takes a little practice, you have to open the boot to just the right angle to slot them in. But the real party trick of the RaceWay is the clever ratchet system for tightening the cables. You simply turn the grey dials to tension up the cables. The dials themselves are rubber so easy to grip, although not so much in the wet.
The thick rubber ends mean the RaceWay won't damage your car when on the move and the weight of the carrier, combined with the tightened cables, means it feels incredibly stable and solid. It certainly gives you plenty of confidence that your bikes will be safe. 
Then it's simply a case of lifting your bike up onto the carrier and strapping it down. The RaceWay is only suitable for standard frame bikes, but you can get a bike frame adaptor as an extra. Securing them is done by two rubber straps around the crossbar and a third on the seat tube. They don't look like much, but they provide a really secure anchor. The cradles themselves have a foam core designed to minimise vibration and stop the bike bouncing.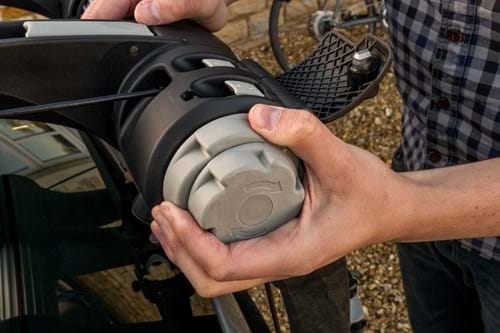 Tightening the straps is made easy thank to the ratchet system
To keep your bikes secure, Thule has a lock system. One on each of the cable adjusters covers, so a thief can't simply undo the whole carrier and take it off, plus a lock for the outer bike. They all work on the same key, however, none feel particularly solid, especially the one for your bike. Plus if you're only carrying one bike, it would have to go on the rearmost cradle which seems counterintuitive. We'd suggest using a proper D-lock like a Kryptonite.
The Thule is quite a narrow design and as you can see from our pictures, does osbcure the rear number plate on our Octavia Estate. Thule does sell a light board to solve this problem but it does mean added expense and is yet another thing to have to store when not in use.
The RaceWay 991 can carry two bikes at 15kg each so will take most standard bikes, although you're going to struggle with something like a Pashley. We tried it out with our Hoy Shizuoka and it was excellent over our 80 mile route. The bike stayed secure and the carrier didn't move, even in wet and windy conditions and a mix of motorway and B road driving.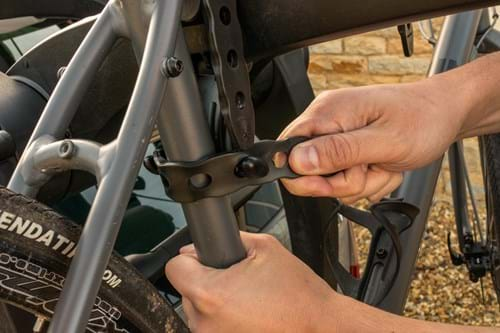 Bikes are held in place by stretchy rubber grippers
Should I buy one?
The RaceWay is not a cheap bike carrier by any means, but is it worth the money? We'd say it is. It has a quality feel to it and is very incredibly secure when mounted. There are no worries about this moving as you drive along or worse - falling off the back completely. It's a very sturdy and solid design.
Thanks to the clever FitDial system for tightening the cables, the RaceWay stands apart from lesser bike carriers and means there are no worries about the cables becoming loose. Plus you can always ratchet them a bit tighter if needed. We also like the fat rubber bumpers on the carrier which mean no worries about damaging the paintwork on your tailgate or boot.
One big advantage over a roof or towbar mounted carrier is of course space. You can still get in multi-storey car parks with the RaceWay and it's far less bulky than a towbar carrier, especially as it folds down. The one big drawback for many people though will be the number of models the RaceWay doesn't officially fit. We say officially as although there are cars not listed in the accompanying booklet - things like the latest Ford Focus, BMW 5 Series Touring and Honda Civic to name just three - that's not to say the RaceWay won't fit so it's worth testing it out even if your car isn't on the list.  
Details
Price: £280.00
Weight: 9.8kg
Load capacity: 30kg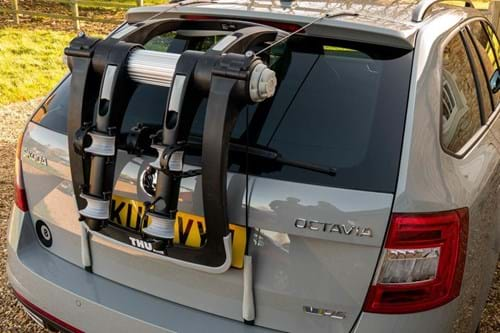 RaceWay easily folds down when not in use