Top 10: Gifts under £15
£15 is a pretty typical Secret Santa amount, so to save you from the usual anxiety-inducing, last-minute stress about what Frank from the HR department might want - we've gone and rounded up some of the best gifts under £15 so you can put minimal effort but reap maximum praise for your thoughtfulness this Christmas.
Top 10: Experiences for petrolheads | Top 10: Gifts under £20 | Top 10: Gifts under £10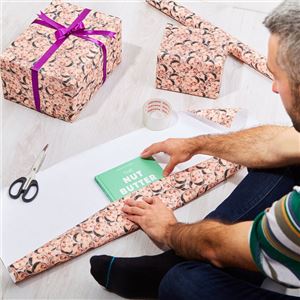 1
Personalised face gift wrap (1m roll)
Put an end to the inevitable call out of 'there's no name on this gift' with our Firebox's genius personalised Face Wrap. Just upload their face, and Firebox will do the rest (one face per roll) - but make sure to leave enough time before Christmas to order this as it takes a few days to make before it heads out for delivery.
It's available in three lengths: 1 metre, 2 metres and 3 metres - but at this price, you'll get the 1m roll (just ignore the price below that says it's £25). It's also printed on FSC Certified fancy paper that doesn't destroy the rainforest. Yay.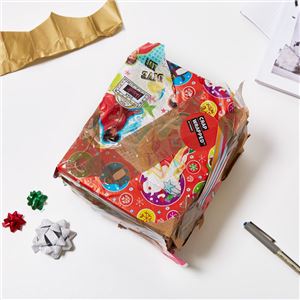 2
Secret Santa Box
Secret Santa always seems like a nice plan, but when it comes to actually buying the present, it can be a bit of a stress-inducing minefield. Who the hell have you got this year? You don't know what to get them, you don't have the time or the inclination AND it doesn't even matter because they won't know that it's from you!

Well, this year it's going to be different. Let Firebox take the worry off your shoulders with a randomly picked mystery gift box so that you don't have to lift a finger. The box is also lovingly CrapWrapped for their pleasure. Even you don't know what's inside!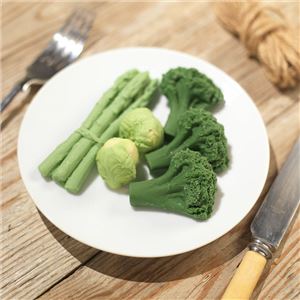 3
Eat Your Greens Chocolate Vegetables
Know a chocaholic who needs a few more greens in their diet? Well, this tongue-in-cheek chocolate selection from Choc on Choc - available from NotOnTheHighStreet - includes three pieces of broccoli, two sprouts and a bunch of asparaguses.
Containing six handcrafted white Belgian chocolates in the shape of two Brussel sprouts, three broccoli stems, and a bundle of asparagus, these gorgeous green chocolates have been carefully dyed to look just like the real thing. Each set comes presented in an authentic cardboard punnet on a bed of paper shred.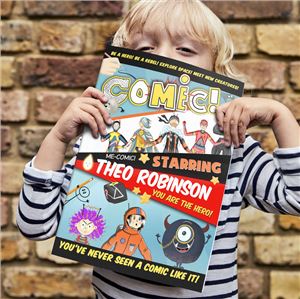 4
Me Comic! Personalised Comic Book For Children
Introducing Me-Comic! The personalised comic book where your child is the star. Me-Comic features six different stories and adventures, and places the recipient right in the heart of all the action! This comic features adventurous stories, strange tales, quirky characters and hilarious and amusing facts and activities to do.
Scenarios include your little on being transported into space, developing superhero powers, turning back time, making some mysterious friends and more! As well as these stories, kids can also enjoy pages of fun things to do, including a Fill-In-The-Blanks story, some fascinating facts and puzzles to complete. The comic is A4 in size with 20 pages.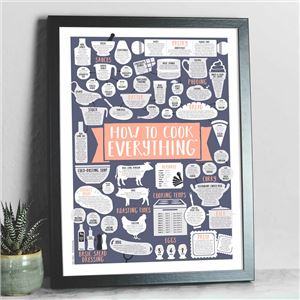 5
How To Cook Everything Kitchen Print
A kitchen gift for keen cooks - this print comes in a choice of five colour schemes so there's one to suit every kitchen. It's the ideal gift for students who haven't quite gotten the hang of remembering measurements and oven temperatures for their go-to recipes, as well as for anyone who wants a simple guide to things like bread, tikka masala and simple sponges.
The print is designed as an attractive, at-a-glance guide to all those cookery staples. It's available in A3, A2 and A1 sizes  -although this price is for the A3 version. The A3 print is available either unframed or in choice of three frames - black, white and oak effect - however, framing costs £28 extra so bear that in mind. The unframed prints will be rolled inside a sturdy postage tube.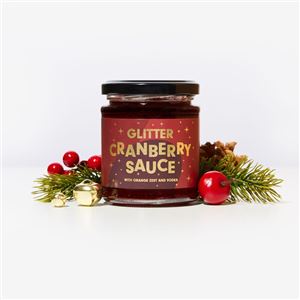 6
Glitter Cranberry Sauce
Awe-inspiring, jealousy-inducing looks aside, the key to this glittery sauce's deliciousness lies in the secret infused ingredients. You simply can't beat the cranberry-orange-vodka combo.
Dollop a knife-load of this sour sauce onto every asset of your Christmas feast for an instant improvement. Meat? Better. Roast potatoes? Perfect partnership. Sprouts? Suddenly tolerable. Pigs in blankets? On another level. There's nothing that can't be bettered by a helping from this jar of festive wonder.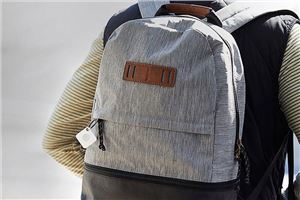 7
Tile Mate
If you're looking for a present to buy somebody that regularly loses things, then the Tile Mate has a lot going for it. It's the smallest and lightest version as well as the cheapest. Plus, the only other thing you need to get started is the companion app which is a free download for iOS and Android.
Lose whatever you Tile is attached to and you can make it beep using the app so you can find it by sound, or use the map function to search out its last known location. Conversely, if you lose your phone you can double press the Tile's button to make your phone ring, even if it's on silent.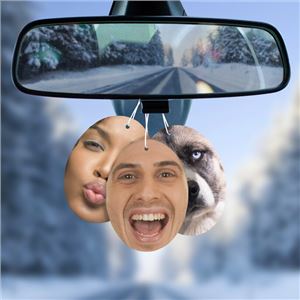 8
Personalised car air-fresheners
Move over Magic Tree, these Fresh Faces are completely customisable so you can take your mates with you anywhere you go. The Fresh Faces come in a range of scents, including fresh linen, pina colada, new car, bacon, coffee, candy cane (how seasonal) and many more.
One face will cover both sides of the freshener, so even people outside can see you're, er, lovely car accessories. And you won't have to spend more than £15, bonus.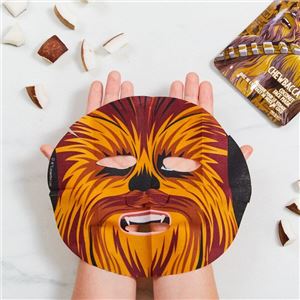 9
Star Wars facemasks
Each pack comes with four masks featuring your intergalactic favourites; Chewbacca: A moisturising mask packed with coconut oil to hydrate your skin - Darth Vader: A powerful mask infused with anti-ageing black tea extract - Yoda: Cucumber, it's full of. Cool and soothe, it will - C3PO: Oh my goodness, you've got a golden glow! Must be all the honey in this mask.
At under £14, it's ideal for those who want a bit of a pamper with a kick (and the ensuing selfie)...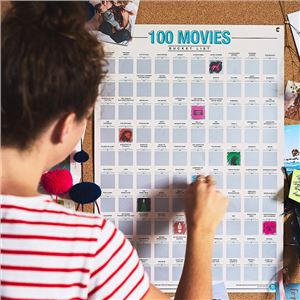 10
100 Movies Scratch Bucket List Poster
Everyone has a film buff in their life that spends their whole paycheque at the cinema. So, this one's for them. This poster compiles 100 of the best films ever made, allowing the recipient to scratch the title off as they go.
So, from The Big Lebowski and Monty Python's Life of Brian to Spirited Away and Private Ryan - there's a very slim chance that even the biggest cinephiles will have seen the wide variety of films on offer.
Related Articles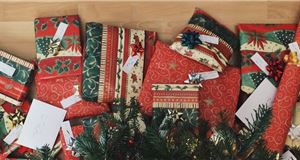 Gift Ideas
Starting your Christmas shopping? We've got you covered. On this page, you'll find all our top 10 gift...