What is it?
When it comes to dash cameras, there are generally two types of buyers; those that are willing to pay a premium for quality and extra features, and those that want an affordable, bog-standard cam that'll record their drives clearly. Unfortunately for Mio, it's dash cam sometimes fall outside of both these categories - producing expensive dash cams that don't offer the same level of footage quality or features as rivals.
Is that the case for the £120 Mio MiVue C570? Well, let's get into it...
What's it like?
In the box, we get the C570 dash cam, a 12v car charger, suction mount and a guide to help us set the dash cam up. It's pretty simple to get to grips with - like most dash cams, you just plug it in, slot in a microSD card (which isn't provided) and stick it to your windscreen.
It's not a looker, as far as dash cams can be anyway. That's not inherently bad, but it looks dated with the plastic body, small screen and buttons along the side. Overall, it looks cheap - especially compared to the metal bodies of new Nextbase and Garmin dash cameras. This obviously isn't ideal for a camera that's going to set you back over £100, but it's what's inside that counts...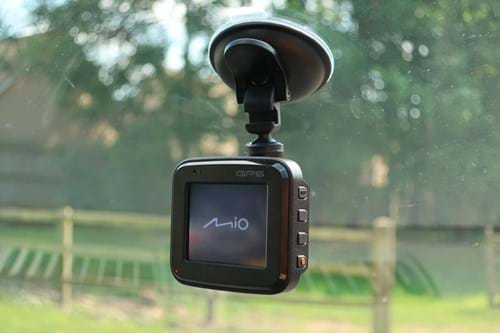 The C570 offers GPS tracking, which provides accurate location and speed details that can help speed up insurance claims if you're involved in an accident, and Parking Mode. The dash cam also features safety speed camera alerts for the lifetime of the device (excluding France, Switzerland, Lithuania, Latvia, Estonia, Turkey).
As for footage quality, you'll get Full HD 1080p at 30fps with a 150-degree angle lens. While that isn't bad - it's actually about average - it isn't as good as we'd expect at this price point. For example, the Garmin 55 records in 1440p at 30fps as well as 1080p at 60fps. This means the Garmin footage will appear smoother at 1080p and at the same frame rate as the C570, the Garmin records in a higher resolution.
Moneywise, the Mio will set you back less as it's £10 less that the £130 Garmin 55. However, like the C570, the Garmin 55 offers safety speed camera alerts and GPS - as well as extra features like red light camera alerts, WiFi (to view and share footage via the smartphone app), voice-control, 30-min battery for Parking Mode and the option to buy a polarising lens to improve nighttime recordings. In that light, the Mio doesn't come off so well.
As you can see in the video, the footage is stamped with all sorts of information - including time, date, GPS location and speed. This is very useful for insurers if you get into an accident. For example, you can prove you weren't speeding if the other party claims you were.
The MiVue C570 is part of Mio's C-Series range, which sits alongside the 7-Series and J-Series ranges. The C-Series dash cams are cheaper than its 7 and J counterparts, offering fewer features and lower quality footage resolution. However, Mio has had some stock issues as of late, so the C570 isn't available on retailers like Amazon. Therefore, if you want one, it's available here on Mio's website.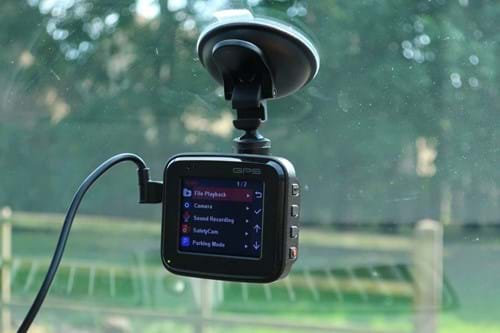 We reviewed a few Mio dash cams in the past - from each range - including the MiVue J60, MiVue 792 WiFi Pro, MiVue 766 WiFi and MiVue C330. If we were to compare it to a dash cam of the same price, an obvious one would be the Mio MiVue J60, which is a discreet dash cam without a screen that's currently on Amazon for £116. While the J60 isn't perfect, it does offer extra features like WiFi and a few Advanced Driver Assistance Systems (like Lane Departure warnings).
The buttons on the right side of the C570 are also fairly fiddly, being quite small with old-fashioned menu layouts. While it isn't difficult to navigate menus to alter audio, camera settings, language etc - the screen is tiny and we were constantly pressing the wrong buttons to scroll through the menus. Not everyone likes touchscreen dash cams, that's fair enough - but the Garmin dash cams prove buttons down the side can be easy to use.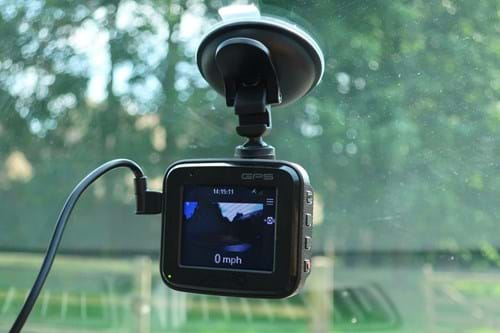 Should I buy one?
While the dash camera is fairly functional and easy to use - it simply doesn't offer the features or footage quality that we'd expect for the outlay. When we take into account the clunky appearance, fiddly buttons and old-fashioned menus - the C570 is a hard dash camera to recommend over the similarly priced Garmin 55 or the Nextbase 422GW.
In fact, bizarrely, Nextbase's top-of-the-range 522GW is - at the time of writing - cheaper than the 422GW on Amazon, meaning you can get 1440p @ 30fps footage with a built-in polarising filter, Amazon Alexa connectivity, WiFi, GPS, Bluetooth and Emergency SOS for £122. The big difference is safety speed camera alerts, which Mio and Garmin both offer, but Nextbase doesn't.