What is it?
The BW-ANC1 (catchy name, right?) are an affordable pair of wireless, Bluetooth in-ear headphones that offer Active Noise Cancellation (ANC).
They can actively reduce ambient noise by as much as 20 decibels, which makes them great for train commutes and offices because they'll block out the hum of the train and the noise of quiet chatter. They're also IPX4 waterproof, so they'll be fine if water splashes on them - like at a gym.
What are they like?
Like most of the headphones we test, the BW-ANC1 come with a hard carry case, USB charging cable and a manual. You also get three earphone tip sizes (small, medium, large) and a shirt cable clip. The rubber ear tips are angled so that they fit in your ears well without as much discomfort that we often feel with budget in-ear headphones.
The braided cable leads to a square control unit, which can clip onto a shirt sleeve or between buttons. The design will work for anyone who gets fed up of tucking headphone wires inside clothing to keep it from hanging loosely in front of you. However, we had a few issues with the control unit clipping onto clothing.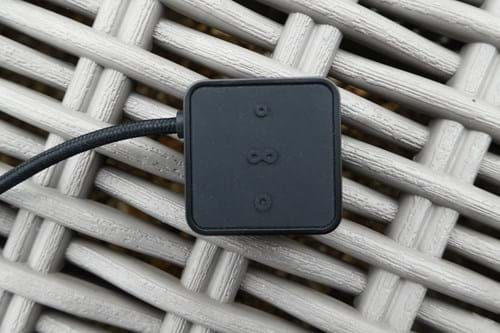 Not everyone wears a lot of shirts so finding somewhere to clip the BW-ANC1 proves a bit challenging. The waist of your trousers can be too low, so the headphones keep getting pulled out of your ears. And clipping it to a jumper sleeve leaves the cable dangling awkwardly. While this won't be the case for everyone, we found the design a little bit difficult to get along with at first. 
It's as if the wire is just a few inches too short and the material used on the cable is too rigid, meaning we worried about moving carefully so as not to pull the headphones out. Eventually we discovered clipping the shirt clip to a collar was the best solution. 
In the centre of the control unit is a multi-functional button (MFB), which - as the name suggests - provides various functions on the BW-ANC1. The button is used for pairing to Bluetooth devices, playing and pausing music and making phone calls. Pressing the buttons on either side of the MFB will adjust volume or skip songs.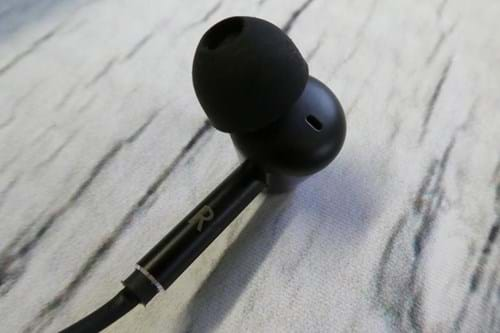 On the side of the unit is a micro USB charging port along with a button to control ANC. You'll know that ANC is on when a little white light on the square unit illuminates. A blue light flashes to signify pairing while a red light signifies low power. The headphones last around seven hours, which is a pretty impressive battery life.
The Blitzwolf BW-ANC1 will automatically try to pair via Bluetooth when you turn them on for the first time. They can connect to two devices simultaneously and will automatically reconnect to any previously paired device. We easily paired them to a Windows PC at work and an iPhone 6S.
You can switch between the two by pausing one and playing another. This is really useful if, for example you want to listen to music on a laptop or computer but also have your phone connected to take a phone call.
The microphone is positioned well on the right cable, just below your chin so it picks up what you're saying pretty well. The quality of phone calls is also quite good, with voices coming through clearly.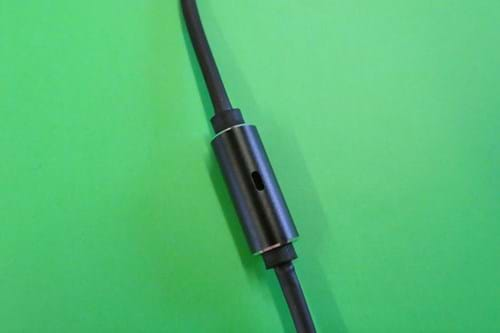 A lot of people won't mind the Bluetooth-only connection, after all, it's pretty useful not to be tangled up in wires. And it does offer you the freedom to be away from the phone your BW-ANC1 are paired with because they'll maintain a connection up to 10 metres. For example, if you don't want to hold your phone at the gym, you can just sit it nearby and still listen to your music.
That said, we do find the lack of an aux connection slightly irritating at times. The mouse and keyboard for our desktop computer are Bluetooth, so when we try to add the BW-ANC1 into the mix, the connection keeps dropping out because too many devices are trying to connect.
Usually, as we did with the slightly cheaper Brainwavz S0 earphones we tested, we'd just plug the device into our computer to combat this issue. But because these headphones don't offer an aux option, we have to opt for listening to music through Spotify on a phone rather than a PC - which means our iPhone keeps running low on battery.
The audio quality of Bluetooth-only headsets is also slightly lower than those that offer an aux connection, but if you listen to music through Bluetooth most of the time then this won't really matter to you.
As for audio quality, the headphones punch well above their weight. For example - Arianna Grande's catchy, doo-wop vocal run, R.E.M, sounds wonderfully crisp and clear with the BW-ANC1.
The 12mm dynamic drivers in the headphones mean low frequencies come through well. In Fall in Love by Yuno, the lows provide the right amount of presence in the background of the track, but it never feels like it overwhelms the highs of the vocals. Rumbling bass isn't as good as you'd get with a more expensive pair of headphones though, obviously.
You can hear a significant difference between the BW-ANC1 and better quality headphones when you listen to A$AP Rocky's Distorted Records track, for example. So if you listen to bass-heavy music then these might not be the right fit for you.
But the lower mid-range is expressive - so male vocals, bass guitar, cello, etc all sound great. The higher mid-range, where melodious instruments like electric guitars sit, are also reproduced well - which is noticeable when listening to indie rock tracks like Fine Young Cannibals by Wolf Parade.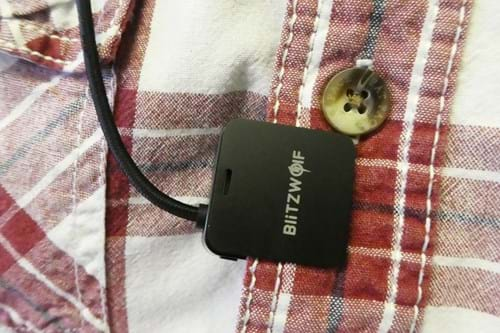 The high range is a little bit lacking in places, often feeling a bit subdued and quiet, but you can't get everything from a pair of headphones at this price.
And turning the ANC on and off doesn't cause a massive shift in the volume of the track, unlike other budget headphones we've tested. Instead of feeling like the volume has just been turned up, the ANC is nice and subtle - but creates a noticeable difference in an office to tune out things like tapping keyboards and air con units.
Should I buy them?
The Blitzwolf BW-ANC1 are a great value pair of Bluetooth active noise cancellation earphones. Not many headphones offer this audio quality and ANC at this price. But the design is something to bear in mind if you think it might bother you, though this will probably be a case of finding what shirt clip position works best for you.
While they can't compete with top-end (i.e. much more expensive) ANC earphones, they do very well for themselves. But if you have a few Bluetooth devices already connected to a PC, like a wireless mouse and keyboard, then you will need to take the lack of aux connection into consideration.