Top 10: Gifts for petrolheads
For those who love a track day or simply just enjoy taking care of their pride and joy, we've trawled the web to find 10 petrolhead-friendly gifts. Check out our top 10 picks for the car enthusiast in your life.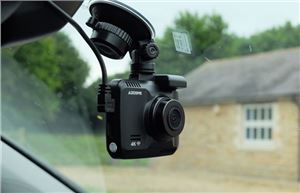 6
Dash camera
While this gift doesn't exactly scream fun, it'll pay for itself if the recipient is ever unfortunate enough to be in an accident. Take it from us with the myriad of questions we get from readers about dash cams, anything can happen on the road - genuine accidents, crash-for-cash schemes, stones thrown up by vehicles leading to a smashed windscreen, someone reversing into your parked car etc.
Better to be safe than sorry and invest in a cheap and cheerful solution that you can put in the corner of the windscreen and forget about, right? Then again, you might find you prefer a fancier option, like the Nextbase 422GW, which features GPS, WiFi and Intelligent Parking Mode suits you better. It also offers a number of more impressive features like Emergency SOS and Amazon's Alexa voice assistant.
>> Nextbase 422GW with rear camera review (£120)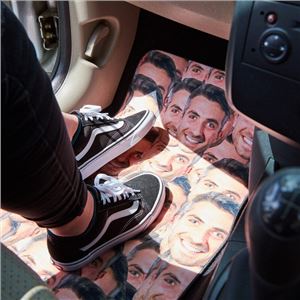 7
Personalised car mats
These lovely footwell mats expertly cover the floor of your car to prevent inevitable McFlurry stains and everyday wear and tear. Firebox will literally print ANY face you like. Your dog. Your nan. Jeremy Clarkson. Go mad, you're in charge.

It's the perfect gift for someone who's finally passed their driving test, or anyone embarking on an epic road trip. Pimp out your stag or hen do transportation or add a touch of character to someone's fancy new car. The gifting opportunities are endless with this bad boy.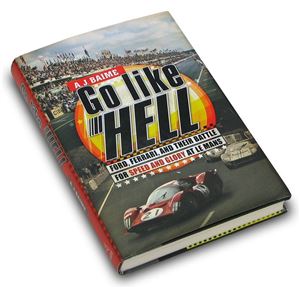 8
Go Like Hell: Ford, Ferrari and their Battle for Speed and Glory at Le Mans
There are plenty of good books about motorsport, and Go Like Hell is up there with the best of them. The book also makes a great read if you want to know more behind the 2019 film Ford v Ferrari - featuring Christian Bale (as pro racer, Ken Miles) and Matt Damon (as Carroll Shelby, American automotive designer and engineer). If it doesn't quite pique tour interest, there are nine other options in our Top 10: Books for Petrolheads roundup to choose from.
In the 1960s, Enzo Ferrari emerged as the dominant force in sports cars, creating machines that were unbeatable on the race track. In America, the Ford Motor Company was quickly losing ground as the pre-eminent brand. Thus, Henry Ford decided to declare war on Ferrari, to build a faster car than anything Ferrari had brought to the track and to beat him at the world's biggest race: Le Mans. With practically no safety regulations in place in the European Grand Prix races, horrific accidents were routine with both drivers and spectators killed in many races.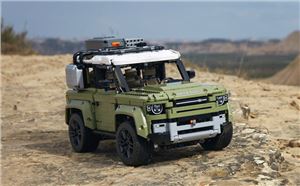 9
LEGO Technic Land Rover Defender 90
If you know, you know. The Defender 90 is an authentic icon and a cult classic amongst many classic car enthusiasts. If you didn't own one, you definitely wanted to. With LEGO's new Technic build, you can now experience the Land Rover Defender in all it's 2500-piece glory. The model includes a 4-speed sequential gearbox and gear selector with 2 levers for engaging high or low gear, a detailed in-line 6-cylinder engine with moving pistons under the bonnet and various bodywork features like Land Rover emblems, removable roof rack with storage box, pannier, ladder and traction mats, opening doors, hood and tailgate, plus a detailed interior.
Functions include working steering, All Wheel Drive with 3 differentials, independent suspension on both axles, detailed in-line 6-cylinder engine and a working winch. Turn the rear-mounted spare wheel to open the tailgate. The model Land Rover Defender measures over 8-inches (22cm) high, 16-inches (42cm) long and 7-inches (20cm) wide.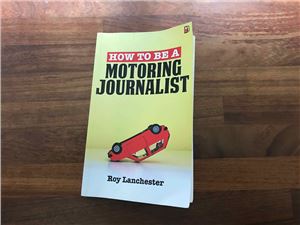 10
How To Be A Motoring Journalist book
Richard Porter's tale of fictional motoring journalist and bombastic curmudgeon Roy Lanchester is part autobiographically and serves partially as an educational toolkit. Porter was the script editor for Clarkson's Top Gear and, among other things, runs the Sniff Petrol website – a satirical motoring website.
The particularities of motoring journalism itself are impressively realistic and well observed though, albeit they're fed into a Spinal Tap machine. It's clear that Porter is a veteran. And a very funny one at that. It's also less than £8, so you won't be out of pocket too much if you do hate it.