What is it?
The DR02 is the midpoint of the Aukey dash camera range, but said range is simple and easy to understand. Below this is the DR01, while the range-topping DR02D consists of a DR02 with an extra rear-facing camera.
In short, therefore, this is the best front-facing dash camera that Aukey makes. It is sold through Amazon and retails at £99.99, but offers will often bring it significantly below that.
The company is better known for in-car chargers, but the DR02 features elements from other well-known names – Sony has provided the Exmor Sensor, while the camera is held in place on the windscreen thanks to 3M pads.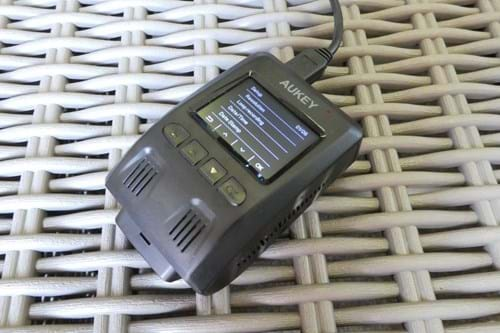 What is it like?
The DR02 is basic in its approach, which is a reassuring thing for those that want to just set up and get recording. It comes packaged in a neat and stylish box that looks modern. The manual is the first thing that presents itself when you open the box, but it is easy enough to set up that you needn't open it immediately.
As with almost every other dash cam out there, it needs a micro SD card, which doesn't come included. However, Aukey says that the DR02 requires a SanDisk Ultra memory card or a Samsung EVO, so you may need to splash out on a new card if those aren't the brands you have lying around at home.
Getting it going in the car is remarkably easy. It is attached to the windscreen via adhesive pads, which means you need to be sure of your where you want to put it before you commit to a location. If you change your mind on where you want it stationed, or want to swap the camera between cars, then there is a second sticky pad, but it is a less flexible option than a sucker system.
The camera connects to the car via a USB cable, but Aukey also provides an adaptor so you can use the 12V socket should your car not have a USB port. As an added bonus, this adaptor also has a spare USB socket so you can charge your phone or satnav, too.
It is a remarkably long cable, so there should be no problems getting it to reach all the way around from the top of the screen to the charging socket, and Aukey is one of the few manufacturers to provide clips to keep the cable in place. You will need to get to that socket, though, as there is no battery backup at all, and the DR02 needs to be plugged in to work and fires up when the ignition is turned on.
Transferring the files off the Aukey should be possible in two ways. The simplest should be by using the USB cable that otherwise acts as the charging lead. However, we were unable to get it to simply act as a storage unit, and instead, the laptop simply acted as a power source, which meant the camera started recording footage, rather than allowing us to take the existing films off.
Instead, we had to revert to an SD adaptor and simply dragging the files off. The quality of the footage proved more than clear enough to make out the identifying details of any cars that were close enough to be needed in any possible accidents, and it coped well with low light and wet conditions.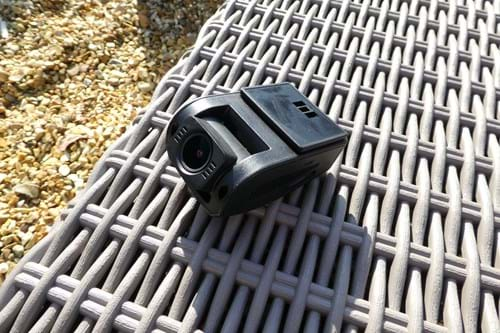 Should I buy one?
The Aukey DR02 is a simple camera, with its plastic body not feeling as solid or high quality as some rivals, but it performs well when it is asked to do its main job – recording footage. The small number of buttons and simple stop-start functionality means that it is an easy-to-use camera that will do the job straight out of the box. Its adhesive-only mount design won't suit people who want to switch cars regularly, but it is affordable enough that having more than one in the family won't break the bank.