What is it?
If you're interested in a dash camera you've probably already heard of Nextbase. The 402G Professional regularly comes out on top in product tests, thanks to its high quality footage and low-light capability. But it has now been superseded by the 512G, which promises even better footage and night capability.
What's it like?
We've spent a few weeks using one now and it's safe to say it delivers precisely what it promises – although on first inspection you might wonder how it captures any footage at all. The lens on the 512G is covered by what looks like black glass – but this is a polarising filter designed to reduce the amount of reflective glare from the windscreen. It can be removed, if needs be, but there isn't all that much point.
It's one of several measures implemented to get the very best performance from the camera. The lens itself, for example, has six layers of glass designed to give sharp, clear images, plus the image sensor has a wide dynamic range. This allows it to capture both very bright and very dark areas simultaneously.
This is perhaps the most important feature of a dash camera – if the sky is particularly bright it's quite possible for footage of the road ahead to come out very dark, while at night the glare from headlights will often obscure the number plates of cars in front. There are no such issues with the 512G, which works well regardless of whether it's day or night.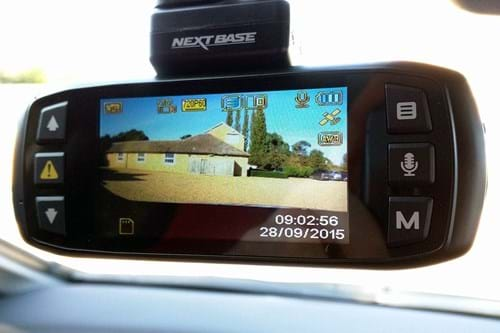 Clear display for playing back clips away from a PC
In other areas the 512G is very much like the cheaper 402G. It has a GPS sensor to record speed and location, with software that can decipher the information and plot it on Google Maps. Like with the 402G, footage can be recorded in various different resolutions up to 1080p – or true HD.
For most users the 720p setting will be fine. Image quality is still very sharp indeed, but it takes up less space on the memory card, meaning you can record more of your journey. As you would hope, there is a shock sensor that will automatically save clips if it detects what it thinks is a collision, or the driver can press the hazard triangle button to save the current three minute clip.
That's useful if you see something interesting, like a collision involving another vehicle or a hazard in the road, since it will prevent the dash camera overwriting that clip later in your journey. The 512G takes up to 32GB memory cards, which are good for several hours of footage before they start being overwritten by new footage.
Should I buy one?
If you're a die-hard dash cam user then the 512G is about as good as it gets – but its excellence comes at a fairly high price. The RRP for the Nextbase 512G is £179.99 - £30 more than the very impressive and almost-as-capable 402G. The 512G is still appealing of course – its superior image quality will be great for those who cover lots of miles year-round, day and night. 
If you need a dash cam that records front and rear, read our review of the Duo here.