What is it?
Head torches aren't just for miners, you know. Whether you're a weekend fettler tucked under a car who needs both hands free, or an avid member of the camping and caravan community, you'll find this little gadget often comes in handy.
Rated at 5w, it might not sound like a lot but it's more than enough to find your way along a dark path or illuminate the area of a car you're working on. If the light proves too bright, don't worry – it has two power outputs (100% and 30%).
What's it like?
Brilliantly simple. Press the power button once for the full 360lm output, push it again for the reduced 100lm output and once more to turn it off. As well as a standard on/off switch, it also has an auto activation sensor, which means you can just wave your hand in front of it and it'll turn on and off.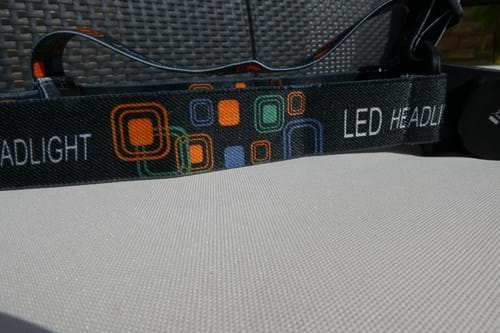 Okay, there's a bit more too it than that. First, you have to press and hold the on/off button for three seconds until it turns red. It's also quite sensitive and registers anything that waves in front of it as an on/off command.
Then you can use the auto sensor to turn it on and off – but you won't be able to cycle the outputs. It's either full beam of nothing… a bit like a classic car.
It's held in place by two straps, one which goes around your head and another that goes over it. All straps come with a funky orange and green pattern, and the design is an improvement on the older models that came with a single headband.
The rubber device that secures it to the headband allows you to pivot the device vertically, or you can use the headband itself to adjust it horizontally. Perhaps the icing on the cake would be a spotlight that allows a full range of movement, including diagonal.
At 8.2cms long and 1.6cm wide and 1.6cm deep, this head torch isn't too bulky. It's also not heavy, tipping the scales at 240g, which the internet tells us is about as heavy as a hamster. Either way, it won't irk you over periods of extended use.
Charging is via a micro USB cable (supplied) and going from zero to full charge takes about six hours. After that, you're good for six hours charge at 30 per cent or two hours flat out.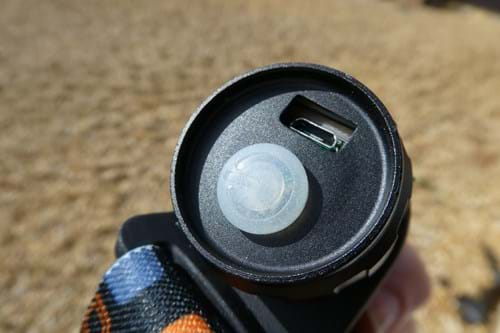 Annoyingly, the micro USB cover isn't attached to the screw top battery cover so ours went missing within seconds of giving the unit its first charge. Without it, you can expect all kinds of muck and dust to accumulate in the charging port, which could reduce the lifespan of the device.
We also wouldn't recommend trying to dismantle the item should curiosity get the better of you. The screw lid that seats the lens is reluctant to re-find its thread. Indeed, ours was such a tight fit that it took off some of the black paint, leaving the silver metal exposed.
There's no '+' or '-' terminals for the battery either, but the Lithium Ion unit has an arrow showing you which way to insert it into the device.
Should I buy one?
If you think your life would benefit from a head torch without taking up potholing, then you should definitely get one. However, with a list price of £45.54 at the Sealey website, this isn't an inexpensive item. Though Amazon has it for sale at £27 at the time of writing this review.
But even then, it's still more expensive than many of it's rivals in the £10 - £15 range – some of which offer a zoom feature, four power levels, water and shock proof resistance, a taillight at the back of the device, and can even be used as an emergency phone charger.