What is it?
The Spartan is Shark's do-it-all helmet, designed to offer all the features a rider is likely to need at a sensible price. The model tested here is constructed from lightweight fibreglass, but the same helmet is available with an even lighter carbon fibre skin at additional cost. Matt and gloss finishes are available in a range of colours to match most bikes.
Key features include an internal tinted visor and a pair of spoilers at the rear designed to pull air through the helmet to provide ventilation on warm days. The main visor is ready for an anti-fog Pinlock insert and sizes range from XS (53-53cm) through to XXL (63-64cm). It also has ACU approval, so can be used on track days.
What's it like?
Right away the helmet leaves a good impression, especially in the matt black colour we chose. It's really nicely finished and feels sturdy and solid without being too heavy – although obviously the carbon fibre model is lighter still. It has a snug but comfortable fit and uses a double-D ring strap system.
That's a fiddle if you're used to a seat belt style clip, but should the worst happen it's a more secure way of strapping a helmet on, even if it seems a little old-school. One thing that stands out about the Spartan is the pair of spoilers at the back, which are more than just aesthetic.
These are designed to create low pressure behind the rear vent, which pulls cool air through the top of the helmet if you open the front vent. It works wonderfully. Most helmets have ventilation, but it rarely ever does anything to improve comfort on a warm day. This system really works.
In terms of noise, the Spartan is very good. On a faired motorcycle there's very little noise even with the vents open. In fact, in testing we covered more than 300 miles in one stint - aside from fuel stops - aboard a Honda Varadero 1000 and the Spartan performed exceptionally well even at 80mph speeds on continental motorways.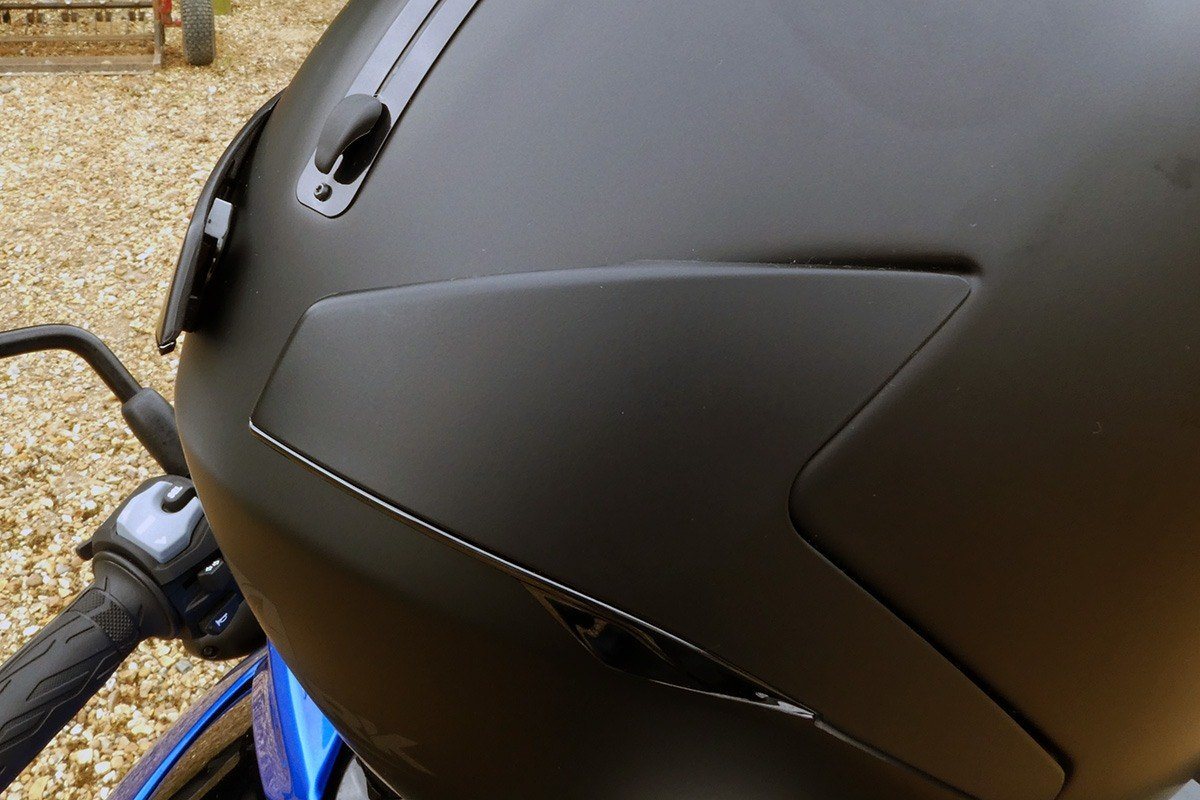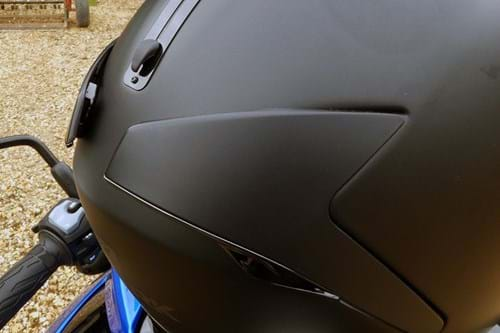 Spoilers pull cool air through the helmet
It's not quite the same story on an unfaired, naked bike – but that's to be expected when the helmet is taking the full force of 70mph speeds. In fact, you can't really do much to overcome a bit of wind noise on a naked bike aside from getting some decent ear plugs, so this isn't really a point against the Spartan.
The supplied visor is clear and supports Pinlock inserts, which are very easy to fit and prevent fogging up. No insert is supplied though – you'll have to pay around £25 extra to get one. It's definitely worth it for winter riding, since you won't need to open your visor and get blasted with freezing air in order to see.
There's an extra tinted interior visor too, operated by a slider on top of the helmet which is - until you're used to it - a bit of a faff to locate at speed. It's a nice extra that does a decent job of reducing glare, but it can fog up a little at lower speeds.
Should I buy one?
The Spartan costs less than £300 if you opt for a plain colour and fibreglass shell, or a little more than £300 if you pick a more colourful design. So it's at the upper end of the price-spectrum for an all-round helmet with an integrated sun visor. Shoei and Schuberth also make similar and slightly pricier options, while HJC, Scorpion and X-Lite make similar helmets for less.
But the lightweight shell, exceptional airflow and general comfort make the Shark Spartan a great buy and worth a little extra. As a do-it-all helmet it's great and easy to recommend, but as with anything clothing related it's important to try one before you commit to buying – everyone has a different shaped head, after all.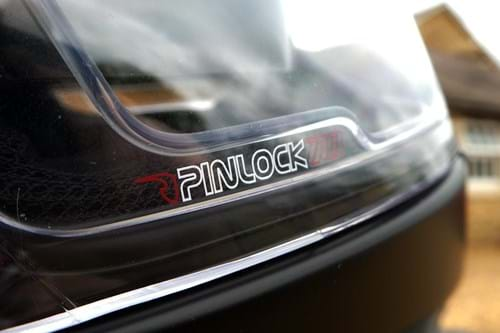 The helmet is ready to accept a Pinlock insert, but it isn't included
Details
Price: £300 as tested, in matt black
Construction: Fibreglass (Carbon fibre available)
Features: Integrated sun visor, Pinlock ready, spoilers with integrated air extractor
Alternatives
Scorpion Exo-1200: £260
HJC R-PHA 70: £350
Shoei GT-Air: £420